Supersize my salary, leave workers' comp alone, Tricky birthday…
Friday, May 31, 2013
---
FAST-FOOD STRIKES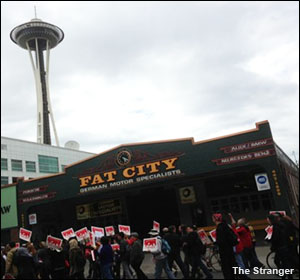 ► At Slog — "Supersize my salary now!" — That was the rallying cry as around 200 demonstrators, several of them fast-food workers who'd walked off the job for the day, marched from Denny Park to McDonald's at Seattle Center, stopping by a Subway and a Taco del Mar along the way, trying to convince the workers to walk off the job. After several minutes of conversation, a few Spanish-speaking activists succeeded in convincing a young woman at the Subway to leave the shop and lock the doors. The crowd went wild as she smilingly made her way into their midst. She spoke briefly into a microphone in Spanish, saying, "I'm very happy that you're doing this. Si se puede!"
ALSO at The Stand — Campaigns begin for fast-food employees, all Tacoma workers (by WSLC President Jeff Johnson)
► In today's Seattle Times — Fast-food workers demonstrate for better pay — A handful of national fast-food places in Seattle had to close for at least a few hours Wednesday night and Thursday after employees walked off the job. Their demand, as stated on their Facebook page, Good Jobs Seattle, was simple: "I make $15/hr or less and am worth more."
► In today's Seattle Times — Fast-food strikes point to problems in economy (by Jon Talton) — Fast-food workers have walked off the job in six cities over the past eight weeks, protesting low pay, poor working conditions, lack of hours and "wage theft." … Without a strong middle class and abundant ladders into it, consumer demand can't support a growing economy. Whether your first reaction to these work actions is disdain or sympathy, the deeper issues deserve our reflection.
---
STATE GOVERNMENT
► In today's Seattle Times — No change needed in workers' compensation program (by Brendan Williams) — As the only state where workers pay toward workers' compensation costs, workers deserve to be heard. They are not clamoring for change. Instead, this legislation is being pushed by the same forces, making the same arguments, behind I-1082 (the failed initiative to privatize the system). Voters in every county rejected these arguments, including those in conservative Grant County, where this bill's prime sponsor resides. The Legislature must pass a budget, not refight lost battles.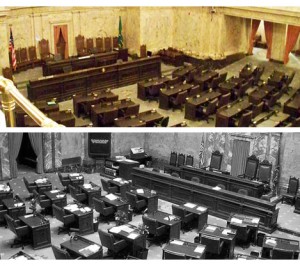 ► In today's Olympian — House passes its version of estate tax, Senate differs — The state House voted Thursday, mostly along party lines, to approve an estate tax bill that restores the Washington's estate-tax law to cover the estates of all married couples worth $2 million or more. HB 2064 now goes to the Senate where two alternative measures drafted by Republicans are scheduled for a hearing this morning at 10 a.m.
ALSO at The Stand —Senate is choosing millionaires over schools
► In today's Olympian — Dear lawmakers, like it or not, your job is creating a budget (editorial) — The Legislature will blow past Saturday's statutory deadline for adopting the 2013-15 biennium budget without any expression of public outrage. Both sides are waiting for the June 19 revenue forecast before getting serious about hammering out a final budget, just as they waited for the March revenue forecast during the regular session. Waiting for these revenue forecasts is a fool's game. No one expects a magical windfall of hundreds of millions of dollars to suddenly show up in two weeks. It's irresponsible to delay serious budget negotiations.
► In today's News Tribune — Muri is Pierce County GOP's choice to succeed Carrell — County GOP officials chose former Pierce County Councilman Dick Muri, freshman Rep. Steve O'Ban and University Place City Councilman Javier Figueroa — with Muri as their top pick. Those names go to the Pierce County Council, which has 60 days from the date of the vacancy to appoint one person from the list. The earliest the council could name Carrell's replacement is June 11 — which also happens to be the last day of the Legislature's 30-day special session.
---
LOCAL
► In today's Olympian — Continuing labor fight leads TESC to cancel event — An ongoing labor dispute between The Evergreen State College leaders and a union representing 57 student-support services workers still is at a virtual impasse, and the college announced Thursday it is postponing a Saturday gathering of alumni out of worry about disruptions from workers.
► In today's Tri-City Herald — 100 workers to be hired at Hanford tank farm contractor — The Hanford tank farm contractor plans to hire about 100 union workers in June, just months after sequestration forced the layoffs of 235 workers across Hanford. The first 50 workers will be hired Monday, said John Britton, spokesman for Washington River Protection Solutions.
► In today's (Longview) Daily News — Local timber pay is tops in U.S. — Despite years of overall industry drop-off, timber still is king in Cowlitz County, at least when it comes to wages. According to a Thursday report, loggers and sawmill workers in Cowlitz County earn a higher hourly wage than their counterparts anywhere else in the country. And jobs for truck drivers, who primarily haul logs in this area, are rising to meet increasing demand.

► In The Stranger — Runway end run — After years of negotiating, picketing, lobbying, and organizing, low-paid Sea-Tac Airport contract workers may have finally found a path toward a living wage and better working conditions: the ballot box. Alaska Airlines, the dominant carrier at Sea-Tac Airport, could impose higher employment standards on its contractors, but has so far been unresponsive to workers' demands. Port of Seattle commissioner John Creighton says the port is sympathetic but believes it lacks the legal authority. So the workers are doing an end run around both Alaska and the port, taking their grievances directly to the people of SeaTac, the city in which the airport is entirely located.
---
WALMART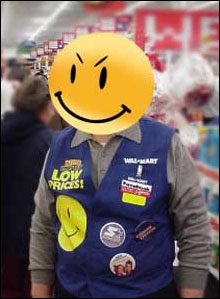 ► In the Sky Valley Chronicle — Walmart the Felon comes to Monroe — This week comes the news that Walmart — the nation's biggest and most controversial low wage retailer — is an admitted felon, a common criminal that will pay $81 million in fines for a years long, willful and egregious pattern of illegal dumping of hazardous wastes. Welcome a great corporate citizen, won't you? This felon known for — besides criminal activity — bringing with it low-wage jobs and killing higher-wage jobs in communities along with long-standing local businesses, will be moving into Monroe to build a monstrous superstore right off Highway 2 in the heart of the city.
► At Huffington Post — Walmart protest movement grows as workers strike again — As Walmart workers this week resume strikes at stores around the nation, organizers are saying that more employees than ever have joined the ranks of the activists, with some experts going so far as to say that the movement has achieved critical mass.
► At Huffington Post — Striking Walmart and fast-food workers as stimulus (by Peter S. Goodman) — We ought to be cheering on these striking workers, because they are pressing to secure what would amount to a dose of private-sector economic stimulus at a time when the government has proven wholly incapable of delivering a meaningful jolt. If these workers earn more money, they will spend it and spur economic growth.
► At AFL-CIO Now — Walmart, Gap refuse to sign Bangladesh safety pact — Following the tragic building collapse that killed more than 1,300 Bangladeshi garment workers and recent fires that have claimed the lives of more than 400 Bangladeshi clothing workers, more than 40 clothing retailers have signed on to the Accord on Building and Fire Safety. But two of the major retailers that count on low-wage Bangladeshi workers to make the clothes they sell have refused.
---
NATIONAL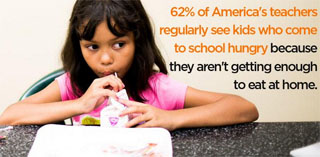 ► In today's NY Times — From the mouths of babes (by Paul Krugman) — What do Republicans want to do with the federal food stamp program? First, shrink it; then, effectively kill it. I understand the supposed rationale: We're becoming a nation of takers, and doing stuff like feeding poor children and giving them adequate health care are just creating a culture of dependency — and that culture of dependency, not runaway bankers, somehow caused our economic crisis. But I wonder whether even Republicans really believe that story — or at least are confident enough in their diagnosis to justify policies that more or less literally take food from the mouths of hungry children. As I said, there are times when cynicism just doesn't cut it; this is a time to get really, really angry.
► In the National Journal — Immigrants may help delay a budget reckoning — Between 2002 and 2009, immigrants—citizens or not—contributed $115 billion more to Medicare than they used, according to a new study in Health Affairs, the reputable health policy journal. The U.S.-born, on the other hand, generated a $28 billion deficit. Immigrants, it turns out, may be helping to delay a budget reckoning.
► At AFL-CIO Now — Behind the smoke: What immigration reform really means — As commonsense immigration reform moves through the U.S. Senate, people and groups on the losing side of the debate are making outrageous claims in bogus studies and TV commercials. Let's take a minute and revisit some of the facts about immigration reform.
► From the American Sociological Assoc. — Study: Labor union decline is main cause of rising corporate profits, declining wages — A new study suggests that the decline of labor unions, partly as an outcome of computerization, is the main reason why U.S. corporate profits have surged as a share of national income while workers' wages and other compensation have declined.
► From AP — Average U.S. household hasn't regained wealth — The average U.S. household has a long way to go to recover the wealth it lost to the recession, a report by the Federal Reserve Bank of St. Louis concluded Thursday. The typical household has regained less than half its wealth, the analysis says.
---
T.G.I.F.
► Happy 49th birthday to Darryl McDaniels, who put the DMC in Run-DMC. In this 1986 video of their classic, "It's Tricky," the iconic rappers turn the Three-card Monte tables on Penn and Teller, teach them to dance (in Their Adidas, of course), and are foiled in the end. Enjoy.
---
The Stand posts links to Washington state and national news of interest every weekday morning by 10 a.m.
Short URL: https://www.thestand.org/?p=24226
Posted by
David Groves
on May 31 2013. Filed under
DAILY LINKS
. You can follow any responses to this entry through the
RSS 2.0
. Both comments and pings are currently closed.