Boeing's shift, Microsoft's high-road option, who's runnin' things…
Monday, June 3, 2013
---
AEROSPACE

► In the PS Business Journal — Puget Sound loses as Boeing opens engineering center in South Carolina — Boeing Commercial Airplanes' center of gravity moved further from the Puget Sound area Friday, after Boeing announced it is establishing competing engineering centers in South Carolina and California. For the Puget Sound region Friday's development will, in a sense, pit union engineers here against non-union engineers in Charleston in competitive bidding against each other.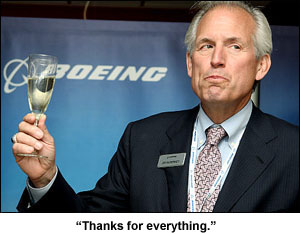 ► In Saturday's Seattle Times — Boeing shifting engineering work to South Carolina, California — Even as Boeing announced it will open engineering centers outside the Puget Sound region, aerospace-industry players here insisted Friday that Washington state will remain the jet-maker's core engineering base for the foreseeable future. Boeing said it will transfer a chunk of engineering work employing some 300 people from Tukwila to Long Beach, Calif., and will create engineering centers for future work in South Carolina and possibly in Kiev, Ukraine.
EDITOR'S NOTE — Remember that amid defense industry budget cuts, Boeing profits are way up — surprising analysts — thanks to the performance of its Puget Sound-based Commercial Airplanes division and the job local engineers and machinists have done fixing the mess Boeing executives made of outsourcing the 787. As aerospace analyst Scott Hamilton says in this story, "(Boeing CEO) Jim McNerney does not like Washington state. He doesn't like unions. SPEEA could have got down on its knees and genuflected to Chicago, and they would still have moved jobs out." Darth McNerney, indeed.
► In the Seattle Times — SPEEA reaches accord with Boeing on instructors — The union has reached a tentative agreement with the company on a new contract for a small group of instructor pilots and a separate agreement for the 38 people facing layoff because their work as flight simulator instructors is moving from Seattle to Miami.
---
STATE GOVERNMENT
► In the PS Business Journal — Business climate: What politicians can do to help (by WA Roundtable's Steve Mullin) — A recent update of the Washington Roundtable's Benchmarks for a Better Washington — an annual report measuring our state's economic vitality  — underscores the need for action on education and transportation policy.
EDITOR'S NOTE — Interesting that the Roundtable's leader focuses on education and transportation, while other business lobbyists in Washington have seized on a deliberately deceptive aspect of that benchmark report to justify including workers' compensation benefit cuts in their list of special session demands.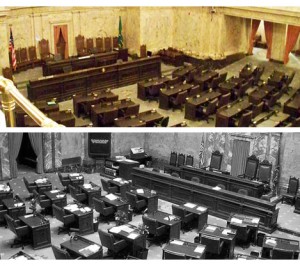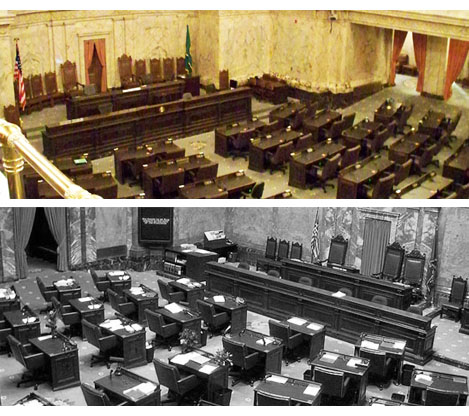 ► In today's Olympian — Budget stalemate means it's time to explore options — Washington lawmakers have skittered past their June 1 legal deadline for approving a state government operations budget for the next two years, and Gov. Jay Inslee's budget staff says it must look at options for running agencies if the political stalemate at the Capitol continues much later.
► In the Olympian — Tea Party politics have no place in special session (by Reps. Sam Hunt and Chris Reykdal) — The only purpose of this special session should be passage of responsible budgets that improve funding for education, transportation, and provide family-wage jobs. We do not need to be held hostage by a series of so-called reform bills demanded by Senate Republicans. It is time to act on the operating, capital and transportation revenue packages.
► In today's Spokesman-review — House GOP's 'tax hike' hyperbole doesn't stand up to scrutiny (by Shawn Vestal) — House Republicans say that extending a small 3-year-old tax increase for Washington state's service businesses "could eliminate thousands of jobs." It refers to the proposal as a "massive tax hike" that will cost 144,237 employers nearly $532 million in the next two years. That's not how much taxes would go up. It's how much they wouldn't go down. It's not nothing. But it couldn't kill much of a job.
► In Sunday's News Tribune — Is naming new state senator an emergency? — The Pierce County Council is facing pressure to speed up the process of naming a replacement for state Sen. Mike Carrell, who died Wednesday. Carrell's death leaves the state Senate in a virtual tie — with 24 members remaining in the GOP-led Majority Coalition Caucus and 24 members in the Democratic caucus. The vacancy could hand power to the Democrats if Democratic Lt. Gov. Brad Owen were to choose to exercise what he says is his tie-breaking authority.
---
LOCAL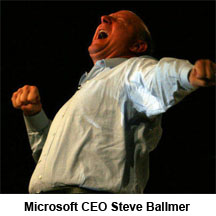 ► In today's Seattle Times — Microsoft could take high road, find payoff by paying up taxes — Influential Wall Street analyst Rick Sherlund says Microsoft should bring $66 billion in overseas profits back to the U.S. and pay the taxes that come due. There would still be plenty left over — enough to more than double the company's dividend. … Paying up taxes should earn customer respect and loyalty in the U.S., which remains Microsoft's largest market. The money would flow through government agencies, which are Microsoft's largest customers. The people of America would be the ultimate beneficiaries and presumably they'd show some gratitude. Taking this high road would differentiate Microsoft from competitors that aggressively try to minimize direct financial support of their country, then blame tax codes that were written under the influence of corporate lobbyists.
EDITOR'S NOTE — Most of us consider paying our taxes to be our legal obligation as opposed to "taking the high road."
► In today's Columbian — Coast Guard to meet on CRC — Those passionate about the Columbia River Crossing project, mark your calendars: The U.S. Coast Guard is hosting a public meeting on the transportation project Wednesday evening at the Hilton Vancouver Washington, 301 W. Sixth St. in Vancouver. Public comment given at the meeting will help the Coast Guard decide whether it should grant the CRC a crucial bridge permit.
► In the (Everett) Herald — Lovick top choice in local Democrat vote — Local Democrats voted Saturday to pick Sheriff John Lovick as their top choice to become Snohomish County executive. About half of the county's Democratic Party precinct committee officers showed up to select nominees to replace Aaron Reardon, who resigned Friday after a series of scandals.
---
IMMIGRATION REFORM

► At The Hill — Schumer predicts immigration bill will pass Senate by July 4, aims for 70 votes — Sen. Charles Schumer (D-N.Y.) on Sunday predicted the Senate would pass its immigration reform bill by July 4 and said a strong vote for the measure could force House Republicans to embrace the Gang of Eight's bill, despite Speaker John Boehner's (R-Ohio) vow to the contrary.
► At Politico — Immigration deal hangs on border security — The Gang of Eight's hopes for a Senate supermajority is running into the GOP's push for a dramatic crackdown on border security — testing the limits of the bipartisan coalition that's propelling the bill through Congress.
---
WHO'S RUNNIN' THINGS

► In The Hill — Wall Street routs groups pressing for tighter regulation — Hundreds of Wall Street lobbyists are swarming government agencies and gutting the Dodd-Frank financial reform law, their opponents say. Unions, consumer groups and others complain that they are over-matched and losing fights to preserve regulations that stand between the economy and another financial meltdown.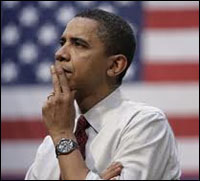 ► In today's NY Times — Obama's covert trade deal (by Lori Wallach and Ben Beachy) — Whatever one thinks about "free trade," the secrecy of the Trans-Pacific Partnership process represents a huge assault on the principles and practice of democratic governance. That is untenable in the age of transparency, especially coming from an administration that is otherwise so quick to trumpet its commitment to open government.
► From AP — Fire kills 119 at poultry plant in China — Fire raged through a poultry plant in northeastern China on Monday, trapping workers inside a cluttered slaughterhouse and killing at least 119 people, reports and officials said.
► In the NY Times — Review of foreign direct investments needs to be rethought (by AFL-CIO's Thea Lee) — In the past, it was assumed that all incoming investment — such as the proposed purchase of Smithfield Foods by a Chinese meat processing company — automatically conferred a positive economic impact in terms of job creation and growth, and that the only potential risk was related to national security. However, this is no longer a safe assumption.
► At In These Times — Mississippi lavishes $1.2 billion in subsidies on Nissan as workers get the shaft — Thirteen years after Japan-based automaker Nissan chose the small, impoverished community of Canton, Miss., as the site of a new auto-assembly plant, a just-released study shows that the company is failing to deliver on its promise of high-wage job creation in Mississippi — while at the same time draining the state of revenue used to pay for a massive package of subsidies.
► At Huffington Post — One Walmart's low wages could cost taxpayers $900,000 per year, House Dems find — Walmart wages are so low that many of its workers rely on food stamps and other government aid programs to fulfill their basic needs, a reality that could cost taxpayers as much as $900,000 at just one Walmart Supercenter in Wisconsin, according to a study released by Congressional Democrats on Thursday.
---
TODAY'S MUST-READ
► In Sunday's NY Times — The $2.7 trillion medical bill — In Keene, N.H., Matt Meyer's colonoscopy was billed at $7,563.56. Maggie Christ of Chappaqua, N.Y., received $9,142.84 in bills for the procedure. In Durham, N.C., the charges for Curtiss Devereux came to $19,438, which included a polyp removal. In many other developed countries, a basic colonoscopy costs just a few hundred dollars and certainly well under $1,000. That chasm in price helps explain why the United States is far and away the world leader in medical spending, even though numerous studies have concluded that Americans do not get better care.
---
The Stand posts links to Washington state and national news of interest every weekday morning by 10 a.m.
WASHINGTON IS A UNION STATE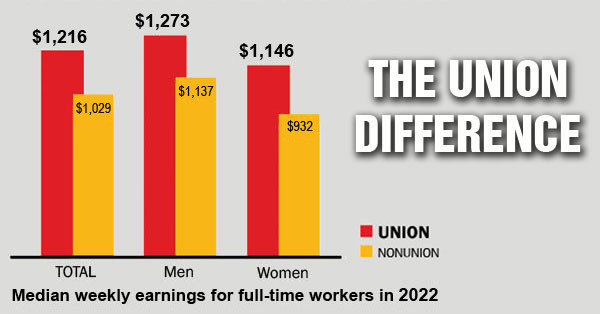 CHECK OUT THE UNION DIFFERENCE in Washington state: higher wages, affordable health and dental care, job and retirement security.
FIND OUT HOW TO JOIN TOGETHER with your co-workers to negotiate for better working conditions and respect on the job. Or go ahead and contact a union organizer today!