Farm workers walk, Fairchild furloughs, Hunger Games, McBudgeting…
Monday, July 15, 2013
---
IMMIGRATION REFORM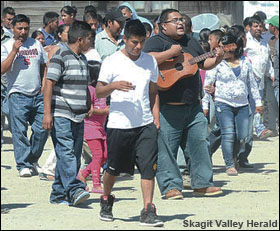 ► In the Skagit Valley Herald — Farm workers strike over wages, treatment — More than 200 migrant workers walked off the fields of Sakuma Bros. Farms on Thursday, saying they would not return to work if demands for higher wages and better working conditions were not met. One worker was reportedly fired after complaining openly about migrant workers' wages and working conditions. One of the main issues was that temporary H-2A foreign workers who are coming in to help with the late blueberry and blackberry harvest in August will be guaranteed a higher minimum wage, have better housing and have all their transportation costs covered to and from Mexico.
► In the (Everett) Herald — No immigration status quo (editorial) — If House Republicans such as Washington's Cathy McMorris Rogers and Doc Hastings sandbag comprehensive immigration reform, they do so at their party's political peril. Punting is not leadership, history is not static, and the status quo is not tenable.
► At Politico — Poll: Democrats right on immigration — In the Gallup survey, 48% of adults polled picked the Democrats' policies on immigration reform as resembling their own; 36% picked the GOP.
---
LOCAL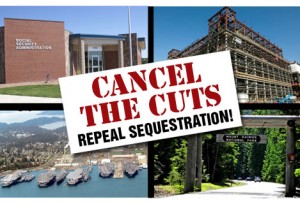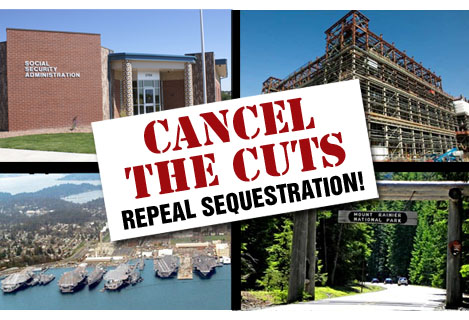 ► In the Spokesman-Review — Furloughs at Fairchild show need to fix sequester (editorial) — The circular firing squad of budget sequestration has claimed its latest victim, as brainless spending cuts hit civilian employees of the Defense Department last Monday, and will continue to do so until Sept. 21. Sequestration ensures that some government waste will survive, while meaningful functions are crippled. Congress must end this war on common sense.
► In today's Oregonian — Longshore picketing at Portland-area grain terminal turns racist with raccoon incident — A spokeswoman for the ILWU, released a statement calling a racist incident involving a raccoon upsetting. Welcome to the front lines of the months-long lockout at grain export terminals in Portland and Vancouver. The metro area remains a hotbed of labor turmoil, as dockworkers picket the terminals and engage in continuing strife at the Port of Portland's container yard — and as Daimler Trucks North America workers strike for higher pay.
► In the (Longview) Daily News — Bill would protect veterans from discrimination — Army veterans coming home from overseas tours often get a warm welcome from civilians while they're in uniform. U.S. Rep. Derek Kilmer submitted a bill this week to make sure civilian employers and landlords don't treat veterans poorly once they leave the military.
► From AP — Labor union authorizes Oregon state workers' strike — The vote empowers the bargaining team for Service Employees International Union Local 503, which represents 19,000 Oregon state employees, to enact a strike if it sees fit. The prior contract with the state expired June 30. The state has extended its provisions twice, as negotiators tried to reach an agreement.
---
STATE GOVERNMENT
► In the (Everett) Herald — Tuition won't rise at 2-year colleges — The State Board for Community and Technical Colleges voted in the morning to freeze rates for resident and nonresident students. It will be the first time since 1989 that tuition will not rise at any of the state's two-year colleges.
---
BOEING

► In today's NY Times — Airlines confident in 787, but doubts linger — Air accident investigators continued on Sunday to try to figure out why a parked 787 Dreamliner caught fire on Friday in London, while airlines around the world kept flying the plane and expressed confidence in it.
► In today's (Everett) Herald — Everett mayor takes the lead on aerospace — Everett Mayor Ray Stephanson is being asked to take on more responsibility as a local political advocate for aerospace commerce. He is increasingly prominent at conferences and recently was asked to lead a 777X task force.
---
NATIONAL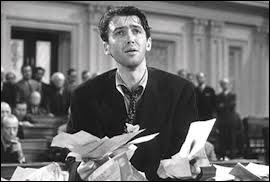 ► In The Hill — Reid sets up nuclear showdown to avoid nullification of consumer, labor agencies — Senate Majority Leader Harry Reid (D-NV) has set up a high-stakes Senate rules showdown this week over the confirmation of several presidential nominees, threatening to eliminate the filibuster for executive nominations (but not judges or legislation) with a simple majority — the so-called nuclear option — if Republicans block them.
ALSO TODAY at The Stand — America's working families need a (rule) change
► In the Washington Post — Path ahead is unclear for food stamp funding —  The lead Democratic architect of the Senate farm bill on Friday faulted conservative Republicans for casting doubt on the future of federal farm and food aid policy as House GOP leaders left Washington for the weekend with no immediate plans to take up legislation addressing food stamp money.
► In today's NY Times — Hunger Games, U.S.A. (by Paul Krugman) — Something terrible has happened to the soul of the Republican Party. We've gone beyond bad economic doctrine. We've even gone beyond selfishness and special interests. At this point we're talking about a state of mind that takes positive glee in inflicting further suffering on the already miserable.
► At The Dish — The tragedy of Trayvon (by Andrew Sullivan) — The "stand-your-ground" law – when it interacts with race – can come perilously close to a return to the right to lynch black men in America – just for being be in the wrong place at the wrong time, for doing nothing wrong, except wearing a hoodie and carrying some Skittles… We must respect the jury's decision. But we need not respect that law. And, unless we are to return to the era of lynching, it needs to be repealed.
► At AFL-CIO Now — Hostess Brands returns to snack cake market, will not hire professional bakers — Bakery, Confectionery, Tobacco Workers and Grain Millers International Union President David B. Durkee issued a statement on the impending re-entry by Hostess Brands, LLC, into the snack cake market:
Rather than hire professional, experienced bakers who have produced quality snack cakes in the company's bakeries for decades, Hostess management has chosen instead to hire primarily workers with little or no experience in the demanding wholesale snack cake baking industry.
---
McBUDGETING

► From LowPayIsNotOK.org —
---
The Stand posts links to Washington state and national news of interest every weekday morning by 10 a.m.
Short URL: https://www.thestand.org/?p=25378
Posted by
David Groves
on Jul 15 2013. Filed under
DAILY LINKS
. You can follow any responses to this entry through the
RSS 2.0
. Both comments and pings are currently closed.