Now fix it, Clark Co. exhibit, unions vs. ObamaCare…
Monday, July 22, 2013
---
STATE GOVERNMENT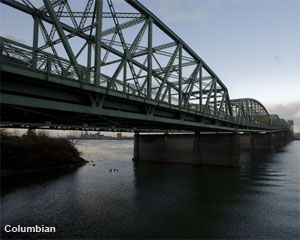 ► In today's Columbian — Lawmakers ask: Get back up on the bridge — Just weeks after the demise of the Columbia River Crossing project, a bipartisan group of Southwest Washington lawmakers is asking state transportation officials to regroup and discuss a new solution for updating the I-5 Bridge over the Columbia River. The letter asks Washington Department of Transportation Secretary Lynn Peterson to study how safe the I-5 Bridge is, and how it could be upgraded to address any safety problems.
► From AP — Tuition freeze in place at state schools — Higher education budgets are getting their first increase from the Washington general fund since 2009, and with that boost, comes a mandated one-year tuition freeze that provides a welcome break for those paying for college.
► In today's Olympian — Costs prompt state to close data center early — In a switch of strategy, state government now plans to completely shut down one of its major data centers in Olympia, merging data-processing from that older facility into a $262 million State Data Center and office building complex built two years ago near the Capitol.
► In the NW Labor Press — Oregon unions see results in 2013 legislative session — With Democratic majorities in the House (34-26) and Senate (16-14), legislators passed a law barring public sector union-busting, closed a loophole in the state prevailing wage law, and approved hundreds of millions of dollars in new construction and infrastructure spending, enough to keep many  building trades union members busy in the coming two years.
EDITOR'S NOTE — What a difference not having a Republican Majority Coalition Caucus can make.
---
LOCAL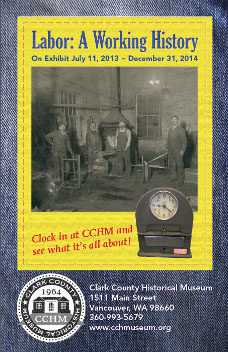 ► In today's Columbian — Museum exhibit showcases key role unions played in shaping county — A new exhibit at the Clark County Historical Museum aims to bring public recognition to the vital role of labor unions and everyday workers in building the county's long, rich history as a enter of commerce and manufacturing. The exhibit spans from the Hudson's Bay Company's trading post almost two centuries ago to today's uncertain world for labor unions, which face declining membership and, as Barnes notes, scant public recognition.
ALSO at The Stand — Clark Co. labor history exhibit opens; special reception July 24 — Delegates and guests to the Washington State Labor Council 2013 Convention — and all other interested union members and supporters in the area — are invited to see this exhibit at a special reception from 6 to 9 p.m. Wednesday, July 24, the night before the convention begins.
► In Sunday's Seattle Times — Mayor McGinn goes all out on Whole Foods over worker pay (by Danny Westneat) —  Mayor Mike McGinn is going where no mayor has gone before, saying he won't support a Whole Foods development in West Seattle unless the company raises the wages of its workers.
► In Sunday's Seattle Times — Local hiring picks up, but recovery varies among sectors — The Seattle-area economy has recovered 99 percent of the 123,800 jobs it lost in the Great Recession. But four years after the end of the worst recession since the Great Depression, getting a job isn't a slam dunk as employers still can afford to be picky.
► In Sunday's Seattle Times — Highway 99 tunnel machine is Seattle's biggest grind — The massive drill nicknamed 'Bertha' will push the limits of technology by navigating soft soil, seeping saltwater, road pilings and the ground under historic brick buildings. Later this month it will start an arduous, 1.7-mile underground voyage from Sodo to South Lake Union.
---
AFFORDABLE CARE ACT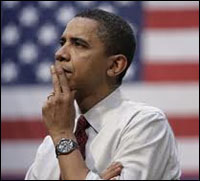 ► In the Wall St. Journal — Union fears 'destructive consequences' of ObamaCare — In a letter sent to President Barack Obama, Laborers International Union of North America President Terry O'Sullivan wrote that the law has "destructive consequences" for the types of health plans that cover millions of unionized construction workers and their family members. The letter follows a separate one written last week by the heads of the Teamsters, UFCW and UNITE HERE, expressing similar concerns to Congress's top Democrats, Sen. Harry Reid and Rep. Nancy Pelosi. The IBEW took out print ads raising alarms about the law last week as well.
► At TPM — What's behind the big union attack on ObamaCare — It turns out this Labor-Republican alliance of convenience is bound by two interwoven acts of self-interest: the GOP's unwillingness to fix one flawed piece of the law; and certain unions' efforts to create a special carveout for their members — to offset potential disruptions Obamacare might create for workers and unions — at a politically vulnerable moment for the ACA.
---
MOTOR CITY

► In today's NY Times — Cries of betrayal as Detroit plans to cut pensions — Detroit's pension shortfall accounts for about $3.5 billion of the $18 billion in debts that led the city to file for bankruptcy last week. How it handles this problem — of not enough money set aside to pay the pensions it has promised its workers — is being closely watched by other cities with fiscal troubles.
► In today's NY Times — Detroit, the new Greece (by Paul Krugman) — The important thing is not to let the discussion get hijacked, Greek-style. There are influential people out there who would like you to believe that Detroit's demise is fundamentally a tale of fiscal irresponsibility and/or greedy public employees. It isn't.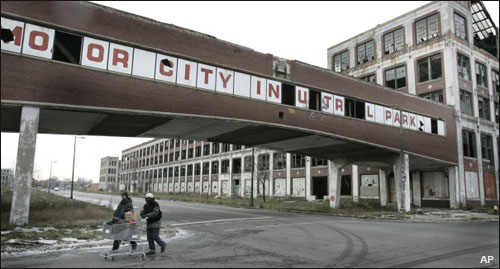 ► A MUST-READ at Huffington Post — Detroit, and the bankruptcy of America's social contract (by Robert Reich) — There's a more basic story here, and it's being replicated across America: Americans are segregating by income more than ever before. The geo-political divide has become so palpable that being wealthy in America today means not having to come across anyone who isn't. … In drawing the relevant boundary to include just the poor inner city, and requiring those within that boundary to take care of their compounded problems by themselves, the whiter and more affluent suburbs are off the hook. "Their" city isn't in trouble. It's that other one — called "Detroit." It's roughly analogous to a Wall Street bank drawing a boundary around its bad assets, selling them off at a fire-sale price, and writing off the loss. Only here we're dealing with human beings rather than financial capital. And the upcoming fire sale will likely result in even worse municipal services, lousier schools, and more crime for those left behind in the city of Detroit. In an era of widening inequality, this is how wealthier Americans are quietly writing off the poor.
---
NATIONAL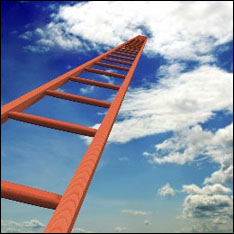 ► In the NY Times — In climbing income ladder, location matters — A new study is the first with enough data to compare upward mobility across metropolitan areas. These comparisons provide some of the most powerful evidence so far about the factors that seem to drive people's chances of rising beyond the station of their birth, including education, family structure and the economic layout of metropolitan areas. Climbing the income ladder occurs less often in the Southeast and industrial Midwest, the data shows, with the odds notably low in Atlanta, Charlotte, Memphis, Raleigh, Indianapolis, Cincinnati and Columbus. By contrast, some of the highest rates occur in the Northeast, Great Plains and West, including in New York, Boston, Salt Lake City, Pittsburgh, Seattle and large swaths of California and Minnesota.
► From Gannett — Flip side of SD's business-friendly climate: Low wages — In the past month, South Dakota's business-friendly climate has won national acclaim. But area labor groups say it's time to change the low-wage piece of that equation.
► From AP — Voters shifting right force House GOP to keep pace — Research supports the belief by House Republicans that they owe their jobs to increasingly conservative activists, and that it's safer than ever to veer right on many subjects rather than seek compromise with Democrats.
► In the NY Times — Justice sequestered (editorial) — The madness of across-the-board budget cuts known as sequestration is causing real damage to the American justice system — undermining the sound functioning of the courts and particularly imperiling the delivery of effective legal representation to poor people accused of federal crimes.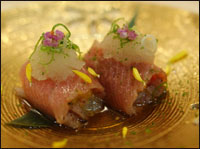 ► In the NY Times — At an upscale Beverly Hills restaurant, claims of underpaying workers — One of the country's most renowned sushi restaurants is Urasawa. A typical bill for two people easily tops $1,000. Diners are served dishes dotted with caviar and 24-karat gold flakes (for the iron, the chef notes). But workers in the back kitchen are routinely denied overtime pay and forbidden from taking breaks, according to former employees. One former employee said he resorted to urinating in the sink meant for cleaning mops after being told the men's restroom was for customers only during business hours. The Urasawa case has become something of a battle cry among the overwhelmingly immigrant work force in hundreds of kitchens here.
► At Salon — McDonald's workers strike after enduring 110-degree heat — Workers at a Manhattan McDonald's and a Chicago Dunkin' Donuts mounted strikes Friday to protest alleged unsafe heat. The single-store strikes are the latest in a wave of fast food walkouts, and could represent an additional front in low-wage workers' struggle against the mammoth industry.
---
CHEATERS PROSPER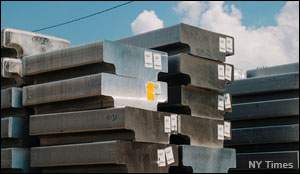 ► In the NY Times — A shuffle of aluminum; but for banks, pure gold — Each day, a fleet of trucks shuffles 1,500-pound bars of the metal among the warehouses. Two or three times a day, sometimes more, the drivers make the same circuits. They load in one warehouse. They unload in another. And then they do it again. This industrial dance has been choreographed by Goldman Sachs to exploit pricing regulations set up by an overseas commodities exchange. The back-and-forth lengthens the storage time. And that adds many millions a year to the coffers of Goldman, which owns the warehouses and charges rent to store the metal. It also increases prices paid by manufacturers and consumers across the country. Tyler Clay, a forklift driver who worked at the Goldman warehouses until early this year, called the process "a merry-go-round of metal."
---
The Stand posts links to Washington state and national news of interest every weekday morning by 10 a.m.
WASHINGTON IS A UNION STATE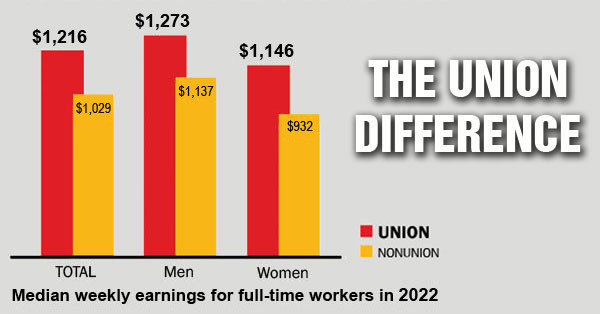 CHECK OUT THE UNION DIFFERENCE in Washington state: higher wages, affordable health and dental care, job and retirement security.
FIND OUT HOW TO JOIN TOGETHER with your co-workers to negotiate for better working conditions and respect on the job. Or go ahead and contact a union organizer today!