Daimler strike ends, no more free lunch, another GOP shutdown…
Tuesday, July 23, 2013
---
LOCAL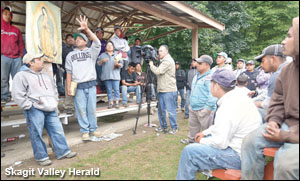 ► In the Skagit Valley Herald — Farmworkers go back on strike over wage differences — For the second time in as many weeks, more than 200 berry pickers at Sakuma Bros. Farms walked off the job, saying they would not go back to work until their wages were increased. The workers said their former supervisor's new crew is being paid more than double the rate they are earning for blueberries by the flat, according to a press release from Community to Community, an organization helping the workers organize the strike. This difference in price, workers argue, is a form of punishment for their first strike on July 11.
ALSO TODAY at The Stand — Farmworkers strike again, claim retaliation
► In today's Oregonian — Daimler Truck North America workers approve contract, end strike — Workers at Daimler Trucks North America's Swan Island plant say they've ended a strike that was about to enter its fourth week. Members of Painters Local 1094 and IAM Local 1005 ratified new contract terms. Employees represented by the Teamsters and SEIU, who had been respecting strike lines, also approved the new contract terms.
► In today's Columbian — Foes fill meeting on Port of Vancouver oil plan — In a high-stakes situation and under a national spotlight, commissioners are expected to take action this morning on a controversial proposal to build the largest oil terminal in the Pacific Northwest. The companies' oil-by-rail plan would invest up to $100 million to build a 42-acre operation they say will generate an estimated 250 temporary construction jobs and up to 120 full-time positions, most of them hired locally.
► In today's Oregonian — BPA employees told to speak out about concerns without fear of retaliation — The acting chief told the 3,000 employees that they should feel free to "speak out, voice any concerns, or lodge complaints… without fear of retaliation." The email came four days after two of BPA's top executives were escorted out of the agency's headquarters amid complaints that managers had retaliated against whisteblowers.
► At Publicola — As Mayor, will you work with us? — At a UFCW Local 21 members-only candidate forum late last month, and a UFCW member from West Seattle asked the candidates, "As mayor will you work with us to oppose new developments that contain a low-road non-union workplace as an anchor tenant?" Peter Steinbrueck, Ed Murray, and Bruce Harrell all answered, "Yes."
► In today's Seattle Times — Closing the gender-wage disparity among city workers (by Seattle City Councilmember Jean Godden) — It's maddening that 50 years after the Equal Pay Act, Seattle continues to have a gender pay gap — the widest of any major city in the nation. I am proposing two actions that the mayor and council can take to help women narrow the gap by alerting them to pay inequities.
---
STATE GOVERNMENT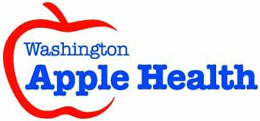 ► In today's Spokesman-Review — Washington's Apple Health aims to simplify Medicaid — Declaring that expansion will simplify coverage, the state announced last week that expanded Medicaid will have a new name: "Apple Health." It's a label that has worked before, officials said. In 2008, the state consolidated its children's programs under the name "Apple Health for Kids."
► In today's Olympian — Auditor finds merit to whistleblower complaints that L&I did weak safety investigations — The state Auditor's Office released two reports on whistle-blower complaints against the Department of Labor and Industries on Monday, and in both the investigators found lax enforcement by state safety inspectors.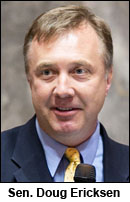 ► In today's Seattle Times — State ethics probe may revamp rules on gifts to lawmakers — The Legislative Ethics Board's investigation into whether five senators — Sens. Doug Ericksen, Steve Litzow, Joe Fain, Mike Hewitt and Mark Schoesler — accepted too many free meals this year may yield new gift-giving rules.
EDITOR'S NOTE — All Republicans! Hmm…
► In today's Olympian — State credit rating gets upgrade from 'negative' to 'stable' — Says State Treasurer Jim McIntire:
These positive revisions will help Washington State by generating stronger investor interest in our upcoming $860 million general obligation bond sale. They provide a measure of optimism about the state's housing market and overall economy — but especially recognize the Legislature's willingness to take the actions necessary to pass a balanced budget for the 2013-15 biennium… (However) there are still challenges ahead that will require a larger, and farther reaching effort, to overcome.
---
FEDERAL GOVERNMENT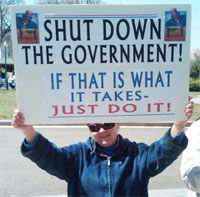 ► In The Hill — Shutdown looms over ObamaCare — ObamaCare is at the center of a rapidly escalating fight that threatens to shut the government down this fall. Senate Republicans, including two members of the leadership, are coalescing around a proposal to block any government funding resolution that includes money for the implementation of the 2010 Affordable Care Act.
► At Politico — Big Tech shelled our for Gang of Eight's immigration reform — Google, Facebook, Oracle, Microsoft, and a full slate of companies and executives showered the Senate's Gang of Eight with a series of donations just before the chamber passed a bill that included the industry's most prized reforms — including more H-1B visas.
► At Politico — Pelosi: Dems may try to force House vote on Senate immigration reform bill — With a discharge petition, Pelosi could force a House vote on the Senate bill by gathering 218 signatures — meaning she'd need just 18 Republicans to sign on. But the maneuver is seen as a direct rebuke of House leadership, and it would be tough to find that many GOP defectors who both support the bill and would be willing to upset leadership.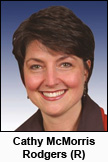 ► In The Hill — Throwing a punch with a smile — Standing shoulder to shoulder with Speaker John Boehner (R-Ohio), Cathy McMorris Rodgers adds a friendly female face to a predominantly male GOP leadership team. But don't be fooled, says Rep. Tom Cole (R-Okla.), "Cathy knows how to throw a punch with a smile. She can be tough and she keeps good order in the conference."
---
NATIONAL
► At AFL-CIO Now — 80% of low-wage workers lack even one paid sick day per year — More than four in 10 private-sector workers and 80% of low-wage workers do not have paid sick days. This means people, especially women who are more likely to work in low-wage jobs, constantly have to choose between their health and a paycheck.
► In today's NY Times — Getting Detroit back on its feet (editorial) — City officials should resist the idea of cutting the pension payments for the city's public workers, which averages $19,000 a year. Unlike the situation in other troubled cities where government officials made lavish pension promises and workers gamed the system to inflate their benefits, Detroit's are quite modest.
► At Huffington Post — A federal bailout for Detroit's pensions? (By RJ Eskow) — Detroit's pension plans may not need a federal bailout. The city may have better options, especially if the politically-motivated machinations of its unelected leaders can be set aside. But morally and practically, there's no reason why a rescue of this kind — or a federal guarantee behind the city's pension plan — shouldn't be on the table.
► At Huffington Post — MillerCoors urges Federal Reserve crackdown on Wall Street's aluminum dealings — The Federal Reserve should toughen oversight of big banks such as Goldman Sachs and JPMorgan Chase due to their negative influence over commodities, including the aluminum in beer cans, brewer MillerCoors will urge on Tuesday.
► At Huffington Post — Target reminded bosses not all Hispanic employees eat tacos, wear sobreros — Three former employees are suing Target for discrimination, citing a document the company distributed to managers with reminders that not all Hispanics eat tacos and burritos or wear sombreros.
---
SHARING IS CARING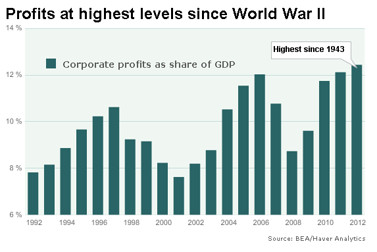 ► From Reuters — What about the workers… and their share of income? (analysis) — Nothing lasts forever but a global trend that set in 30 years ago shows no sign of ending: a steep rise in the share of income that goes to profits and a corresponding decline in labour's slice of the economic pie. The imbalance, which is driven by technical change, the waning clout of unions and the rise of financial markets, raises issues that are primarily political. At what point will public opinion decide that the pendulum has swung too far towards the owners of capital? Should taxes and transfers be tweaked to redistribute income more fairly?
► In today's NY Times — President adopts catchphrase to describe proposed recipe for economic revival — President Obama says prosperity does not trickle down, and a rising tide does not necessarily lift all boats. The conservative policies predicated on those ideas, he maintains, amount to a you're-on-your-own economics, when the country really needs a we're-in-this-together approach: in short, prosperity needs to come from the "middle out" rather than the top down.
---
The Stand posts links to Washington state and national news of interest every weekday morning by 10 a.m.
WASHINGTON IS A UNION STATE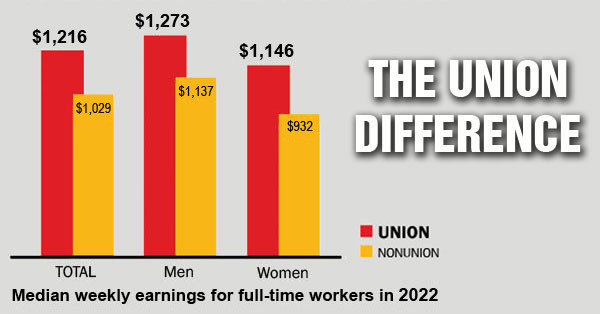 CHECK OUT THE UNION DIFFERENCE in Washington state: higher wages, affordable health and dental care, job and retirement security.
FIND OUT HOW TO JOIN TOGETHER with your co-workers to negotiate for better working conditions and respect on the job. Or go ahead and contact a union organizer today!