'Delusional' Gov. Walker will bring anti-union tour to Seattle
SEATTLE (July 31, 2013) — The Washington Policy Center, a corporate-funded conservative think tank with close ties to the American Legislative Exchange Council (ALEC), has invited Wisconsin Gov. Scott Walker to its 2013 annual fundraising dinner in Seattle on Thursday, Sept. 5. Alongside state Rep. Jan Angel (R-Bremerton), WPC President Daniel Mead Smith is Washington state co-chair of ALEC, the controversial "corporate bill mill" that has pushed Stand Your Ground laws like Florida's, discriminatory voter-identification legislation, and anti-union "right-to-work" (for less) legislation across the nation.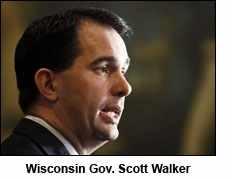 Gov. Walker has become a hero of right-wing anti-labor conservatives for passing legislation in his state known as Act 10, which limited collective bargaining rights for state employees. He's on a national tour to promote this fall's release of his book entitled Unintimidated: A Governor's Story and a Nation's Challenge. The other day Walker even likened himself to Franklin Delano Roosevelt, a claim that Wisconsin AFL-CIO President Phil Neuenfeldt called "laughably delusional."
The truth is, he's the anti-FDR. His dramatic disinvestment in state and local government and his attack on bargaining rights stand in direct contrast to FDR's legacy of job-creating public investment and respect for workers' rights.
Also unlike FDR, Walker has a horrible record on job creation.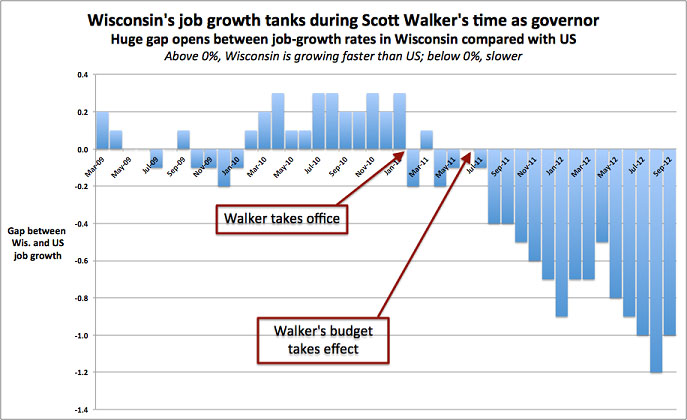 By imposing austerity all-cuts budgets at both the state and local levels of government, Walker's Wisconsin has lagged behind the rest of the U.S. in job creation, prolonging the recession for his state's unemployed.
Phil Neuenfeldt, President of the Wisconsin State AFL-CIO, said this about Walker's latest parade of bad ideas. 
It's time for Gov. Walker to stop showboating for the National Governors Association and get real about bringing good times to Wisconsin. Any expansion of Act 10 is an expansion of a reckless policy that divides workers and cripples workers' rights on the job. The right to collective bargaining is essential and gives workers in both the public and private sector a shot at the middle class. Collective bargaining allows workers to speak up about unsafe work conditions, inadequate or faulty work equipment and the most efficient way to serve our communities.

Gov. Walker is no Franklin Delano Roosevelt and Wisconsin knows it.  FDR brought us out of the Great Depression with strong investment in workers and jobs programs that worked. Scott Walker is drowning in a jobs deficit and to compare himself to FDR is laughably delusional.
Unfortunately, the Washington Policy Center dinner from 7 to 9 p.m. at the Sheraton Seattle, 1400 6th Ave., is already sold out. But there may be some standing-room-only slots available on the sidewalk outside.
Short URL: https://www.thestand.org/?p=25739
Posted by
David Groves
on Jul 31 2013. Filed under
LOCAL
. You can follow any responses to this entry through the
RSS 2.0
. Both comments and pings are currently closed.