Tunnel pickets down, Millennium hearing, home-care workers' victory…
Wednesday, September 18, 2013
---
LOCAL

► In today's Seattle Times — Tunnel-digger Bertha heading back to work — The stranded Highway 99 tunnel machine should restart within a few days, Gov. Jay Inslee announced Tuesday, now that longshore workers have agreed to halt picketing on the waterfront. But while protest signs have been removed, and the massive drill Bertha can resume its 14-month dig from Sodo to South Lake Union, the longshore workers vow to continue the fight for a handful of tunnel-related jobs.
MORE coverage from the Associated Press.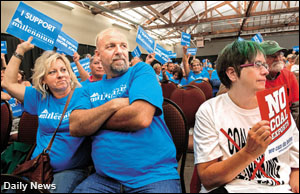 ► In today's (Longview) Daily News — First hearing on Millennium plans colorful, yet civil — About 2,000 people jammed into the Cowlitz Expo Center on Tuesday evening, capping six hours of hearings on a proposed Longview coal terminal in which both sides rallied vigorously but without the incivility law enforcement officials had feared. With opponents dressed in red and supporters donning blue, the Expo Center resembled a mixed party political convention, with the reds, many bused in from outside the area, in the majority.
► In today's (Longview) Daily News — Coal supporter: Opportunity too good to pass up — For union business agent Jeff Washburn, the Millennium coal terminal debate is simple: It's about jobs. "There are going to be a lot of good union jobs created," he testified during the hearing. "It's a real benefit to the local area."
MORE coverage in the (Vancouver) Columbian.
► At Slog — Congressman Adam Smith, 19 other elected officials endorse SeaTac Good Jobs Initiative — Critics attempting to marginalize SeaTac's "Good Jobs Initiative" as a wacky, far-left, labor-backed jobs-killer, are going to have a tougher time making that argument after this morning's announcement that the $15 an hour minimum wage measure has been enthusiastically endorsed by the eminently centrist US Representative Adam Smith, and a host of other elected officials including King County Executive Dow Constantine, King County Council member (and "lifelong SeaTac resident") Julia Patterson, state House Speaker Frank Chopp, and other prominent Democrats.
► In today's Seattle Times — SeaTac minimum wage proposal gains key endorsements — The so-called Good Jobs Initiative is opposed by Alaska Airlines and other affected businesses, including hotels, car-rental companies and restaurants. Common Sense SeaTac, a business-funded political-action committee, has raised more than $275,000 to defeat the measure.
► In today's News Tribune — County Council delays vote on laying off corrections deputies — The Pierce County Council Tuesday postponed a decision on laying off 16 corrections deputies to explore early retirements, part-time positions and furloughs as alternatives to making a $3 million cut.
► In today's News Tribune — Clover Park teachers approve 3-year contract — Teachers and other members of the Clover Park Education Association will receive raises, while students in the Lakewood-based Clover Park School District will get the equivalent of two more days of instruction, following approval of a new three-year contract between the district and the union.
---
STATE GOVERNMENT

► In today's (Everett) Herald — 'Listening tour' on roads, taxes coming to Everett tonight — Residents on Wednesday can tell state Senate leaders what they think of a plan to boost the gas tax to fund improvements in Washington's transportation system. The meeting begins at 6 p.m. on the first floor of the Snohomish County administration building, 3000 Rockefeller Ave. in Everett.
ALSO TODAY at The Stand — Citizens to legislators: Keep our state rolling!
► In today's Olympian — State actuary says state pensions in good shape — State Actuary Matt Smith's latest report on the financial health of Washington's public-employee pensions says the outlook is for continued improvement despite a financial dip over the past few years. But Smith still thinks the state needs to ratchet down its investment return assumptions to 7.5% by 2021-23 — a move the Legislature has only half-accepted.
► In today's Columbian — Oregon minimum wage will increase to $9.15 an hour — The 15-cent increase takes effect in January and is expected to keep Oregon as the state with the nation's second-highest minimum wage, trailing only Washington state.
---
NATIONAL
► At AFL-CIO Now — Home care workers win wage, overtime protection — Nearly 2 million home care workers — the vast majority of whom are women — take care of the elderly and people with disabilities, often working 12-hour days and 60 to 70 hours a week. Now, for the first time since 1975, most of these workers will have the wage and overtime protection of the Fair Labor Standards Act (FLSA) under a new rule issued Tuesday by the Obama administration's Department of Labor.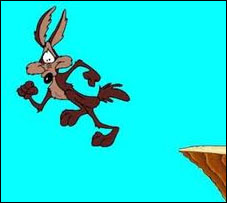 ► In today's NY Times — House GOP to tie spending bill to defunding health care law — House Republican leaders — bowing to the demands of their conservative wing — will put to a vote on Friday a stop-gap spending measure that would strip all funding from President Obama's signature health care law, increasing the likelihood that the government will shut down in two weeks.
► In today's NY Times — The money behind the shutdown crisis (editorial) — Gridlock on Capitol Hill that could lead to a government shutdown is being backed by hard-right groups spending millions of dollars.
► At AFL-CIO Now — Census numbers sh0w lost decade for working families — New U.S. Census Bureau figures provide further evidence that America's working families have experienced a "lost decade" of falling incomes from 2000 to 2012.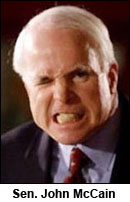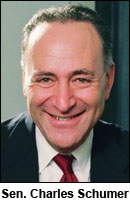 ► At AARP.org — A fix for immigration (by Sens. John McCain and Charles Schumer) — Older Americans have a stake in immigration reform. For example, they suffer longer periods of unemployment; reform can grow the economy and create jobs. It can also significantly strengthen Social Security and Medicare.
► In The Onion — Company more like family whose members are desperate to join better family — "With a lot of jobs, it's nothing more than a paycheck, but this place is really a family where everyone desperately wants to leave so they can make more money and get ahead in their careers with a far superior family," said junior sales associate Omar Castillo, 31, noting that he thinks of his coworkers not simply as colleagues but as relatives whom he would swiftly abandon at a moment's notice should the chance to have more impressive relatives present itself.
EDITOR'S NOTE — If this sounds like you… don't quit that job, fix it!
---
TODAY'S MUST-READ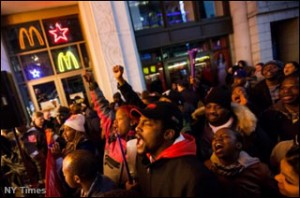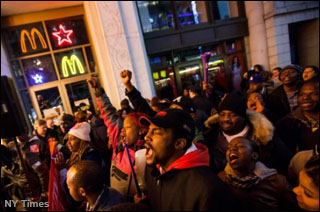 ► In The Hill — Industry groups vow to expose union-backed Worker Centers — Business and labor are going to war over the nonprofit worker centers that union officials increasingly see as the future of their movement. The organizing groups are thriving amid the decline in traditional unions, and campaigns, like Fast Food Forward, have made a splash by staging walkouts of fast-food workers who are demanding $15 per hour in wages and the right to unionize. Industry groups have closely tracked the centers and are ready to fight back against what they see as a deliberate effort to move union organizing outside the law. "They have morphed into groups that harass employers, shame companies and hurt business across the country," said Ryan Williams, an adviser to Worker Center Watch. "They are essentially getting away with skirting labor laws."
EDITOR'S NOTE — Big business is whining that labor is "skirting" labor laws that many businesses completely ignore? Wah! Maybe profitable corporations that pay poverty wages and leave taxpayers to pick up the tab for their employees' health care, housing, etc. could use a little shaming.
---
The Stand posts links to Washington state and national news of interest every weekday morning by 10 a.m.
Short URL: https://www.thestand.org/?p=26695
Posted by
David Groves
on Sep 18 2013. Filed under
DAILY LINKS
. You can follow any responses to this entry through the
RSS 2.0
. Both comments and pings are currently closed.