Tunnel dispute, Needle trial, Hyatt hiccups, defying Obama…
Tuesday, September 17, 2013
---
TUNNEL DISPUTE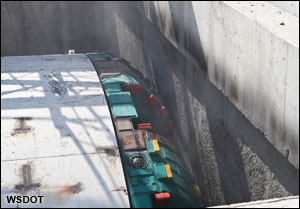 ► In today's Seattle Times — Gov. Inslee steps into tunnel labor dispute — Gov. Jay Inslee spent an hour in Bellevue talking with management and union officials this morning, in an effort to thaw that labor dispute that's caused a nearly four-week delay in the Highway 99 tunnel project. The ILWU is picketing at Terminal 46 on the Seattle waterfront, where excavated muck is supposed to be loaded onto barges and shipped to a quarry. The Seattle Tunnel Partners group intends to use building-trades members instead of longshoremen to do the work. Currently, the conveyor belt isn't moving and tunnel boring machine Bertha isn't drilling. Inslee's staff were gaining confidence in the labor talks a few days ago, but as of noon Monday, "we haven't heard anything about an agreement being close," said his communications director, David Postman. Another session was planned for 6 p.m. "You have to get Bertha going. That was the strong position of the governor." The governor is likely to make a public statement Tuesday.
► In today's Seattle Times — Get Bertha moving (editorial) — It's astonishing that the Highway 99 tunnel — the largest public-works project in Seattle in generations — is shut down in a labor dispute over four jobs. This tempest-in-a-teapot dispute cripples Seattle's reputation and is the type of blind acquiescence to unions which leads companies, such as Boeing, to shift jobs out of state.
EDITOR'S NOTE — The union-hostile editorial board at The Seattle Times has either failed to make even a cursory attempt to understand this dispute or, more likely, is deliberately stoking public anger at unions by suggesting this is just about four jobs. It's about contractors at ports up and down the West Coast engaging in a conscious and deliberate campaign to pit unions versus other unions. It's happened in Longview, Vancouver, Portland and ports south. And now Seattle. The port contractors' goal: to undermine union contracts, break labor solidarity, and ultimately, to get rid of the unions completely. The Seattle Times dutifully champions that cause by publishing simplistic editorials politicizing the matter ("This dispute ultimately sticks to Gov. Jay Inslee") and — in a ridiculous stretch of reason — once again play its tired, false and counterproductive Boeing Card suggesting unions are harming Washington's economy.
---
LOCAL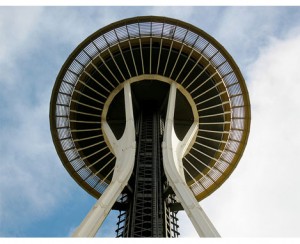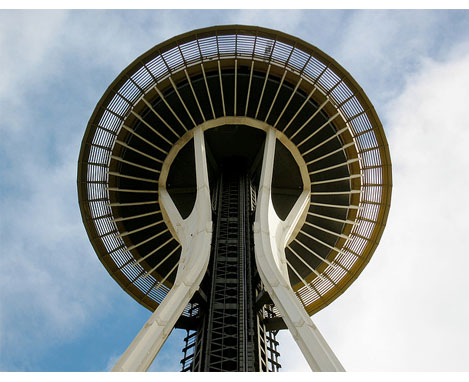 ► In today's Seattle Times — Space Needle management faces NLRB anti-union case — A hearing began Monday in Seattle to consider a complaint by the National Labor Relations Board's regional office that Space Needle LLC, manager of the Seattle landmark, engaged in unfair labor practices. The NLRB is acting on a complaint by Unite Here Local 8, which accuses the Space Needle of unlawfully encouraging employees to resign from the union or not pay dues.
ALSO at The Stand — The Space Needle on Trial! Rally TODAY — Join workers outside the courtroom to tell Space Needle management to finally serve up some respect and settle a fair contract! The Rally at the Space Needle Trial will be today (Tuesday, Sept. 17) at 1 p.m. outside the Federal Building, 915 2nd Ave. in Seattle.
► At Think Progress — Tacoma, Washington next targets for paid sick days — A group of more than 30 business owners, unions, workers, and activists calling themselves "Healthy Tacoma" are trying to build support for a potential city ordinance guaranteeing workers paid sick days. The idea has support from two city council members.
---
AEROSPACE
► In today's (Everett) Herald — First flight of Boeing 787-9 scheduled for 10 a.m. — The Boeing Co. said late Monday that the first flight of the 787-9 was scheduled for 10 a.m. Tuesday, with the plane departing Paine Field in Everett and landing at Boeing Field in Seattle. The new 787-9 is 20 feet longer than the original Dreamliner and will carry 250 to 290 passengers on routes of 8,000 to 8,500 nautical miles. That's about 40 more passengers and 300 nautical miles farther than the original.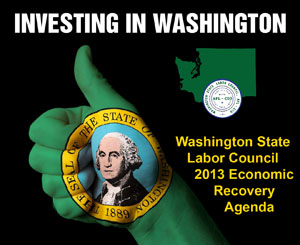 ► In today's News Tribune — New Boeing work would be good for Pierce County businesses (by Bruce Kendall) — A recent report about Boeing's efforts to develop new, more efficient methods for assembling its new 777X is a good sign that the new plane may be built here in Washington state. But it's far from a sure thing. Our state must continue to keep the business climate competitive. We must invest in transportation improvements and expanding educational opportunities to ensure we have skilled workers to fill new positions. These investments are needed to attract and grow aerospace are also needed to keep and attract companies in high technology companies, health care, maritime, logistics and other industries.
ALSO TODAY at The Stand — Transportation forums begin; venues added — The Senate Republican Coalition Caucus's "listening sessions" about the need for a transportation funding package kick off tonight in Bellevue amid a fresh report about how dangerous dozens of aging bridges around the state have become.
---
STATE GOVERNMENT

► In today's Bellingham Herald — L&I proposes 2.7% increase in workers' comp premiums — The increase would be less than 2 cents per hour worked. If approved, it would be L&I's first rate increase in three years. More information is available at Rates.Lni.wa.gov. Final rates will be adopted in early December and go into effect Jan. 1, 2014.
---
NATIONAL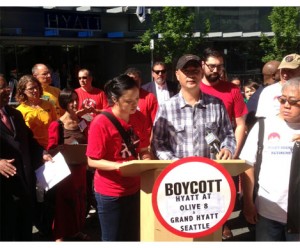 ► At In These Times — UNITE HERE, Hyatt hit hiccups in peace process — A widely heralded union peace agreement that would end a global boycott of Hyatt Hotels Corp and usher in a new era of better labor relations at the sprawling lodgings chain is hitting some potholes on the road to completion, but both sides are still expressing confidence in its ultimate success. The national agreement has failed to bring labor peace to Seattle, where UNITE HERE Local 8 launched a new boycott of the city's two Hyatt hotels on August 28.
ALSO at The Stand — Hyatt workers urge boycott of Seattle hotels
► At Huffington Post — America's poverty rate stuck at 15% for second straight year — The U.S. poverty rate was essentially unchanged at 15 percent in 2012, as roughly 46.5 million people were stuck living at or below the poverty line, the U.S. Census Bureau reported Tuesday. This marks the second straight year that both the poverty rate and total number of people living in poverty were stuck at their current levels.
► In Forbes — Immigration benefits the U.S., so let's legalize all work (by Doug Bandow) — To move forward Congress should separate employment from citizenship. Congress also should regularize the status of those currently in America illegally. Washington should grant residence and employment permits, renewable or permanent, to the undocumented, freeing them of the fear of deportation. They then would be more likely to invest in education and training and integrate into the larger surrounding community.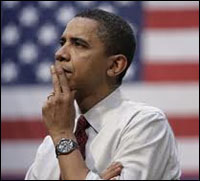 ► In The Atlantic — How a small team of Democrats defeated Larry Summers — and Obama — What does this say about the state of discipline in the Democratic Party? It's tempting, and dangerous, to read too much into a single incident. While dissension in Republican ranks — in both the House and Senate — against leadership has been an object of fascination, horror, and handwringing, the Democrats have run a tighter ship on most matters. In August, Jeffrey Smith argued on The Atlantic that liberals actually deserved Summers because they'd been so unwilling to learn the lessons of the Tea Party and challenge centrist Democrats to stop things like this nomination. Yet on Syria and now on Summers, Senate and House leaders have shown themselves unwilling or unable to unify their caucus behind the president. Maybe Republicans don't have a monopoly on disarray after all.
---
TODAY'S MUST-READ

► At AFL-CIO — Volkswagen and the UAW: Will Republicans still 'get government out of the way?' — On one hand, this story is notable because it shows that Republican politicians have absolutely no problem telling private companies what to do when it suits their ideology. But even more importantly, the creation of a Works Council system in one of the most unexpected places in the country is introducing a new paradigm into the labor movement where workers and management work with co-determination and collaboration to ensure a positive result for all stakeholders. And the last thing Republicans want is for that to spread—especially through their precious "right to work" territory.
---
The Stand posts links to Washington state and national news of interest every weekday morning by 10 a.m.
Short URL: https://www.thestand.org/?p=26686
Posted by
David Groves
on Sep 17 2013. Filed under
DAILY LINKS
. You can follow any responses to this entry through the
RSS 2.0
. Both comments and pings are currently closed.