Hyatt workers urge boycott of Seattle hotels
SEATTLE (Aug. 28, 2013) — Seattle Hyatt hotel workers and supporters have launched a boycott of the Hyatt at Olive 8 and the Grand Hyatt Seattle, denouncing difficult working conditions, unaffordable healthcare, and use of subcontracted workers. Seattle Hyatt workers also say the hotels' local owner, Richard Hedreen, has refused to agree to a fair process for workers to form a union free from management intimidation — a process backed by Hyatt Hotels in a recent national agreement. In response, workers are calling on customers to not eat, meet or sleep at the two local hotels until the matter is resolved.
TAKE S STAND!  UNITE HERE Local 8 is urging all to support the Hyatt workers in Seattle by signing this pledge that you won't eat, sleep or meet at The Hyatt at Olive 8 or the Grand Hyatt Seattle. (Please note that this is a UNITE HERE Local 8 boycott. By Constitution, the Washington State Labor Council cannot add the hotels to a statewide "Do Not Patronize" list until the aggrieved union petitions the WSLC Executive Board, which must vote on that request.)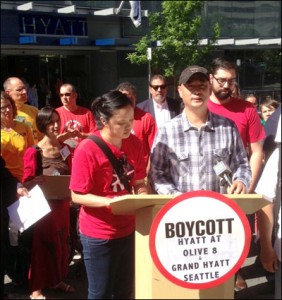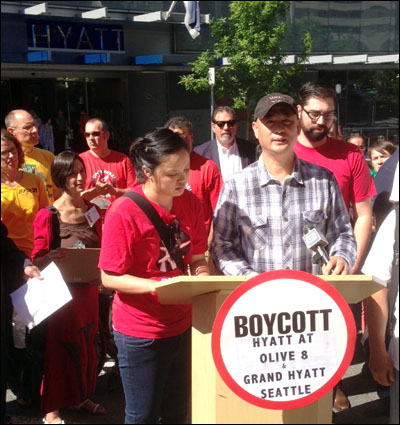 "The boycott may cost workers like me money, but the cost of doing nothing is much greater," said Yuan Ping Tang, a houseman at the Hyatt at Olive 8 (pictured at right with his translator). Yuan Ping and his co-workers report difficulty in affording Hyatt health insurance, which can cost as much as $400 a month for a family of four. They also say more work is being done by subcontracted workers, who are typically paid less with even fewer benefits.
In addition, hotel housekeeping work is difficult work that can lead to debilitating pain and injuries from years lifting heavy mattresses and scrubbing floors. At the Hyatt at Olive 8, women often clean on their hands and knees and lug supplies from room to room without even the simple aid of a housekeeper cart. Instead, they must use a small suitcase to haul supplies and run around to restock linens, which requires rushing and strain that can cause injuries.
"I struggle to finish my rooms on time, and usually skip breaks," says Minyi Li, who has worked as a housekeeper at the Olive 8 and the Grand Hyatt Seattle for more than 9 years. By contrast, unionized hotel workers in Seattle enjoy health and safety protections, job security, and affordable family healthcare, among other benefits.
In response, workers have called for a fair process to form a union. In July, UNITE HERE and Hyatt Hotels at the corporate level reached a national agreement on such a process, which has gone forward at other Hyatts in the U.S.  But to date, local owner Richard Hedreen has refused to implement the agreed elections process in Seattle.
However, workers are not discouraged, having experienced recent organizing victories. Three months after workers began organizing last year, Hyatt agreed to give many workers raises of $1 to $3 per hour.
"Richard Hedreen has done the right thing for his workers in the past, and Hyatt has removed any roadblocks for him to do so in this instance," says King County Council Chair Larry Gossett. "We are asking him to step up and give workers a truly sustainable and secure future in Seattle."
King County Councilmembers Larry Gossett, Joe McDermott, Julia Patterson and Larry Phillips endorsed the boycott on Tuesday.
The Grand Hyatt Seattle has 425 rooms and employs approximately 200 workers. The Hyatt at Olive 8 has 350 rooms and employs approximately 200 workers.
For more information, visit UNITE HERE Local 8's website.
Short URL: https://www.thestand.org/?p=26296
Posted by
David Groves
on Aug 28 2013. Filed under
LOCAL
. You can follow any responses to this entry through the
RSS 2.0
. Both comments and pings are currently closed.