Shutdown Day 3, Boeing breaks, berry boycott, dueling Boehners…
Thursday, October 3, 2013
---
G.O.P. SHUTDOWN: DAY 3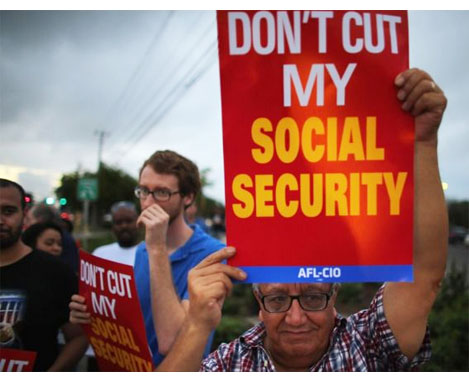 ► In today's Washington Post — On Day 3 of shutdown, focus turns to debt-ceiling deadline — The fight over the government shutdown appeared on Thursday to be moving toward a bigger showdown over raising the nation's debt ceiling, after the first White House talks to solve the fiscal standoff failed to make any progress toward a deal. On Capitol Hill, senior Republicans have begun to suggest that a broad agreement to overhaul entitlements (read: cutting Social Security and Medicare benefits) and the tax code (read: lowering corporate rates) could be used as a resolution to both the shutdown and debt-limit clash. But Democrats view that approach as hostage-taking, and say Congress must reopen the government and authorize additional borrowing before serious negotiations can occur.
► At Huffington Post — Obama to Wall Street: You should be scared — A self-described "exasperated" President Barack Obama told Wall Street CEOs on Wednesday that they should not take for granted that the Republican-led House of Representatives will raise the nation's debt ceiling by Oct. 17. Asked whether the financial markets were right to assume that the upcoming conflict would get resolved in time, Obama said, "I think this time is different. I think they should be concerned."
► In today's Seattle Times — State's GOP delegation non-committal on shutdown — None of the four House GOP members from Washington will say if they back a "clean" spending bill stripped of the condition to delay the Affordable Care Act to end the government shutdown. A spokesman for Rep. Jaime Herrera Beutler said, "At this time she still doesn't think it will help to second-guess House leaders' strategy in the media while negotiations are ongoing."

EDITOR'S NOTE — And here's a quote from Rep. Marlin Stutzman (R-Ind.) that succinctly sums up the Republican "strategy" Rep. Herrera Beutler's unfurloughed spokesman refers to: "We're not going to be disrespected. We have to get something out of this. And I don't know what that even is."
► In today's NY Times — As government slugs it out, government workers take it on the chin — Throngs of civil servants have been sent home without pay, forbidden even to check their government e-mail accounts. Still other throngs have been ordered to work through the shutdown without pay.
► In The Hill — Shutdown squeezes American economy — Overall, economists say the impact of the shutdown on America's $17 trillion economy would be modest, but many warn that a prolonged government stoppage — and another down-to-the-wire fight over the debt ceiling — could do lasting damage to investor confidence in the United States.
► In The New Yorker — Where the Republican 'suicide caucus' lives — In short, these 80 members represent an America where the population is getting whiter, where there are few major cities, where Obama lost the last election in a landslide, and where the Republican Party is becoming more dominant and more popular. Meanwhile, in national politics, each of these trends is actually reversed.
► In today's NY Times — The cost of the shutdown (editorial) — Republicans' upbeat attitudes help explain why so many of them thought nothing of shutting down a government they distrust, all to dismantle a health care law they oppose. What these lawmakers aren't telling Americans is that the shutdown will actually be very expensive and will wind up costing taxpayers.
EDITOR'S NOTE — Lest you think the left-leaning New York Times is the only source of angry editorials, of the nation's 10 biggest newspapers, not a single one — not even the Republican sycophants at the The Wall Street Journal — think the GOP's strategy of shutting down the government is a good idea.
---
LOCAL SHUTDOWN COVERAGE
► From KREM — Local Social Security workers worried about jobs, checks still coming — The government shutdown has a lot of people worried about their Social Security benefits and workers at the Social Security office in Spokane are worried about their jobs.
► In today's News Tribune — Government shutdown leaves JBLM employees in dark on pay — Most civilian employees at Joint Base Lewis-McChord are going to work this week despite the federal government shutdown. They just don't know when they'll be paid.
► In today's Peninsula Daily News — Olympic National Park nearly devoid of people — The park's 134-employee workforce is now reduced to 31 rangers, maintenance people and other critical staff while the rest are on unpaid furlough.
---
STATE GOVERNMENT
► In today's Spokesman-Review — Public offers variety of strategies for meeting transportation costs — In public testimony before state legislators in Spokane Valley on Wednesday night, some called for a transportation funding package, with higher taxes to pay for local roads, transit, bicycle and pedestrian paths and maintenance as well as big-ticket items like the North Spokane Corridor. Others said don't raise the gas tax, but do a better job of spending the money that is already collected. One proposed change would end the requirement that contractors pay a prevailing wage on transportation jobs. Gary Swartz of IAM Local 86 machinists said killing the prevailing wage law would be a mistake. "Washington is a progressive state, not some right-to-work state," he said.
---
AEROSPACE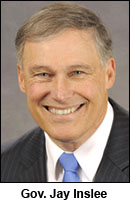 ► In today's Seattle Times — Inslee wants aerospace tax breaks extended if Boeing builds 777X here — Gov. Jay Inslee said Wednesday he'll propose extending the state's aerospace incentives through 2040 if Boeing assembles the 777X and fabricates its composite wings in Washington. He also said he has formed an advisory group to address an environmental issue — water-quality regulation — that's got Boeing worried about rising costs at its Renton plant on Lake Washington.
► In today's (Everett) Herald — Meet the new 777X caucus — The governor has asked 12 legislators, six from each chamber, to tackle political barriers that remain on the road to Boeing bliss. Also invited to sit in are representatives of the Washington Aerospace Partnership, the Aerospace Futures Alliance and two unions — IAM District 751 and SPEEA.
► In today's (Everett) Herald — Aerospace race is real, state leaders warn –Matt Yerbic is bullish on aerospace in Washington, but that has not deterred people in other states from courting one of the owners of Everett-based Aviation Technical Services.
---
LOCAL

► In The Stranger — Farmworkers call for berry boycott — Farm workers are trying to build on the momentum of last week's court victory with intensified calls on the public to boycott Sakuma Brothers Farms berries. Delegations of workers, including Ramon Torres, picketed at Seattle-area stores selling the berries. At Uwajimaya, produce managers agreed to temporarily pull them, but the store director tells me he wants more information before making a final decision. Lois Ko, who owns a franchise Häagen-Dazs store in the U-District, joined the boycott almost immediately. "We are not going to be serving strawberry ice cream, to support the pickers who are being mistreated at the farm," she told me, adding that she plans to visit the farmworkers' labor camp herself to see the conditions.
► In today's Seattle Times — Foss plans to move shipyard to Everett — Seattle-based maritime conglomerate Saltchuk has agreed to buy the 66-acre former Kimberly-Clark mill on Everett's waterfront, with plans to relocate its 250-employee Foss Maritime shipyard from the Lake Washington Ship Canal. (Also see The Herald's coverage.)
► In today's (Everett) Herald — Hope for the waterfront (editorial) — "We wanted job re-creation when Kimberly Clark closed," Everett Mayor Ray Stephanson said. "This fits perfectly. "
► In today's Tri-City Herald — Six Hanford workers taken to hospital as precaution after spill — Six Hanford workers were taken to a Richland hospital Wednesday as a precaution after an unknown liquid spilled on some of them as they were dismantling piping in an evaporator building.
---
NATIONAL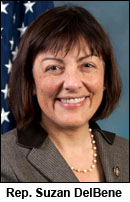 ► In today's Seattle Times — DelBene pushes new immigration bill to break House stalemate — U.S. Rep. Suzan DelBene rolled out a new immigration bill Wednesday,  attempting to restart a move toward comprehensive reform that has stalled in the Republican-controlled House of Representatives. The bill largely mirrors a measure passed by the Senate earlier this year. It would, among other things, allow citizenship for people living in the United States illegally 13 years after they apply and would admit more highly-skilled immigrants.
---
AFFORDABLE CARE ACT
► In today's Olympian — State fixing website for health care — Washington state's new online marketplace for health care was running better but not without slowdowns Wednesday, the second day of enrollment under the federal Affordable Care Act reform. Officials said the system, which was built by the Deloitte LLP firm under a $54.8 million contract, suffered "bottlenecks" when processing data.
► In today's NY Times — Millions of poor left uninsured by health law — Because they live in states largely controlled by Republicans that have declined to participate in a vast expansion of Medicaid, the medical insurance program for the poor, they are among the eight million Americans who are impoverished, uninsured and ineligible for help.
► In today's NY Times — Despite criticism, health law's impact on jobs is unclear — To many independent economic analysts, it remains too early to tell how the sweeping Affordable Care Act will affect the jobs market. The current data do not show the health law affecting job growth, wage growth or the proportion of part-timers in the labor force.
► At Huffington Post — Why U.S. health care is obscenely expensive, in 12 charts — The U.S. leads the world in health care spending, but we don't live very long, and going to the doctor is so expensive that we don't do it very often. So where is the money going?
---
TODAY'S MUST-READ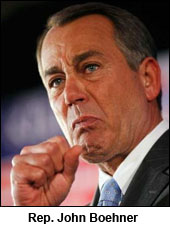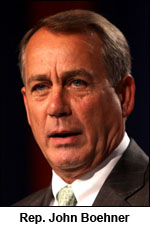 ► POINT-COUNTERPOINT in The Onion — The Republican Party cannot stand by and let Obamacare destroy this country (by House Speaker John Boehner) VS. Help me (by House Speaker John Boehner) — The American people sent us a clear message: Keep the government out of our health care and save this country.
VS.
Help me. Please, God, help me. I've lost control and I need help. The far right members of my party are insane. I know I helped create this monster, and I apologize. I am so, so sorry. I thought I could control it, but I was wrong. I just need your help to defeat it. Will somebody please help me? Please? Please? Anyone?
---
The Stand posts links to Washington state and national news of interest every weekday morning by 10 a.m.
Short URL: https://www.thestand.org/?p=27066
Posted by
David Groves
on Oct 3 2013. Filed under
DAILY LINKS
. You can follow any responses to this entry through the
RSS 2.0
. Both comments and pings are currently closed.