Our shutdown leader, WTO rules, Europeans don't 'get down'…
Friday, October 4, 2013
---
G.O.P. SHUTDOWN: DAY 4

► From AP — Dems say it's time for GOP to unite, end shutdown — President Barack Obama decided to stay home from economic summits in Asia as Democrats stepped up pressure on congressional Republicans to rein in their tea party faction and reopen the government with no strings attached.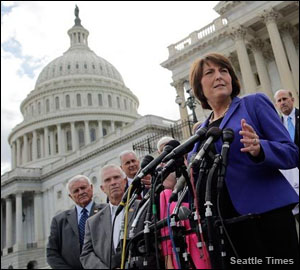 ► In today's Seattle Times — State's McMorris Rodgers a fiery leader of GOP shutdown fight — Even in Rep. Cathy McMorris Rodgers' conservative Eastern Washington district, however, her fiery partisanship can go too far. Thursday's editorial in The Spokesman-Review urged McMorris Rodgers and her fellow Republicans to halt their "demands for ransom… Moderates of both parties are calling for an end to melodrama so Congress can take up the serious work members were sent to do. Time to move on."
► In today's Washington Post — Boehner tells GOP colleagues he will avoid a default on federal debt — In meetings with small groups of rank-and-file lawmakers, House Speaker John A. Boehner (R-Ohio) has emphasized that he will not permit the country to default for the first time on its debt.
► In The Hill — Public anger at Washington, D.C. spikes — The survey found that 43% said they're "angry" at Washington. That's up from 30% from the same poll in March, and the highest percentage CBS has recorded since it began polling the question. The poll also finds that the public blames Republicans more than Democrats for the ongoing government shutdown.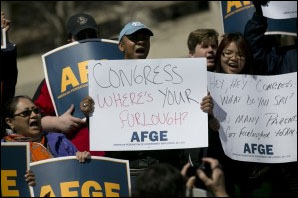 ► In today's Washington Post — Federal workers to rally against shutdown today on Capitol Hill — Members of the American Federation of Government Employees and the National Treasury Employees Union will take part in the demonstration. Labor leaders will emphasizing that the public servants on furlough because of the shutdown would rather do their jobs than be caught up in a political impasse.
► At AFL-CIO Now — Progressives, working families rally against 'chained' CPI, other safety net cuts — While the country remains shut down because of irresponsible House Republican hostage-taking, progressive members of Congress and working families are looking ahead to fight against any proposed grand "bargain" that would include benefit cuts to Social Security, Medicaid or Medicare.
► In today's Washington Post — Jobs report becomes casualty of shutdown — Today, much of the government will be closed. As a result, the economists and statisticians at the Bureau of Labor Statistics will be at home, and everyone from Ben S. Bernanke, the Fed's chairman, to thousands of traders glued to their Bloomberg screens, will be left without one of the most important clues to the state of the economy.
► In The Hill — Defense companies say they'll start furloughing employees 'within days' — The defense industry says it will furlough thousands of workers and halt manufacturing production if the government shutdown doesn't end soon.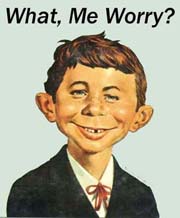 ► In today's Washington Post — Shutdown could diminish GOP hopes of winning Senate — The political fallout from the partial government shutdown does not appear likely to affect the House Republicans who instigated it, given that so many of them come from deeply conservative (read: gerrymandered) districts where their constituents cheered the confrontation with President Obama. But others in the GOP are worried.
► At Huffington Post — GOP Congressman castigates park ranger for memorial closure he voted for — Rep. Randy Neugebauer (R-Tex.) confronted a park ranger on the scene — who was doing nothing more than her job — blaming her for the closure he voted for and telling her that she should be ashamed of herself.
---
STATE GOVERNMENT
► In today's Columbian — Vancouver transportation forum moved to bigger venue — When state legislators travel to Vancouver to talk transportation policy on Monday evening, they'll meet at the Washington Department of Transportation's district office at 11018 N.E. 51st Circle, not at the downtown library.
ALSO at The Stand — Citizens to state lawmakers: Keep Washington rolling!

► In today's (Everett) Herald — Insurance, by the numbers (editorial) — This new health care system is not a class exam or a sporting event. There will not be an immediate grade or score. It will take at least three months, and possibly much longer, to see how the enrollments, the costs and the savings add up.
► In today's Olympian — Former state Democratic official admits theft — Michael King, the former executive director of the state Senate Democratic Campaign Committee who was charged with embezzling at least $250,000 in campaign donations to fuel his alcohol and gambling problems, pleaded guilty Thursday to four counts of first-degree theft and four counts of second-degree theft.
---
AEROSPACE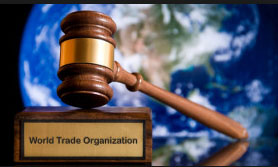 ► In today's (Everett) Herald — Promised Boeing tax breaks ruled illegal in past — Gov. Jay Inslee's push to extend tax breaks to the Boeing Co. in hopes of landing the 777X program could put the state afoul of international trade rules and bring tariffs on Washington apples from the European Union. The World Trade Organization ruled two years ago that Boeing received $5.3 billion in illegal U.S. aid, including millions of dollars in tax breaks from the state of Washington for building 787s in Everett.
► From AP — Boeing deliveries accelerate in 3Q — The Boeing Co. said it delivered 170 commercial planes during the third quarter as deliveries accelerated for three of its most important planes. Compared to the same period last year, deliveries sped up for its smaller, workhorse 737, its long-range best-seller 777, and its new 787.
---
LOCAL

► In today's Tri-City Herald — Federal audit criticizes quality control of Hanford vit plant — Hanford officials have not followed procedures to prove that changes to the design of radioactive waste processing equipment at the Hanford vitrification plant will be safe once the plant begins operating, according to a new audit.
---
NATIONAL
► In today's Washington Post — Sequestration cuts cost $312.40 per person in military counties — The federal spending cuts that went into effect earlier this year under sequestration are taking nearly twice the toll on counties with military installations than on those without, according to a new analysis.
---
T.G.I.F.
► Today, the Entire Staff of The Stand™ presents Janis Joplin, the Queen of Psychedelic Soul, performing in Frankfurt in 1969. She successfully beckons the crowd to join her on stage, but with a couple notable exceptions, the cerebral group never really gets loose. They just don't "get down." Or so said Joplin in a subsequent interview explaining why she had a terrible time in Europe. About a year later, on this day in 1970, 27-year-old Joplin was found dead of an accidental heroin overdose in a hotel in Hollywood. It was just 16 days after 27-year-old Jimi Hendrix had died while intoxicated with barbiturates. Oh, the humanity.
---
T.G.I.F. 2

► At AFL-CIO Now — Government Shutdown: The mixtape — Courtesy of Washington, D.C., DJ Kid Cannibal, whose father Chris Garlock works for the Metropolitan Washington Council.
Here's the track listing, with the DJ's commentary:
1. Jay-Z – Open Letter (To Congress)
2. Notorious B.I.G. – Unbelievable (That you can't pass funding)
3. Busta Rhymes – (Representatives) Get Out
4. DMX – Ruff Ryders' Anthem (Shut 'Em Down)
5. Nas, featuring Lauryn Hill – If I Ruled the World (I'd do better than this)
6. Total – (You'll Be) Sitting Home
7. Drake – Hold On (You're Going Home Early)
8. TLC – Ain't too Proud to Beg (To just pass the damn bill already)
9. Gwen Guthrie – Ain't Nothin' Goin' on but the Rent (Please don't furlough me)
10. Eric B. & Rakim – Follow the Leader (Just do it already)
11. Kid 'N Play – Do This My Way (Or not, I guess)
12. Michael Jackson – (They're all just) Smooth Criminal(s)
13. Daft Punk – (Let's all vote) One More Time
---
The Stand posts links to Washington state and national news of interest every weekday morning by 10 a.m.
Short URL: https://www.thestand.org/?p=27108
Posted by
David Groves
on Oct 4 2013. Filed under
DAILY LINKS
. You can follow any responses to this entry through the
RSS 2.0
. Both comments and pings are currently closed.