McDermott uncensored, SeaTac workers' dilemma, ARod is an ass…
Monday, October 7, 2013
---
G.O.P. SHUTDOWN: DAY 7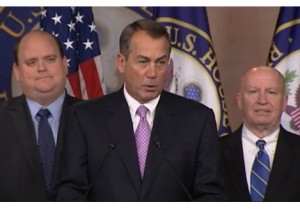 ► In today's NY Times — Boehner hews to hard line in demanding concessions from Obama — Speaker John A. Boehner stood his ground on Sunday alongside the most conservative Republicans in Congress, insisting that the House would not vote to finance and reopen the government or raise the nation's borrowing limit without concessions from President Obama on the health care law.
► In the Spokesman-Review — McMorris Rodgers: GOP won't back down in budget fight — U.S. Rep. Cathy McMorris Rodgers, the Spokane Republican at the center of the partial government shutdown, said Friday the GOP remains united in forcing Democrats to the negotiating table over Obamacare and other federal spending issues.
► At Huffington Post — Rep. McDermott: 'So we sit here until they figure out they f*ck*n' lost' — "Why would House Democrats give away what the Supreme Court and the 2012 electorate didn't?," he said. "You can't say, 'OK, you get half of Obamacare' — this isn't a Solomonic decision. So we sit here until they figure out they f*ck*n' lost."
► At Huffington Post — Sense of unease growing around the world as U.S. looks befuddled — "The paralysis of the American government, where a rump in Congress is holding the whole place to ransom, doesn't really jibe with the notion of the United States as a global leader," says one expert on global relations.
EDITOR'S NOTE — The "rump," indeed.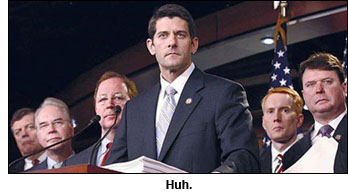 ► A MUST-READ in today's NY Times — The Boehner bunglers (by Paul Krugman) — Unfortunately for all of us, even the shock of electoral defeat in 2012 wasn't enough to burst the GOP bubble; it's still a party dominated by wishful thinking, and all but impervious to inconvenient facts. And now that party's leaders have bungled themselves into a corner. Everybody not inside the bubble realizes that Obama can't and won't negotiate under the threat that the House will blow up the economy if he doesn't — any concession at all would legitimize extortion as a routine part of politics. Yet Republican leaders are just beginning to get a clue, and so far clearly have no idea how to back down. Meanwhile, the government is shut, and a debt crisis looms. Incompetence can be a terrible thing.
► In today's Washington Post — Some Tea Party congressmen see signs of backlash at home — Some business leaders are recruiting Republican primary challengers who they hope will serve the old-fashioned way — by working the inside game and playing nice to gain influence and solve problems for the district. They are tired of tea party governance, as exemplified by the budget fight that led to the shutdown and threatens a first-ever U.S. credit default.
► At Huffington Post — GOP Congressman needs his salary during shutdown to pay for his 'nice house' — Rep. Lee Terry (R-Neb.) said this week that there is no way he's giving up his salary during the government shutdown.
► In The Onion — Tea Party leaders announce support for deal in exchange for Malia Obama — While members of the Republican Party's far-right wing have heretofore been resistant to any sort of deal with the White House over the issue of Obamacare, the Tea Party caucus authored and released a short, tersely worded statement this morning in which they agreed to a swift negotiation of an unstipulated spending bill if the president were to deliver "the firstling."
"The girl. Bring us the girl," said Congressman Steve King (R-IA) as he stood beside fellow Tea Party leaders during this morning's press conference on the steps of the Capitol. "The bill may pass, but the firstborn shall be ours."
---
ECONOMIC DAMAGE
► From AP — Inslee says shutdown hurting state — The governor said he is worried that the continued shutdown is slowing the state's aerospace industry, hurting veterans' programs and affecting services such as unemployment payments that depend on federal money. Washington is using state money to continue services in the near term, but Inslee worried about how long the state could do that.
► In the Seattle Times — Boeing warns of furloughs — Boeing could furlough some employees in its defense and space operations this week if the federal budget stalemate continues.
► In today's Washington Post — Pentagon to recall most furloughed workers, Hagel says — The Pentagon will recall almost all of its 350,000 furloughed civilian workers in the coming days, Defense Secretary Chuck Hagel announced Saturday, in a move that could substantially ease the impact of the government shutdown on the federal workforce.
---
LOCAL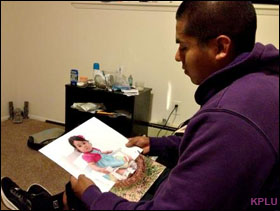 ► From KPLU — Why SeaTac Airport workers can't join a union for better pay — The reason: They're stuck in a legal limbo under federal labor law. And that's why they've turned to the ballot box instead. … The Railway Labor Act is even older than the National Labor Relations Act, which covers, say, Boeing machinists or a GM factory worker. But a whole different set of rules applies to railroad workers, and those were later extended to airline workers. They have a higher bar for unionization; they have to organize across the country, not just in one city.
ALSO at The Stand — Add your name: Endorse SeaTac Prop 1
► In the Columbian — Coal may bring new life to Longview plant — The sprawling site of a former aluminum smelter in Longview faces so many hurdles in its bid to be reborn as a coal-shipping terminal that it's hard to know where to start. Yet the leaders of Millennium Bulk Terminals-Longview exude both patience and confidence.
► In today's Spokesman-Review — Kaiser's Mead smelter undergoes demolition — Thousands of people drew paychecks from the sprawling Kaiser Aluminum smelter in north Spokane during its more than 50 years of operation.
---
NATIONAL
► At AFL-CIO Now — Immigrants and working families say 'Time Is Now' for road map to citizenship — Pressure is mounting on Congress to take action on creating an immigration process that protects workers' rights and provides aspiring Americans with a road map to citizenship. On Saturday, there were more than 183 major mobilizations and actions in 40 states, with large rallies in Los Angeles, New York, Chicago, San Diego, Houston, Miami and Phoenix.
► In today's NY Times — Fixing immigration from the ground up (editorial) — As Washington keeps failing on immigration reform, hopefuls can look to California for an enlightened example.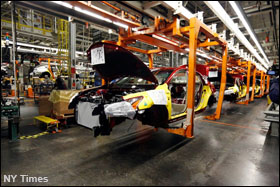 ► In today's NY Times — At a Nissan plant in Mississippi, a battle to reshape UAW — The United Automobile Workers — desperate to make inroads in the anti-union South where Toyota, Volkswagen and other foreign automakers have assembly plants — has never tried a unionization drive quite like the one at the Nissan plant in Canton, Miss. Despite the union's previous failures in the South, UAW President Bob King has undertaken its most ambitious campaign in the region. In addition to Canton, it is also pushing to organize Volkswagen's plant in Chattanooga, Tenn., and the Mercedes-Benz plant in Vance, Ala.
► In The Hill — Citizens United II could open floodgates — The Supreme Court may be poised to demolish another set of campaign finance restrictions, as the justices weigh whether to strike down decades-old limits on campaign giving. At issue in the McCutcheon v. FEC case are aggregate contribution limits — the maximum amount that a donor can give to federal candidates and political party committees throughout the course of a two-year election cycle.
---
TODAY'S MUST-READ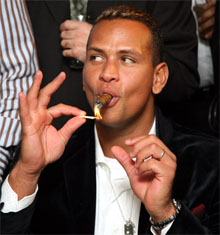 ► And, as if we needed another reason to hate PayRod, in the NY Times — Rodriguez, citing missed opportunities, rejects the Players Union — First, it was Alex Rodriguez against Major League Baseball. Next, it was Rodriguez versus the Yankees, his own team. Then Rodriguez found himself at odds with the players union that is supposed to be representing him. In late August, Rodriguez grew so frustrated with how the Major League Baseball Players Association was defending him that his personal legal team wrote a letter formally requesting the union step aside from its prescribed role as his chief representative on his arbitration panel. The move represented a significant escalation in the continuing battle over Rodriguez's 211-game suspension, the longest doping penalty ever issued by Major League Baseball. The letter portrays Rodriguez as increasingly on his own, mistrustful of his accusers, the arbitration process and even the union lawyers assigned to defend him.
---
The Stand posts links to Washington state and national news of interest every weekday morning by 10 a.m.
Short URL: https://www.thestand.org/?p=27146
Posted by
David Groves
on Oct 7 2013. Filed under
DAILY LINKS
. You can follow any responses to this entry through the
RSS 2.0
. Both comments and pings are currently closed.