Koch-funded GOP shutdown, Boeing embarrassment, TPP push…
Tuesday, October 8, 2013
---
TODAY'S MUST-READ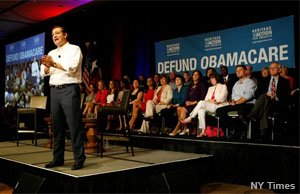 ► In Sunday's NY Times — A government crisis months in the planning — Shortly after President Obama started his second term, a loose-knit coalition of conservative activists led by former Attorney General Edwin Meese III gathered in the capital to plot strategy. Their push to repeal Obama's health care law was going nowhere, and they desperately needed a new plan. Out of that session, held one morning in a location the members insist on keeping secret, came a little-noticed "blueprint to defunding Obamacare," signed by Meese and leaders of more than three dozen conservative groups. It articulated a take-no-prisoners legislative strategy that had long percolated in conservative circles: that Republicans could derail the health care overhaul if conservative lawmakers were willing to push fellow Republicans — including their cautious leaders — into cutting off financing for the entire federal government.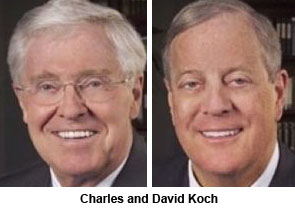 To many Americans, the shutdown came out of nowhere. But interviews with a wide array of conservatives show that the confrontation that precipitated the crisis was the outgrowth of a long-running effort to undo the the Affordable Care Act since its passage in 2010 — waged by a galaxy of conservative groups with more money, organized tactics and interconnections than is commonly known. Groups like Tea Party Patriots, Americans for Prosperity and FreedomWorks are all immersed in the fight, as is Club for Growth, a business-backed nonprofit organization. Some, like Generation Opportunity and Young Americans for Liberty, both aimed at young adults, are upstarts. Heritage Action is new, too, founded in 2010 to advance the policy prescriptions of its sister group, the Heritage Foundation. The billionaire Koch brothers, Charles and David, have been deeply involved with financing the overall effort. A group linked to the Kochs, Freedom Partners Chamber of Commerce, disbursed more than $200 million last year to nonprofit organizations involved in the fight.
---
G.O.P. SHUTDOWN: DAY 8

► At Huffington Post — Shutdown trickle-down: 50 effects of the standstill — A week after Congress failed to agree to fund the operation of the government, the impacts of the shutdown are starting to trickle down. No longer is the story being told in numbers (workers furloughed, budgets cuts, jobs at risk). Increasingly, it's being told with people's angst, frustration and weariness. Businesses are seeing fewer customers. Research institutions are cutting back. Court cases are being delayed. Assistance for low-income families has stopped. Entire industries have been placed on pause.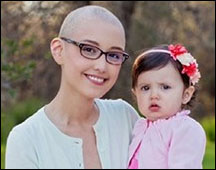 ► In today's Washington Post — This cancer patient's treatment is on hold because of the shutdown — "I want to tell (Congress) that lives are at stake. This isn't just a matter of inconvenience. This is a matter of life or death. I'm not just doing this for myself. There are 200 people that are trying to get into clinical trials each week. I want to speak for all of us."
► A related story at Think Progress — Members-only Congressional gyms deemed 'essential,' remain open during shutdown — The House gym features a swimming pool, basketball courts, paddleball courts, a sauna, a steam room and flat screen TVs. While towel service is unavailable, taxpayers remain on the hook for cleaning and maintenance, which has been performed daily throughout the shutdown. There are also costs associated with the power required to heat the pools and keep the lights on.
► In today's Tri-City Herald — Contingency plan being developed at Hanford in case shutdown continues — How long work can continue as usual is uncertain. Since the start of the current fiscal year, Oct. 1, Hanford environmental cleanup has continued, at least in part, with carryover money from the previous fiscal year. But the Department of Energy has not said how much money is available.
► In today's Washington Post — Economic damage from shutdown could be minimized — Defense employees are back, and a bill for furlough backpay is pending. But the debt limit is another story.
► From AFP — White House warns default would damage U.S. democracy — The White House warns that the idea of a self-inflicted national default was "a terrible" scenario that would damage America's democracy, credit and global standing for years.
► At Politico — Confidence's steepest drop since 2008 — The economic confidence index is seeing its sharpest fall since Lehman Brothers bank collapsed in 2008, according to a new Gallup poll.
► At Huffington Post — Poll: Republicans' handling of shutdown increasingly unpopular — A Washington Post/ABC poll released Monday found that while the public's ratings for the president and both parties in Congress remain negative, disapproval of Republicans has grown in the past week. Seventy percent of Americans now disapprove of how Republicans in Congress are handling budget negotiations, up from 63 percent last week.
► At Politico — Shutdown backlash boosts Virginia's McAuliffe — Democrat Terry McAuliffe has opened up a significant lead over Republican Ken Cuccinelli in the Virginia governor's race amid broad public disapproval of the federal government shutdown.
► In today's LA Times — Emboldened Republicans defy D.C.'s norms — By sheer force of their personalities, and under protection of safe districts, these representatives feel safe rejecting compromise.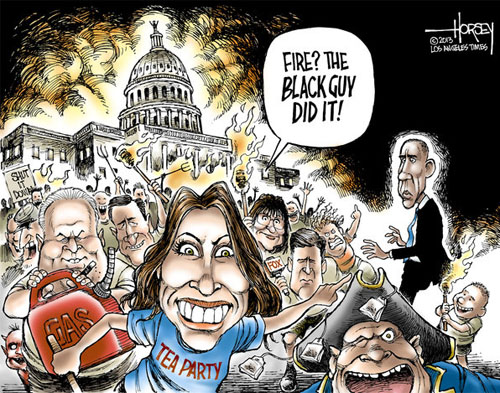 ► In the L.A. Times — Tea Party Republicans blame Obama for shutdown they planned (by David Horsey) — On Sunday, House Speaker John Boehner was acting like a jilted girlfriend, insisting Obama's refusal to give him a phone call is the reason government offices remain shuttered. Boehner, of course, could end the impasse all by himself simply by allowing a vote on the Senate-passed continuing resolution to fund the government. It would easily get thumbs-up from Democrats and a significant share of Republican House members, but letting that happen would earn Boehner major grief, not only from the radicals in his caucus, but from the rich conservative money men who spearheaded the drive for this showdown.
► In today's Washington Post — House GOP has nothing to show for its shutdown (editorial) — Damage the livelihood of millions of Americans? Check. Government secretaries, food-truck operators, cleaners who work in motels near national parks: They're all hurting. Waste billions of taxpayer dollars? Check. It costs a lot to shut agencies, Web sites and parks, and it will cost a lot to reopen them. Interfere with key government operations? Check. Rattle the markets, slow an economy in recovery, interrupt potentially lifesaving research at the National Institutes of Health? Check, check and check. Derail the hated Obamacare? Ch . . . — oh, no, wait a minute.
ALSO TODAY at The Stand — Democrats should negotiate, offer to drop ACA… for single payer (by Leo W. Gerard)
---
AEROSPACE
► In today's (Everett) Herald — With A350, Airbus breaks Boeing's lock on Japan — Airbus secured its first-ever order from Japan Airlines on Monday in a deal that undermines Boeing's long-held dominance of Japan's aviation market. The Japan Airlines purchase of 18 A350-900s and 13 larger A350-1000s at a list value of $9.5 billion marks a big change in policy. Boeing had been JAL's major supplier for decades.
► At MyNorthwest.com — 'Embarrassing, frankly:' Boeing loses major Japanese customer — Boeing has enjoyed near exclusivity in Japan since the end of World War II, but now Japan Airlines has signed its first deal with Airbus, a more than $9 billion deal for 31 of the French manufacturer's new A-350's.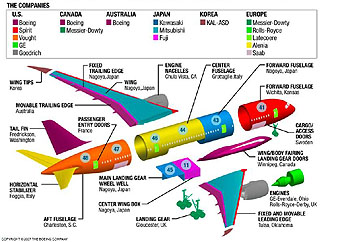 "It's pretty bad," aviation analyst Richard Aboulafia said. "It's pretty embarrassing, frankly." he said this is a clear message to Boeing that it needs to stop dragging its feet on the 777X, which is expected to officially launch next month in Dubai, and for Boeing to ensure that it won't have the same problems the 787 has had.
EDITOR'S NOTE — There would be no better way for way for Boeing to demonstrate a renewed commitment to reliability and customer satisfaction than to announce the 777X will be built right here in Washington state. Customers know that the dog's breakfast of outsourced 787 development and manufacturing was salvaged from total failure by insourcing that work back to the talented, skilled workforce here. If Boeing announces it is building the 777X — a derivative of a reliable, profitable jet built right here in Everett — somewhere else in search of cheaper labor or to avoid unions, it will signal to all customers that the short-sighted and risky penny-pinching continues at the expense of Boeing's reputation for the best, most reliable airplanes in the world. More lost orders will ensue.
► In today's Seattle Times — Boeing's lost JAL order to Airbus to have ripple effect — Boeing lost more than a jet order to Airbus when Japan Airlines chose the A350 over the 777X. Boeing's close relationship with Japanese manufacturing partners is in jeopardy, too.
---
STATE GOVERNMENT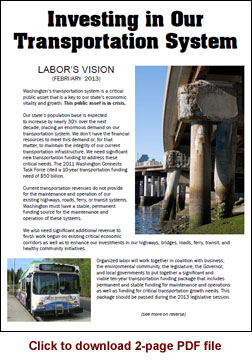 ► In today's Columbian — Residents speak out on transportation issues — About 200 people asked the panel of legislators to either oppose the CRC and light rail, or to support it, and to bolster the public's trust in WSDOT. They also sounded off on some of the cost-saving reforms lawmakers may consider, including changes to the state's prevailing wage laws… The meeting drew a number of highway workers who spoke kindly of their apprenticeship programs, and asked that they not be cut. They also expressed their opposition to tinkering with the state's prevailing wage laws as a way to save the state money. "I don't understand why, when people want to cut costs, they always look at the workers," said Shannon Walker, president of the Southwest Washington Central Labor Council. Walker added that she hopes legislators don't cut workers' family wages, retirement and other benefits or hire nonunion and out-of-state workers to build Washington roads.
PREVIOUSLY at The Stand — Lower prevailing wages aren't 'savings' (Mar. 21, 2013)
► In today's Spokesman-Review — Health plan website fixes errors, draws customers — More than 165,000 people have visited Washington's website designed to help them find medical insurance, and about 9,400 individuals or families have enrolled in some type of plan. After some computer problems in the opening days that resulted in long delays for both the website and at call centers, state officials say the system is improved and has run smoothly since Saturday morning. (Check out wahealthplanfinder.org.)
---
LOCAL
► From AP — Omak plywood mill opens, hires 83 — The Omak Wood Products plywood mill has reopened after being closed for four years, and may eventually employ 200.
---
NATIONAL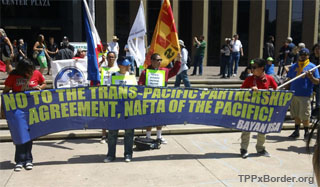 ► At Politico — Leaders look to finish TPP trade deal this year — Leaders of the 12 countries negotiating the Trans-Pacific Partnership pact on Tuesday set a goal of finishing the ambitious regional trade agreement this year, requiring governments to make tough decisions in coming months to open long-protected markets in areas ranging from agriculture to manufacturing to services… "That the leaders have admitted that there is no deal nor a clear path to obtaining one this year, despite the hype built up pre-summit, reveals the growing domestic political blowback against the TPP that leaders are now trying to manage," said Lori Wallach, director of Public Citizen's Global Trade Watch, a leading critic of trade deals.
► In today's NY Times — Politicians for sale (editorial) — The Supreme Court should follow its own precedent and uphold overall campaign contribution limits.
► From The Onion — Area family putting a little money away to one day blow on a single health scare — "We're making little sacrifices every day to ensure we have a future in which all of our hard-earned money can be spent on surgery to remove a tumor that we later find out was completely benign."
---
The Stand posts links to Washington state and national news of interest every weekday morning by 10 a.m.
Short URL: https://www.thestand.org/?p=27166
Posted by
David Groves
on Oct 8 2013. Filed under
DAILY LINKS
. You can follow any responses to this entry through the
RSS 2.0
. Both comments and pings are currently closed.