Sakuma suit, ballot trends, 777X hand-wringing, Make 'Em Pay…
Tuesday, October 29, 2013
---
LOCAL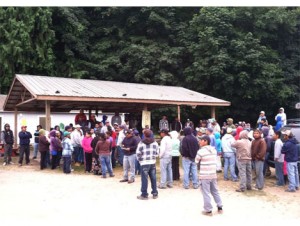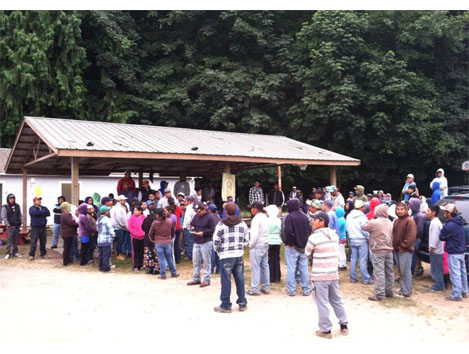 ► At SeattlePI.com — Skagit farmworker fight moves to federal court — A Sakuma Brothers Farms berry picker has sued his employer, claiming he and others at the embattled Skagit County farm were unfairly denied pay and breaks. Filing a potential class action lawsuit, Sakuma employee Raul Merino Paz contends he and hundreds of other seasonal berry pickers weren't paid what they were owed for their work. The claim also alleges workers were denied breaks required by state law.
---
ELECTION
► In today's (Everett) Herald — Ballot returns trend low — So far, the number of ballots marked and returned to Snohomish County is trending on the low side for an odd-year general election.
EDITOR'S NOTE — Wha-?! Fill out those ballots and get them in the mail, people! Remember, if fewer people participate, your vote counts even more! (See the Washington State Labor Council's endorsements.)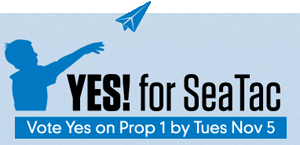 ► In today's Seattle Times — SeaTac Proposition 1 for a $15 minimum wage (pro/con op-eds) — U.S. Rep. Adam Smith and King County Councilwoman Julia Patterson: It's up to us to take control of our own legacy, to do what's right for our community and to provide equal opportunity for a middle-class life and a living wage. Proposition 1 would bring back decent paying jobs to SeaTac and give thousands of families a fair shot at success.
► In today's Seattle Times — Foes of food-labeling Initiative 522 set funding record — Bankrolled by out-of-state biochemical giants and food-industry heavyweights, the campaign to defeat food-labeling Initiative 522 broke the $21.4 million mark in total contributions on Saturday. The state's old record — set in 2011 by Costco-backed supporters of the liquor privatizing initiative — had been $20.1 million.
ALSO at The Stand — Here's why the Washington State Labor Council has endorsed I-522 (by Nicole Grant)
► In today's Columbian — Herrera Beutler draws Republican challenger in 2014 — Washougal airline pilot Michael Delavar says he intends to run against the Camas Republican. Delavar was one of 14 Clark County GOP board members to send a letter to Herrera Beutler earlier this month that criticized her vote to end the partial government shutdown and extend the nation's borrowing limit. In the letter, the board said her vote was a disappointing surrender in the fight to reduce the nation's debt.
---
AEROSPACE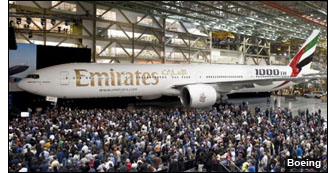 ► At SeattlePI.com — Report: Emirates negotiating record Boeing order — Emirates is looking ordering 100 to 175 777X airliners, becoming the launch customer for the revamped version of Boeing's large, two-engine jet, according to the story. The order could top $30 billion at list prices, although customers routinely get substantial discounts. Boeing's current record order is Lion Air's deal to buy 230 737s, worth $22.4 billion at list prices.
► In the P.S. Business Journal — Case strengthening for 777X in Charleston, stories suggest (By Steve Wilhelm) — A spate of news stories and interviews Monday suggested that South Carolina is gathering momentum as the state where Boeing will assemble its upcoming 777X.
EDITOR'S NOTE — Apparently, a spate equals two. One is a Wall Street Journal story citing two unnamed industry sources who suggest South Carolina "looks more and more promising." The other story is a column in the Charleston Post and Courier that simply repeats the comments of an industry analyst quoted here in the Puget Sound Business Journal. The PSBJ sure is doing its damnedest to create an echo chamber of hand-wringing in our state. One almost thinks Mr. Wilhelm will be disappointed if Washington gets the 777X.
---
OBAMACARE

► In today's Seattle Times — Enrollment in state exchange's qualified health plans jumps 40% in fourth week — Enrollment in Washington's online insurance marketplace continued to climb steadily in its fourth week, with a significant jump in enrollment in the private health plans that insurance companies are selling through the exchange. (www.wahealthplanfinder.org)
► From AP — Health-insurance deadline extended; Web woes continue — With website woes ongoing, the Obama administration Monday granted a six-week extension until March 31 for Americans to sign up for coverage next year and avoid new tax penalties under the president's health-care overhaul law.
► At TPM — Insurers threaten White House: Beware of rate shock if Obamacare enrollment extended — The health insurance industry is planning to warn members of Congress that extending Obamacare's open enrollment period, which a group of Democratic senators have begun to urge the White House to do, could have a disastrous effects on insurance premiums.
---
NATIONAL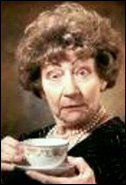 ► From AP — Business, GOP establishment: Tea party is over — Call it the wrath of establishment Republicans and corporate America, always considered the best of friends. Since the Republican takeover of the House in 2010, they've watched the GOP insurgents slow a transportation bill and reauthorization of the Export-Import Bank, block a treaty governing the high seas and stand in the way of comprehensive immigration legislation. The final straw was the bitter budget standoff that partly shuttered the government.
► In today's NY Times — House, set to vote on 2 bills, is seen as ally of Wall Street — The House is scheduled to vote on two bills this week that would undercut new financial regulations and hand Wall Street a victory. The legislation has garnered broad bipartisan support in the House, even after lawmakers learned that Citigroup lobbyists helped write one of the bills, which would exempt a wide array of derivatives trading from new regulation.
► In The Hill — Under Perez, Labor Department produces blizzard of new rules — Newly installed Labor Secretary Thomas Perez, in his first three months on the job, has overseen new rules on wages, hiring and chemical exposure, some of which had been bogged down by years of delay.
---
TODAY'S MUST-READ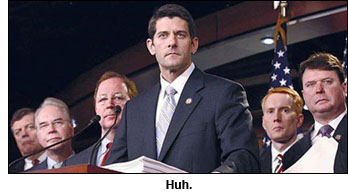 ► In today's NY Times — Make 'Em Pay (by Timothy Egan) — Real Americans, the wind-chapped toilers so often invoked by politicians in a phony froth, lost real money from the real pain inflicted on their livelihoods by the extortionists in Congress this month. How much money? At least $24 billion was the estimate given by Standard & Poor's. Small business was hit particularly hard. And it's a rolling pain, affecting consumer confidence, that will be felt through a holiday buying season that can make or break many retailers.
What's left is the ballot box. And here, Red State America can do a huge service for the rest of country. The states hit hardest by the shutdown, it now appears, were those where Republicans prevail… The more difficult job will be ousting, from hardened, gerrymandered districts, the people who put ideology ahead of common sense and commerce. They seem faceless and buffoonish. They act as if they are immune from majority sentiment. But each of them is up for re-election a year from now, and the good news is that almost 75 percent of voters say most Republicans in Congress don't deserve to be sent back to Washington.
---
The Stand posts links to Washington state and national news of interest every weekday morning by 10 a.m.
Short URL: https://www.thestand.org/?p=27662
Posted by
David Groves
on Oct 29 2013. Filed under
DAILY LINKS
. You can follow any responses to this entry through the
RSS 2.0
. Both comments and pings are currently closed.