Attorneys honor Hyatt boycott rather than attend Bar awards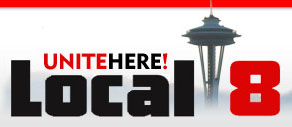 SEATTLE (Oct. 4, 2013) — Since late August, Seattle Hyatt hotel workers and their supporters at UNITE HERE Local 8 have conducted a boycott of the Hyatt at Olive 8 and the Grand Hyatt Seattle in response to the hotels' difficult working conditions, unaffordable healthcare, and use of subcontracted workers. Employees also say the hotels' local owner, Richard Hedreen, has refused to agree to a fair process for workers to form a union free from management intimidation — a process backed by Hyatt Hotels in a recent national agreement. In response, workers are calling on customers to not eat, meet or sleep at the two local hotels until the matter is resolved.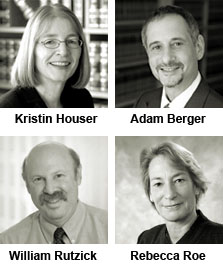 That's exactly what happened last week when several attorneys who were scheduled to receive the Washington State Bar Association's highest honor at an awards dinner on Sept. 26 at the Grand Hyatt chose not to attend in order to honor the boycott.
Attorneys Kristin Houser, Adam Berger, William Rutzick and Rebecca Roe of the firm Schroeter Goldmark & Bender were all scheduled to receive the Bar's "Award of Merit," but chose to honor the boycott instead. They were being honored for their pro bono work on behalf of Gov. Chris Gregoire's position in support of the Affordable Care Act and in response to Rob McKenna's unsuccessful effort to have the law declared unconstitutional. Instead of attending the awards event at the Grand Hyatt, the attorneys issued this statement:
As members of the team representing Governor Gregoire in support of the Affordable Care Act, we deeply appreciate the WSBA Award of Merit. However, given the boycott of the Hyatt Hotel by Local 8, we will not be attending the event.

Our enthusiastic efforts seeking to uphold the Affordable Care Act were a logical outgrowth of our firm's commitment to working families, living wages and affordable health care. These values are inextricably linked. It is our view that unions have played a leading role in obtaining health coverage for workers and their families. The loss of union jobs is directly related to the increase in the number of uninsured Americans which necessitated the passage of Obamacare.

Thus, we view the decision to honor the boycott and miss the event as a choice between appearing ungrateful to the Bar Association, which we are not, and being untrue to our values, which we try not to be. We underscore our gratitude to WSBA for honoring our efforts, to Governor Gregoire and her staff for allowing us to participate in this important work, and to President Obama for the courage to fight for expanded health care coverage in the face of relentless attacks.
Fe Lopez of the Seattle University Law School, a daughter of farmworker activists from Eastern Washington who also was to be honored at the Bar event for her diversity work, also chose not to attend. Also last week, the Washington State Association of Justice executive board voted to honor the Hyatt boycott.
Here is the video that was shown at the Bar Association event in the absence of their "Award of Merit" winners:
For more information about the boycott, visit UNITE HERE Local 8's website.
---
ALSO at The Stand — Hyatt workers urge boycott of Seattle hotels (Aug. 28, 2013)
Short URL: https://www.thestand.org/?p=27092
Posted by
David Groves
on Oct 4 2013. Filed under
LOCAL
. You can follow any responses to this entry through the
RSS 2.0
. Both comments and pings are currently closed.