OLYMPIA (Oct. 15, 2013) — The Washington State Labor Council, AFL-CIO, the largest union organization in the state, representing some 400,000 trade unionists in 600 local unions, has announced the hiring of Joe Kendo as the WSLC's new Legislative and Policy Director.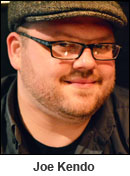 He joins the WSLC lobbying team that is directed by WSLC President Jeff Johnson and will work closely with Teresa Mosqueda, who serves as Government Relations Director for the council. Kendo will help develop the WSLC's legislative agenda, will serve on several internal and external policy committees, and work with affiliated unions and community partners to improve the lives of Washington's working families.
"Joe is a thoughtful and articulate young leader and will make a great contribution to our lobbying and legislative team," Johnson said.
Since 2008, Kendo has served as a Council Representative for the Washington Federation of State Employees, AFSCME Council 28. In this position, he has done internal organizing in support of contract negotiations and better working conditions, trained shop stewards, and recruited members for WFSE political activities and leadership positions on the council. Prior to that, during the 2008 legislative session, Kendo served as the WSLC's Legislative Intern.
"I'm incredibly excited, and humbled, to be working with the member-leaders and staff at the Labor Council," Kendo said. "I've always admired the leadership the WSLC has provided to the labor movement, and the innovative approach to policy initiatives meant to improve the working lives of people in Washington. The Labor Council in Washington is on the cutting edge of modern unionism, and I'm honored to be a part of this forward-looking team."