'Nothing fair or right' about Boeing demands
(Dec. 23, 2013) — The following statement of solidarity from Jeff Johnson, President of the Washington State Labor Council, AFL-CIO, was distributed Monday to the Machinists District 751 and WSLC-affiliated unions:
---
In 2011, just two years ago, Machinists District 751 members at The Boeing Co. voted to ratify a long-term five-year contract that was an extension of their existing contract. They did so at the company's request and with the company's promise of securing long-term Boeing production work. That 2011 contract extension benefited both the company and the Machinists, secured the 737 MAX work in Washington state, and gave the company what they said they were looking for: labor stability and peace.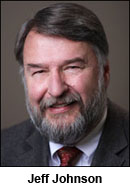 Now the company has returned and asked to extend the contract again. The company is insisting that, in order to secure 777X manufacturing and assembly work in Washington state, Machinists must again re-open their contract that doesn't expire until 2016. But this time, it's clear this is not about labor stability. It's about cutting compensation. Boeing is demanding unprecedented takeaways from their employees at a time when the company is enjoying record profits, sales, and executive bonus packages.
The elected membership representatives of Machinists District 751 strongly believe that these takeaways are excessive and unnecessary. This is not a case of making sacrifices to see a company through tough times. This is a case of a company that is flush with cash, orders and profits not only refusing to maintain its workforce's existing wages and benefits, but also demanding that they give up their pensions under the threat of moving work elsewhere.
There is nothing fair or right about what Boeing executives are demanding. In fact, it is a slap in the face of the Washington workforce that builds the best commercial jets in the world, delivers them at unprecedented production rates, and is absolutely driving Boeing profits into uncharted territory. This workforce is the backbone of this company. Its heart and soul. And they haven't asked for anything except to maintain what they have and continue doing the work in which they take so much pride.
It doesn't have to be this way. The Machinists and Boeing each have what each other needs. The Machinists can ensure the quality, on-time delivery and long-term profitability of Boeing by building the 777X right here in Everett. Boeing can maintain its profit margin and the retirement security of Machinists by retaining the existing pension plan that is clearly so precious to their employees
We can do this. We can share in the company's prosperity and make everyone a winner, including customers, shareholders and the communities where we work and live. We owe this much to each other.
Short URL: https://www.thestand.org/?p=28890
Posted by
David Groves
on Dec 23 2013. Filed under
LOCAL
. You can follow any responses to this entry through the
RSS 2.0
. Both comments and pings are currently closed.