All pensions at risk, Port puts it off, paid sick leave works…
Wednesday, January 8, 2014
---
BOEING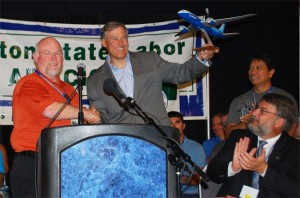 ► MUST-READ in today's Seattle Times — Boeing puts all pensions at risk (by Danny Westneat) — Now that our state's pensioned politicians have so deftly assisted Boeing in wrenching pensions away from its line workers, the big question is: Who's next? The stable retirements of Boeing's 21,000 engineers may now be on the chopping block. But there's another more immediate target, one made ripe by the politics of the big Boeing squeeze play of 2013: state employees. The argument against (Sen. Rodney) Tom's legislation to replace their pensions with 401(k)s was clear at the time: 401(k)s are not as good as pensions for the workers. But how do Democrats make that argument now when they just spent two months siding with Boeing management against the Machinists on the exact same issue? The argument writes itself: If doing away with pensions was so crucial for the health of a private company making record profits, then why not for a cash-strapped state?
► In today's (Everett) Herald — NLRB complaints won't affect Boeing checks — Since Machinists narrowly approved a new contract with Boeing, the aerospace giant should soon be mailing $10,000 bonus checks to union-member employees. But with some Machinists challenging the results, many of Boeing's more than 32,000 Machinists are wondering what to do with the money.
► In today's P.S. Business Journal — Boeing looks to cut 787 production costs — It currently costs Boeing more money to make a 787 Dreamliner than the company charges for the plane, so the company is looking at ways it can cut costs. To speed production, Boeing is likely to add a second 787 production line at its North Charleston, S.C. location.
EDITOR'S NOTE — Maybe with two lines S.C. will be able to build as many 787s as a single Everett line. But probably not.
► In today's News Tribune — Boeing reportedly wins orders for more than 130 737s from three airlines — Three airlines have ordered 136 Boeing 737s as the company kicks off 2014.
► And just in case you think Boeing has the greediest, most entitled, least accountable, despicable corporate executives in America, at least they aren't racists who slap babies. That would be their 787 suppliers. From AP — Business executive sentenced for slapping baby on plane — A federal judge on Monday sentenced Joe Rickey Hundley, 60, president of UNITECH Composites and Structures, to eight months in federal prison for slapping a crying toddler on a Delta flight. He lost his job after the incident.
---
LOCAL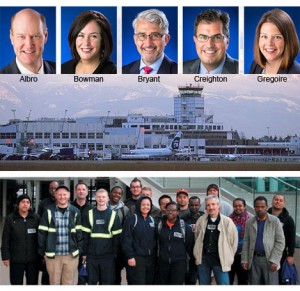 ► In today's Seattle Times — Port of Seattle says it will act by June on airport-wages issue — The Port of Seattle Commission will work toward raising wages at Sea-Tac International Airport after a judge's ruling that SeaTac's Prop. 1 cannot be enforced there. The commission made no specific promises about the 4,700 workers at the airport, saying it will act by June after public hearings. That's slower than union activists and the city of SeaTac would like.
YESTERDAY at The Stand — Urge Port of Seattle officials to enact Prop 1 at Sea-Tac Airport — Remember, this is the same Port leadership that allowed Port CEO Tay Yoshitani, who already makes $367,000 (or $176/hour), to take a board position worth an at least an additional $230,000 at Expeditors International for a total compensation of more than $600,000 with benefits. Last year, the Seattle Port Commissioners gave themselves a raise of $36,000 per year to help attract and keep qualified commissioners.
► In the P.S. Business Journal — Seattle Port CEO Tay Yoshitani will retire this year — Tay Yoshitani, the Port of Seattle's CEO since 2007, said Tuesday that he will retire this year.
EDITOR'S NOTE — Can't wait to hear about the severance windfall he gets.
► In today's Columbian — Port of Vancouver director defends oil terminal proposal — The Port put safeguards into a lease it signed for a controversial oil-by-rail project, including a safety and operations plan it must approve before the crude-handling facility launches, say's the Port's executive director.
► In today's Oregonian — Port operator says longshore workers aren't speeding up as Hanjin decides whether to drop Portland — Longshore workers have not boosted container movement at the Port of Portland in the last month, according to the terminal operator, casting doubt on Hanjin Shipping Co.'s decision expected this week on whether to pull its vessels.
---
STATE GOVERNMENT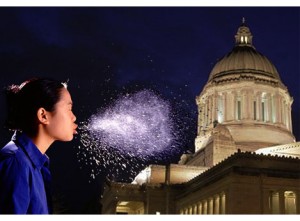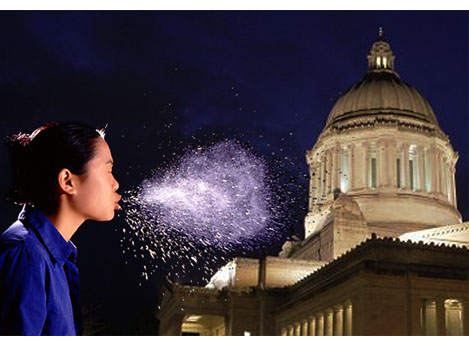 ► At AFL-CIO Now — Oops. So much for right-wing arguments against paid sick leave — In 2011, Connecticut became the first state to require employers to provide paid sick days for workers, including part-time employees. At the time, extreme pro-business interests in the state ran through the common, yet tired, arguments about paid sick leave in efforts to stop the law from passing. After 18 months of the law being in effect, the Center for Economic and Policy Research surveyed more than 250 employers in the state to determine the effects of the law. The results:
The law had minimal effects on businesses. A large majority of employers reported that the law did not affect business operations and that they had no or only small increases in costs. Businesses most frequently covered absent workers by assigning the work to other employees, a solution which has little effect on costs. Just 10% of employers reported that the law caused their costs to increase by 3% or more.
► In today's (Everett) Herald — State Sen. Paull Shin, resigns citing Alzheimer's — State Sen. Paull Shin, who began life as an orphan in Korea and served for 15 years in the Washington state Senate, resigned on Tuesday. His term was to expire at the end of 2014. He announced last year that he would not run for a fifth term. State Rep. Marko Liias (D-Mukilteo), who serves in Shin's district, said in the fall that he would seek the Senate seat.
► In today's Columbian — Analysis says tolls can make CRC financially viable — Charging tolls on Interstate 5 could generate enough money to make the Columbia River Crossing financially viable, Oregon officials said after releasing a new report Tuesday.
► At Huffington Post — Colorado's recreational marijuana sales exceed $5 million in 1st week — Colorado has projected nearly $600 million in combined wholesale and retail marijuana sales annually. The state, which expects to collect nearly $70 million in tax revenue from pot sales this year, won't have its first official glimpse at sales figures until Feb. 20.
---
FEDERAL GOVERNMENT



► At Politico — In surprise move, unemployment benefits advance — The Senate begins an even tougher task after a surprise vote on Tuesday to break a GOP filibuster of legislation extending unemployment benefits. That is: finding a way to pay for the measure.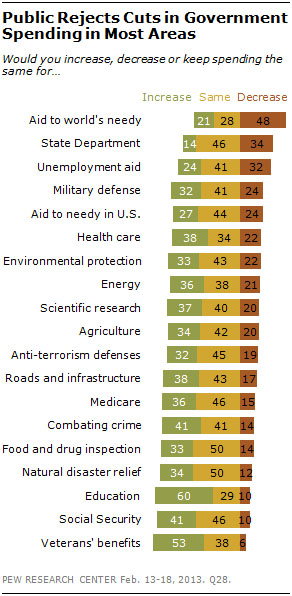 ► In today's Washington Post — How Republicans turned against unemployment insurance — Between 2009 and early 2013, the share of Republicans who said the federal government should decrease spending to assist the unemployed has more than doubled from 26 to 56 percent in Pew Research Center polls, now representing the majority view within the party. Independents and Democrats have also grown more willing to cut unemployment aid, though clear majorities of each still said it should be "kept the same" or "increased."
► At Think Progress — Sen. McConnell seeks to hold unemployment benefits hostage to Obamacare delay — Senate Minority Leader Mitch McConnell (R-KY) says Democrats should agree to a one-year delay in Obamacare's individual mandate in order to offset the cost of reinstating unemployment benefits for one year.
► In today's NY Times — Still not serious about jobless benefits (editorial) — Benefit checks are still a long way from getting to the people who desperately need them, thanks to the callousness of Republican lawmakers in both the House and Senate.
► At Politico — Immigration reform's narrow window for survival — Proponents of an immigration rewrite on and off Capitol Hill hope the tension will ease once Republicans get past primary season and don't have to worry about challenges to their conservative credentials.
---
INTERNATIONAL



► In today's Seattle Times — Amazon gets support in union row from some German workers — More than 1,000 workers at Amazon warehouses in Bad Hersfeld and Leipzig sign anti-union petition, worried in part about potential backlash if their jobs move elsewhere.
EDITOR'S NOTE — Too bad the Germans don't have Americans' strong labor laws. It is illegal in the United states for employers to threaten to close plants and move production in retaliation for lawful union activities. Well… it used to be.
---
The Stand posts links to Washington state and national news of interest every weekday morning by 10 a.m.
Short URL: https://www.thestand.org/?p=29019
Posted by
David Groves
on Jan 8 2014. Filed under
DAILY LINKS
. You can follow any responses to this entry through the
RSS 2.0
. Both comments and pings are currently closed.