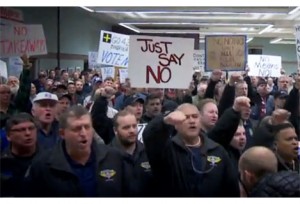 SEATTLE (Jan. 3, 2014) — Hundreds of rank-and-file members of Machinists District 751 and their supporters rallied Thursday night at their Seattle union hall to urge their fellow IAM 751 members to vote against Boeing executives' proposed contract extension that freezes their pensions and seeks other concessions. That vote is happening today. Learn more at iam751.org.
Here is news coverage of Thursday night's IAM 751 Solidarity Rally:
► From KIRO TV — Boeing Machinists rally against contract offer — Chanting "Vote No!," hundreds of Boeing machinists rallied at union headquarters late Thursday afternoon in advance of a crucial vote on the Boeing Co.'s contract offer. The offer includes concessions on pensions and medical costs, but the company says a "yes" vote would guarantee that construction of the 777X and its new carbon fiber wing will be done in Washington state.
► In today's Seattle Times — Machinists at rally: 'Hell no' to deal — Hundreds of Machinists rallied Thursday afternoon in Seattle to urge their union co-workers to reject Boeing's contract offer. Addressing a rowdy crowd that chanted "Hell no," Wilson Ferguson, president of the union's Local A and a flight-line mechanic at Boeing, said Friday's vote is a time to "beat back the evils of management once again."
ALSO in the Times — Boeing retirement revamp may shape outcome of vote
► In today's (Everett) Herald — Boeing's 777X gambit: Machinists vote Friday — Machinists who plan to vote no say they're voting to protect well-paying jobs from corporate extortion. "Boeing is giving us a take-it-or-leave-it ultimatum," Machinist Shannon Ryker said at a vote-no rally Thursday at the Seattle headquarters of IAM District 751. "That gives us no choice but to say no!"
► From AP — Boeing Machinists voting on contract tied to 777X
► From Bloomberg — Boeing-union deal pits pensions against 777X output risk — Aerospace analyst: "What this boils down to: What's the level of risk that Boeing's going to end up taking to get those savings in terms of having a less-experienced workforce?"