CHAMPIONS! Plus the latest from Olympia, D.C.
Monday, February 3, 2014
---
SEAHAWKS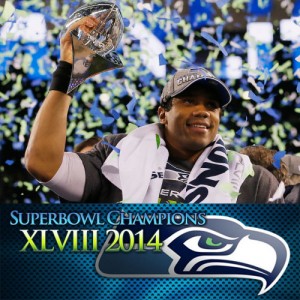 ► In today's Seattle Times — Seahawks dominate Broncos from start to finish to win Super Bowl — They shut down Peyton Manning and shut up their critics. And then, in the happy celebration of the Seahawks' first Super Bowl title in their 38-year history, defensive end Red Bryant stood up in the locker room and issued a challenge to everyone within earshot. "This team has got to go down as one of the best defenses of all time,'' Bryant yelled after Seattle's 43-8 victory over the Denver Broncos on Sunday at MetLife Stadium. "It's got to. And the best thing about it is they called us misfits, overachievers, said that nobody wanted us. But now we're the best.''
ALSO at The Stand — IBEW makes sure SeaHulk's at Super Bowl
EDITOR'S NOTE — Congratulation, Seahawks! Thank you for making this city and state proud. Now, the 12th Man is going to make you proud by having the loudest and craziest — but safe and responsible — victory parade ever. It will be Wednesday, Feb. 5 and start at 11 a.m. from 4th and Denny, ending at CenturyLink Field at around 1:30 p.m. Please carpool and/or use mass transit. There will be no place to park. And thank you in advance to the police, fire and other public safety workers who will do everything they can to keep participants safe, and to the city employees who'll be cleaning up the Skittles and the rest of the mess. GO HAWKS!
---
STATE GOVERNMENT



► In Saturday's (Everett) Herald — Senate OKs aid for undocumented immigrant students — On Friday, the Senate approved a bill making children of undocumented immigrants eligible for taxpayer-funded aid through the State Need Grant program. Leaders of the Republican-led majority overcame opposition in their caucus to bring SB 6523 to the floor where it passed 35-10.
EDITOR'S NOTE — Voting "no" were GOP Sens. Angel, Braun, Brown, Dansel, Ericksen, Hewitt, Honeyford, Padden, Pearson, and Rivers.
► In the Peninsula Daily News — Hargrove, Tharinger take opposite sides on minimum wage measure — Rep. Steve Tharinger (D-Sequim) is one of 31 Representatives, all Democrats, co-sponsoring the bill to raise the minimum wage to $12 by 2017. But Sen. Jim Hargrove (D-Hoquiam) said he would not support it. "I just don't see that this is the right time to be making this move," Hargrove said.
ALSO at The Stand — Labor backs bill to raise minimum wage
EDITOR'S NOTE — Rep. Jessyn Farrell's minimum wage bill (HB 2672), gets a public hearing Tuesday at 1:30 p.m. If you're in the neighborhood, stop by and sign in with your support.
► In the Spokesman-Review — Paid vacation bill pitched in Washington Legislature — Workers in Washington could be the first in the nation to be guaranteed paid vacation time under legislation being considered by state lawmakers. Rep. Gael Tarleton (D-Seattle), the prime sponsor of House Bill 2238, said the measure would require public and private employers with 25 or more employees to provide vacation leave for those who work 20 hours or more per week.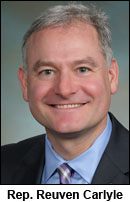 ► In the (Everett) Herald — Information on tax breaks should not be hidden (Rep. Reuven Carlyle) — If a tax preference cannot justify its continued existence with data, metrics and facts and must retreat into brute lobbying force, then we should probably close the tax preference and instead invest those precious dollars into public education from early learning through K-12 and higher education. The responsible next step is to pass HB 2201 and open the books in a careful, measured way and let citizens — and 147 legislators — know the truth of how the money flows.
► In today's News Tribune — Lawmakers consider evaluating educators — As state lawmakers debate how to meet federal demands that statewide tests be used in teacher evaluations, some want to see more districts adopt labor policies that they say are working in Tacoma and Seattle.
► In the Seattle Times — Inslee, lawmakers pushing to lift veil on pricing for health care — The state has been able to shed very little light on what its residents will pay for their health care. That soon could change, as Gov. Jay Inslee and some legislators are pushing for a database of medical procedures, their costs at various locations and the quality of the providers.
---
LOCAL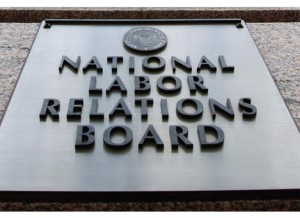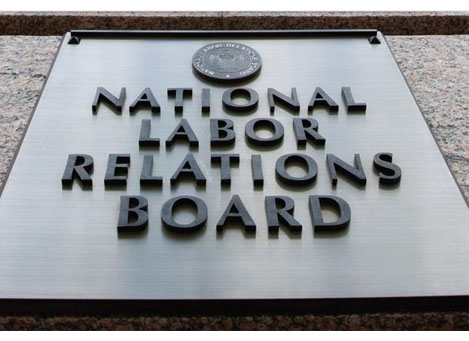 ► From Bloomberg — Obama's NLRB rattles employers by ordering printer to keep union — When a majority of its press operators decided to quit the Teamsters, Pacific Publishing Co. in Seattle immediately stopped negotiating with the union. The Teamsters complained to the NLRB in Washington, where the agency's general counsel sided with the union. He asked the board to give the labor group more time to persuade the unhappy members to return to the fold. Employer groups say the decision shows the board, operating at full strength for the first time since President Barack Obama took office five years ago, is tilting toward unions.
► In the Seattle Times — Washington state Democrats elect a new chairman — The Washington state Democratic Party elected a new chairman Saturday — longtime top party staffer Jaxon Ravens — and not the person who had Gov. Jay Inslee's personal endorsement.
---
NATIONAL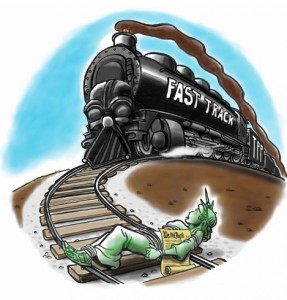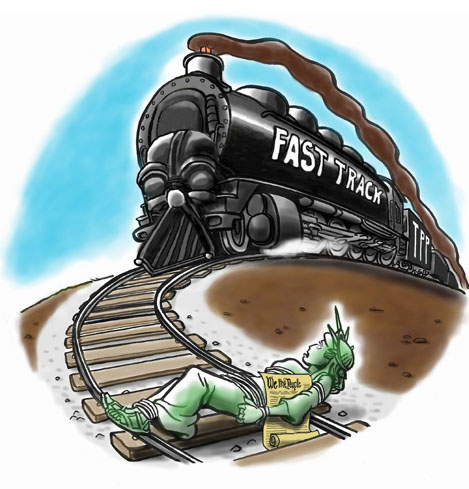 ► In the NY Times — Obama, GOP facing opposition to trade pacts — President Obama, supported by many Republicans and business groups, has asked for fast-track approval to ease the eventual passage of his trade deals, which he argues would provide a shot in the arm for the economy. But he has run into staunch opposition from members of his own party, as well as labor and environmental groups. They fear a further loss of jobs to the forces of globalization and technological change and inadequate protections against environmental damage.
► From Politico — Senate Democrats break from Obama — From trade to Iran sanctions, the Keystone XL pipeline, Obamacare, the National Security Agency and energy policy, Senate Democrats seem unusually comfortable criticizing the president, with only minimal concerns about repercussions from the White House.
► In the N.Y. Times — The middle class is steadily eroding. Just ask the business world — As politicians and pundits in Washington continue to spar over whether economic inequality is in fact deepening, in corporate America there really is no debate at all. The post-recession reality is that the customer base for businesses that appeal to the middle class is shrinking as the top tier pulls even further away.
---
TODAY'S MUST-READ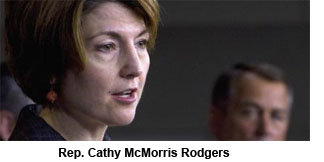 ► In today's N.Y. Times — Delusions of failure (by Paul Krugman) — The Republican response to the State of the Union was delivered by Cathy McMorris Rodgers, Republican representative from Washington — and it was remarkable for its lack of content. A bit of uplifting personal biography, a check list of good things her party wants to happen with no hint of how it plans to make them happen.
The closest she came to substance was when she described a constituent, "Bette in Spokane," who supposedly faced a $700-a-month premium hike after her policy was canceled. "This law is not working," intoned Ms. McMorris Rodgers. And right there we see a perfect illustration of just how Republicans are trying to deceive voters — and are, in the process, deceiving themselves.
---
The Stand posts links to Washington state and national news of interest every weekday morning by 10 a.m.
Short URL: https://www.thestand.org/?p=29662
Posted by
David Groves
on Feb 3 2014. Filed under
DAILY LINKS
. You can follow any responses to this entry through the
RSS 2.0
. Both comments and pings are currently closed.