IBEW 483 members urged to reject Tacoma Power proposal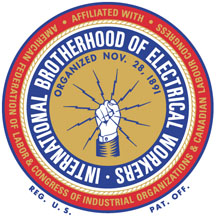 TACOMA (Feb. 4, 2014) –After nearly a year of unsuccessful contract negotiations with the City of Tacoma, members of the International Brotherhood of Electrical Workers Local 483 who work at Tacoma Power will vote on the city's "last, best and final" contract proposal on Feb. 11. The union is recommending rejection of the proposal because the city is demanding new language that takes away the union's ability to bargain over decisions that affect wages and hours and that imposes a costly new mandatory standby system for some workers that even the city admits won't improve service.
"In our perspective, this isn't about money. This is about preserving the legal bargaining rights of our members," said IBEW Local 483 Business Manager Alice Phillips. She added:
Our efforts in bargaining have exposed an attitude by the city that they want to unilaterally reset the contract language to meet their new management philosophy. It's an attitude that suggests the city will do what they want, whenever they want, without regard for the impacts on the people that make everything work.
IBEW Local 483 has been in contract negotiations for a successor agreement with the City of Tacoma, Tacoma Power, since March 18, 2013. Both parties have been working under an automatic one-year extension of the contract that expired March 31, 2013. On Jan. 22, 2014, after four sessions with a state mediators from the Public Employment Relations Commission (PERC), the City of Tacoma delivered its "last, best and final offer," which contained two elements that the union insists have stymied the bargaining process for nearly a year now:
1)  Management Rights: Under the current agreement, IBEW Local 483 has the ability to bargain the decision and the impacts of decisions that affect hours, wages and working conditions for its City of Tacoma, Tacoma Power members. This agreement has been in place for several decades, standing the test of time and helping maintain a positive working relationship between the union and the city towards solving issues as they arise.
The city is demanding expanded Management Rights and has insisted that the contract will not be agreed upon without this language. The stated intent of the proposed change is to remove the union's ability to bargain decisions that affect hours, wages and working conditions. This would leave IBEW Local 483 in the position of only being able to bargain the impacts after a decision has been made. The union has made it clear that they will not allow the legal rights of their members to be eroded.
2)  Mandatory Standby for Hydro Project Workers: IBEW Local 483 represents several work groups at the city-owned hydro-electric projects. Currently, project managers and their assistants live in city-owned housing, expense free, which includes electricity, telephone, water and maintenance. In exchange, the managers act in a standby capacity for any issues that may arise in the fully automated projects. The city is now proposing to impose mandatory standby for rank-and-file workers for $3 per hour. The workers will be required to live within a 30-minute response time to the project even though the managers will continue to live expense free at the projects. The union says that city negotiators have freely admitted that this proposal will actually cost more money and will not improve customer service.
Negotiators for the city have indicated that they will not meet again unless IBEW Local 483's rank-and-file members vote upon and reject their offer. Therefore, the union is putting the city's proposal to a vote with a "do not pass" recommendation.
For more information visit ibew483.org.
Short URL: https://www.thestand.org/?p=29678
Posted by
David Groves
on Feb 4 2014. Filed under
LOCAL
. You can follow any responses to this entry through the
RSS 2.0
. Both comments and pings are currently closed.