No tip penalties, SPEEA pensions, fresh push for immigration reform…
Wednesday, March 19, 2014
---
LOCAL



► In today's Seattle Times — 'Unusual noise' before helicopter crashed near Space Needle — A veteran Seattle photojournalist and a pilot were killed Tuesday morning when a KOMO-TV helicopter crashed onto a street outside Fisher Plaza near the Space Needle. A driver whose car was struck was burned.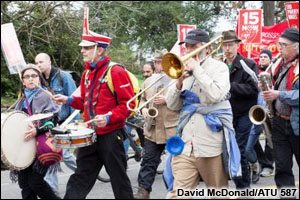 ► At Labor Notes — Seattle marches to a $15 beat — Seattle Mayor Ed Murray says, "We know it is not a matter of if we get to $15 per hour, but when and how we get there." All nine city council members publicly endorse the concept. But underneath the apparent consensus are differences on what $15 means and how long it should take. So labor and community groups in Seattle are mobilizing to hold the council's feet to the fire — and to get the job done by ballot initiative if the council compromises too far.
► From PubliCola — $15 Now activists: Open to compromise, but not on 'tip credit' — At city hall on Tuesday, $15 minimum wage advocates said they would start collecting signatures on April 26 if they aren't satisfied with the proposal the emerges from Mayor Murray's income inequality task force, which is supposed to come up with a new minimum-wage proposal by the end of next month. The speakers endorsed Sawant's recent call for a phased-in $15 minimum that includes some exemptions for small businesses, but were adamant that they would not accept concessions like a "tip credit" or the inclusion of health care and other expenses as part of workers' "total compensation."
EDITOR'S NOTE — Employers might call it a "tip credit," but tipped workers who get sub-minimum wages call it a tip penalty.
► In today's Olympian — Management changes needed within BHR (letter) — I am a licensed mental health therapist with Behavioral Health Resources and am concerned about coverage of the financial situation that BHR now finds itself in. For seven years, BHR employees have worked to serve the needs of the mentally ill without a cost-of-living raise and have made significant financial sacrifices in an effort to bail BHR out of repeated financial crises. BHR management has consistently denied responsibility for any of the financial difficulties and has repeatedly focused attention to increasing productivity of the therapist and case manager without significant effort to make changes that support them.
ALSO at The Stand — 3-day strike set at Behavioral Health Resources
► In today's Oregonian — ILWU boycotts 'sham review' of Port of Portland's troubled Terminal 6 — An analysis Gov. John Kitzhaber requested of the Port of Portland's container terminal is off to a rocky start, as the longshore union opts out, insisting the review is biased.
---
AEROSPACE




► In the P.S. Business Journal — Boeing engineers union chief: 'I'm not wedded to pensions' — Financial security in retirement, not how the dollars are delivered, should be the bottom line for future contract negotiations by the union representing Boeing engineers. That's the view of Tom McCarty, outgoing president of the Society of Professional Engineering Employees in Aerospace (SPEEA), as he looks ahead two years to the 2016 expiration of his union's current contract.
---
STATE GOVERNMENT



► In today's (Everett) Herald — State ferries chief David Moseley steps down — The man who has steered Washington State Ferries through turbulent waters the past six years is calling it quits, saying it is "time to let somebody else come in and take a turn." David Moseley announced his resignation Tuesday and said he will leave the nation's largest ferry system in a stronger position than when he arrived in 2008. Secretary of Transportation Lynn Peterson will conduct a national search to find a successor.
---
FEDERAL GOVERNMENT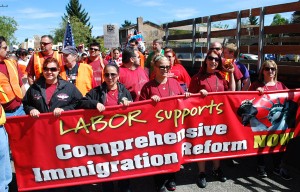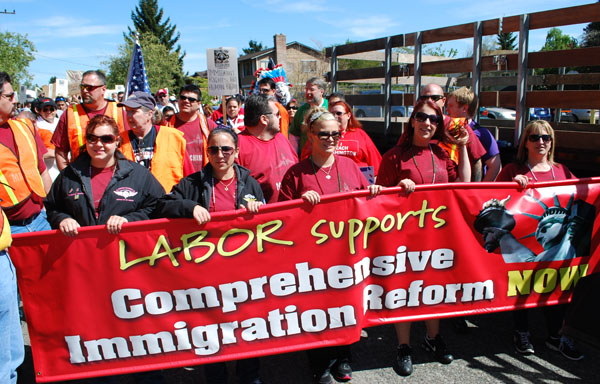 ► At AFL-CIO Now — Trumka: House should vote now on Senate immigration bill — The AFL-CIO is again urging the U.S. House of Representatives to vote on the bipartisan Senate immigration reform bill that passed overwhelmingly last June. Advocates of reform are pursuing a discharge petition, which requires the signatures of 218 House members to bring a bill to the floor. The labor movement, said Trumka, is activating all state and local federation leaders across the country in support of the discharge petition.
► In The Hill — Unions' frustration adds to Democrats' midterm woes —  An angry and deflated union base is adding to the midterm woes for congressional Democrats. Parts of the labor coalition are making clear that they are reluctant to help Democrats in their push to save their Senate majority. Without the get-out-the vote muscle of unions, Democrats will have a hard time improving the weak turnout that has often hurt them in midterm election years.
► In Government Executive — Republican lawmakers want to cut 115,000 civilian defense jobs — A group of Republican lawmakers are proposing to slash the civilian workforce at the Defense Department by 15 percent, a move they estimate will save $82.5 billion over five years. Their bill would cut nearly 115,000 jobs from the department, from the current 770,00-person workforce down to about 655,000.
► In The Hill — Chamber of Commerce revs up opposition to labor election rule — The nation's largest business lobby is restarting a national campaign against an NLRB rule intended to speed up union elections. The U.S. Chamber of Commerce has revved up its "Do Not Disturb" effort, which the business group hopes will flood the labor board with public comments opposing the regulation.
---
NATIONAL



► From AP — Fast-food protests shift to 'wage theft' — Organizers of the fast-food protests for higher pay on Tuesday shifted their attention to another issue: "wage theft." Protesters planned to rally outside McDonald's restaurants in cities including Boston, Chicago, Los Angeles and Miami to call attention to the denial of overtime pay and other violations they say deprive workers of the money they're owed.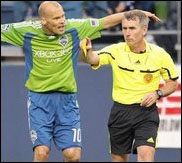 ► At USSoccerPlayers.com — What is happening with MLS referees and why is it important? — For the past 40 years, one sport in this country has been the most consistently hostile to professional athletes and other employees. Soccer. The latest example is MLS's treatment of referees. MLS and the US Soccer Federation created the Professional Referees Organization in 2012 with the stated purpose of improving not only the quality of the referees working MLS games, but the level of professionalism. Instead, we start the 2014 season with replacement referees. The promise of PRO turned into another opportunity for American soccer to devalue key employees.
► In USA Today — Retirement: A third have less than $1,000 put away — About 36% of workers have less than $1,000 in savings and investments that could be used for retirement, not counting their primary residence or defined benefits plans such as traditional pensions, and 60% of workers have less than $25,000, according to a new survey.
EDITOR'S NOTE — Frustratingly, the article quotes academics who say the problem is a lack of "financial education," as opposed to stagnant/devalued working-class wages and the systematic cutting/elimination of employer-provided retirement benefits.
► In today's LA Times — In health care, what makes Maine different? — The area is poor and smoking and obesity rates are high, but residents rank well on measures of health. The coordination among businesses and health workers is seen as a reason.
---
INTERNATIONAL



► At Business Insider — The Qatar World Cup is a disaster: 1,200 workers dead, new bribery investigation — A report from the International Trade Union Confederation says 1,200 migrant workers from India and Nepal have died in Qatar since the country was awarded the 2022 World Cup. The ITUC estimates that 4,000 migrant workers will die by the time the first game is played in 2022.
---
TODAY'S MUST-READ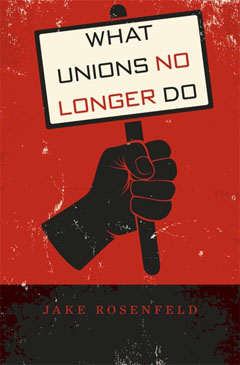 ► At TPM — Want to win the war on poverty? Rebuild the labor movement (by Jake Rosenfeld) — Amid all the discussions are familiar calls to raise the minimum wage, buttress the food stamp program, and expand health insurance to the nation's needy. Yet absent from the conversation is a proven and powerful way to reduce poverty: strengthening the labor movement. Historically, unions have played a vital role in supporting the most vulnerable, despite the fact that very few union members were then, or are now, themselves poor… But unions are not simply economic organizations. They are political ones too, and through their political efforts unions have consistently championed poverty-fighting policies, indirectly helping low-wage Americans.
(Adapted from What Unions No Longer Do by Jake Rosenfeld, Associate Professor of Sociology at the University of Washington.)
---
The Stand posts links to Washington state and national news of interest every weekday morning by 10 a.m.
Short URL: https://www.thestand.org/?p=30664
Posted by
David Groves
on Mar 19 2014. Filed under
DAILY LINKS
. You can follow any responses to this entry through the
RSS 2.0
. Both comments and pings are currently closed.