Healing at 751, Occupy Pragmatism, our low taxes…
Thursday, March 20, 2014
---
AEROSPACE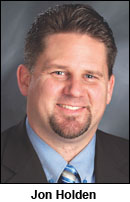 ► In today's (Everett) Herald — New IAM District 751 leader says he's focused on healing divisions — Jon Holden's a true believer. The third-generation union member doesn't doubt that organized labor gives members better lives, and as the newly elected head of the Machinists union representing Boeing workers, he aims to deliver. But first he has to restore member confidence in local union leadership and heal the bitter internal split wrought by negotiations with Boeing which in January landed the 777X in Everett in exchange for ending pensions and other concessions.
► From AP — Review finds Boeing 787 meets expected safety levels — The US Federal Aviation Administration said Wednesday a joint review with Boeing has found that the 787 Dreamliner's design, manufacture and assembly processes met the aircraft's intended safety level.
► In today's Charleston P-C — Machinists union opens North Charleston office to try to organize Boeing plant — The union trying to organize the 7,000-employee Boeing plant in North Charleston has opened an office on Dorchester Road and plans to hold its first meeting Thursday. The IAM is trying to rally workers in the 787 assembly plant to join the union in a right-to-work state where Gov. Nikki Haley constantly says unions are not welcome.
---
LOCAL



► In today's Tri-City Herald — DOE to close Hanford lab with 81 workers — The Department of Energy told employees Wednesday that it plans to stop operating the Waste Sampling and Characterization Facility in central Hanford within a year. Some 81 people work at the laboratory, including at least 42 Hanford Atomic Metal Trades Council workers. "The work in question is ours and we intend to fight for it," said Dave Molnaa, HAMTC president.
► In today's Seattle Times — As bus ridership rises, battle over funding measure heats up — Speakers at a Wednesday session in Bellevue debated King County Proposition 1, which would create a car-tab fee and sales-tax increase for roads and bus service.
► In the (Aberdeen) Daily World — BHR union members strike through the weekend after unsuccessful bargaining session — Employees at Grays Harbor's main provider of mental health and addiction recovery services picketed outside eight offices on the Harbor and in Mason and Thurson counties over the weekend in protest of management issues and changes to their medical benefits.
► From KPLU — Seattle schools to use new state funds to avoid planned staffing cuts — Following a cash infusion from the state and agitation from building-level staff, Seattle Public Schools administrators announced this week they won't be cutting staff members at schools after all.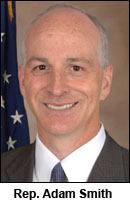 ► In today's News Tribune — Hunger strike down to 2 detainees; Congressman Smith to visit Tacoma facility — A hunger strike at Tacoma's federal immigration detention center dropped to two participants Wednesday, as a detention facility in Texas also started a strike and a congressman planned to visit the Tacoma center Thursday.
► In today's Seattle Times — What's behind the hunger strike at Northwest Detention Center (by Dan Berger and Angélica Cházaro) — In a public statement, the hunger strikers demanded an end to deportations and the separation of families. They also demanded better food, medical care and wages for work inside the facility (they currently receive just $1 a day for their labor), and an end to exorbitant commissary prices. Detainees pay $8.95 for a bottle of shampoo and $1 for a single plastic plate.
► In the NW Labor Press — Dodging a Norquist attack on unions (by Oregon AFL-CIO President Tom Chamberlain) — We could have defeated right-to-work in Oregon. This time, our local union and business leaders found a common interest — finding a better path forward for The Beaver State. But as Gov. Kitzhaber leads us down that path, we must make sure that the outcome really is a good deal for working people. And we must be ready for the next attack on working people.  We don't plan on dying off, but we know the Grover Norquists of the world will keep trying.
---
MINIMUM WAGE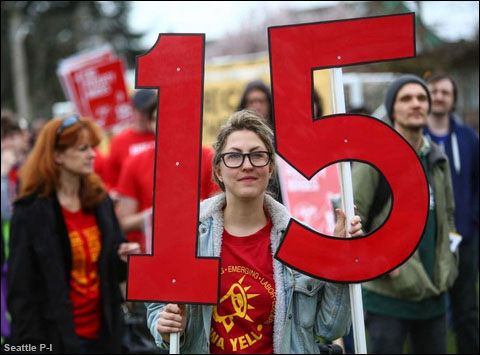 ► At SeattlePI.com — Seattle march for $15 per hour (slide show from Saturday's march)
► In The Stranger — $15 Now was starting to sound like Occupy (by Hanna Brooks Olsen) — At the March 15 rally, Seattle City Council member Kshama Sawant announced the broad outlines of a plan that moves her away from the all-or-nothing rhetoric and toward real pragmatism… It's not about doing it right now. The most important part is figuring out how we get to $15 an hour with the most benefit and least harm.
► From KPLU — Starbucks CEO Schultz: $15 minimum wage will be hard for small businesses — Starbucks CEO Howard Schultz says a $15 per hour minimum wage in Seattle may not have such a big effect on his company, but he's concerned it would hit small- and medium-sized businesses hard. Says Schultz: "I wouldn't want to see the unintended consequences of job loss as a result of going that high. That would not be the case at Starbucks, but I suspect that most companies, especially small- and mid-sized companies, would not be able to afford it."
EDITOR'S NOTE: Alternate headline: "$15 minimum wage won't hurt Starbucks, CEO says"
---
STATE GOVERNMENT



► At HA Seattle — Yet another reminder: Washington is a low-tax state! — Personal finance social network WalletHub recently released a report that finds Washington to be the 6th best state in which to be a taxpayer. Even the conservative Tax Foundation ranks Washington 6th in favorable business tax climate and only 27th in state and local tax "burden." Of course, Washington shamefully tops the nation in regressivity, thanks to our lack of an income tax and our subsequent over-reliance on high sales and excise taxes. If you earn over a million dollars a year you pay less than 2.8 percent in state and local taxes, but if you earn less than $20,000 a year you pay an exorbitant 16.9 percent.
► In today's Spokesman-Review — February statewide unemployment stays at 6.4 percent — The steady statewide unemployment rate over January and February, combined with growth in payroll numbers, suggests Washington's economy remains in growth mode, the Employment Security Department said.
► In today's (Everett) Herald — Inslee may push bounds of governor's office (by Jerry Cornfield) — In the coming months, it is anticipated he will issue a variety of executive orders to undertake new policies, practices and initiatives outside the reach of legislators. His critics are nervous the governor might use the powers of his office to do something on issues like raise the minimum wage for workers paid under state contracts or require state agencies to only purchase fuel with less carbon in it. Whether Inslee could make such moves or do anything close isn't clear.
---
FEDERAL GOVERNMENT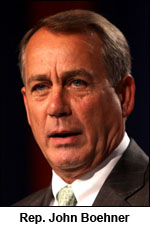 ► In today's Washington Post — Boehner has 'serious concerns' about Senate unemployment insurance deal — House Speaker John Boehner (R-Ohio) seeks to raise doubts about a new bipartisan deal to extend federal unemployment insurance, citing the concerns of state officials responsible for paying out benefits to out-of-work Americans.
► In The Hill — Dems assail Boehner over jobless aid — Democrats on Wednesday assailed Speaker John Boehner (R-Ohio) for opposing a Senate agreement to extend emergency unemployment benefits for five months.
---
PUBLIC EMPLOYEES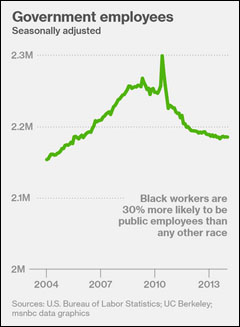 ► From MSNBC — How public sector layoffs add to the racial income gap — Aggressive budget-cutting in the aftermath of the recession has resulted in public sector layoffs on an unprecedented scale. the result wasn't just swelling unemployment or reduced government services: Mass firings in the public sector have also disproportionately affected black communities, inflaming America's swollen racial income gap. One of the country's key sources of living-wage employment for black workers is now being taken apart, piece by piece.
► In The Hill — Federal workers get image makeover — The country's largest federal employees' union is launching a year-long campaign to highlight the importance of federal workers to the country. The American Federation of Government Employees represents more than 650,000 federal workers and says its campaign is meant to counter the negative view that some have of public employees.
---
NATIONAL



► In today's Las Vegas Sun — Union workers considering strike at nearly all downtown casinos — Las Vegas hotel workers are weighing whether to authorize union leaders to call a strike at nearly all downtown casinos and several independent Strip properties. The Culinary Union has been negotiating with 12 independent hotel-casinos since contracts expired last summer. The sites employ about 10,000 union workers.
► In today's NY Times — Union leaders gird for battle against Republican candidate for governor in Illinois — With the selection of a multimillionaire businessman to be the Republican candidate for governor in Illinois, union leaders have begun bracing for one of their starkest campaign battles of the year over the fate of public sector labor unions, pensions and pay.
► At Gawker — Behold, Target's cheesy anti-union video — Check out the latest cheesy anti-union video all Target employees must endure. Dawn warns, "If the unions did try to organize our team members, chances are they would change our fast, fun and friendly culture." That's the fast, fun and friendly culture that Target employees have described to us as "the sketchiest place I ever worked."
---
TODAY'S MUST-READ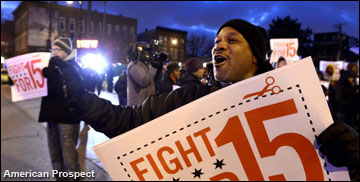 ► From American Prospect — How to raise Americans' wages (by Harold Meyerson) — For many business leaders, politicians, and commentators, workers' declining share is the inevitable result of globalization and technological change — forces of nature that nations, much less individuals, are powerless to stop. They also tend to blame the victim: According to conventional wisdom, workers lack the education and training to fill the new high-tech jobs the economy now demands… What corporate apologists won't acknowledge is that workers' incomes have been reduced by design. American business has adamantly opposed workers' efforts to organize unions. Millions of jobs have been outsourced, offshored, franchised out, reclassified as temporary or part-time, or had their wages slashed, in a successful, decades-long campaign to increase the return to capital. Indeed, the only way to explain the soaring profit margins and stock values of recent years despite anemic increases in corporate revenues is that profits have come at the expense of labor.
Here are eight proposals to jump-start wages and rebuild America's middle-class majority: 1) Legislate wage hikes in states and cities; 2) Link corporate tax rates to worker productivity increases; 3) Link corporate tax rates to CEO-employee pay ratios; 4) Make corporations responsible for all their workers; 5) Help create "benefit corporations" and don't tax them so much; 6) Help workers claim their share of capital income; 7) Raise taxes on capital income and redistribute it to labor; and 8) Change the governance of corporations.
---
The Stand posts links to Washington state and national news of interest every weekday morning by 10 a.m.
WASHINGTON IS A UNION STATE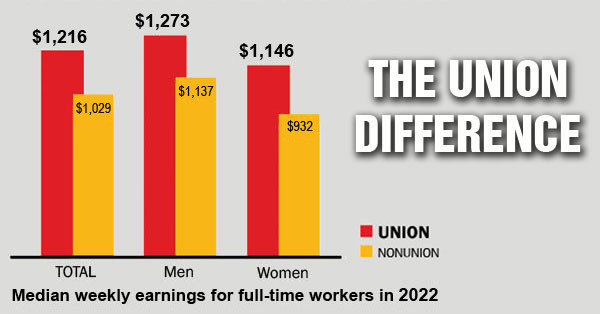 CHECK OUT THE UNION DIFFERENCE in Washington state: higher wages, affordable health and dental care, job and retirement security.
FIND OUT HOW TO JOIN TOGETHER with your co-workers to negotiate for better working conditions and respect on the job. Or go ahead and contact a union organizer today!