Sing like Seeger! Feeney-Greer tour rolls through Washington
(April 16, 2014) — Don't miss renowned labor singer Anne Feeney and riot-folk troubadour Evan Greer as their "Carry It On" Tour, a multigenerational activist music singalong honoring the legacy of Pete Seeger, arrives in Washington state. The tour opens Wednesday night in Olympia at the Washington State Labor Council's building at 9th and Columbia, with subsequent stops in Aberdeen, Port Angeles, Bellingham, Everett, Seattle and Tacoma (schedule below).
The rabble-rousing spirit of beloved protest singer Pete Seeger lives on, and Anne Feeney and Evan Greer are out to prove it. Audiences who attend the Carry it On tour will learn to expect the unexpected during high-energy concerts that feature music ranging from Irish ballads to union singalongs to political punk anthems. Greer and Feeney have both shared stages multiple times with Pete Seeger. Together they will carry on Pete's legacy — harnessing the power of music for revolutionary social change, and making it irresistible for audiences to join in and sing along.
Feeney and Greer bring their Carry It On tour to the following venues: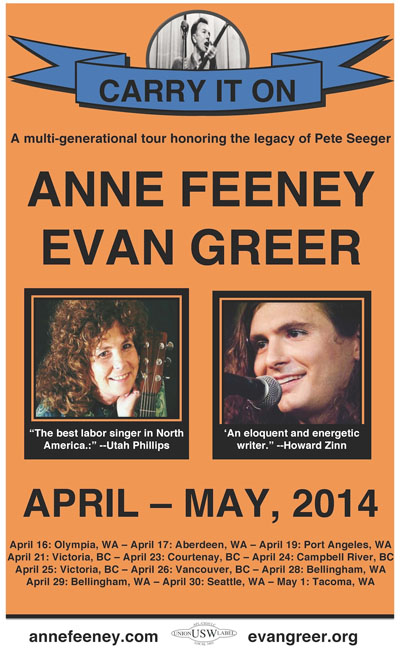 Wednesday, April 16 in OLYMPIA — At 7 p.m. at the WSLC/WFSE's Davis-Williams Building, 906 S. Columbia St. Admission: donations will be accepted.
Thursday, April 17 in ABERDEEN — At 7 p.m. at the Polish Club Hall, 823 W. First St. Admission: $10+ suggested donation. Presented by Grays Harbor Institute.
Saturday, April 19 in PORT ANGELES — At 6 p.m. at the Clallam County Democratic HQ, 124-A West First St., Admission: $15-25 suggested but no one turned away.
Monday, April 28 in BELLINGHAM — At 7:30 p.m. at Union Center, 1700 N. State St. (upstairs), Admission: $10-20 sliding scale donation. (Anne and Evan will also be performing at noon that day at the Northwest Washington State Labor Council's annual Worker Memorial Day commemoration on the lawn of the Bellingham Public Library.)
Tuesday, April 29 in EVERETT — At 7 p.m. at the Firewheel Community Coffeehouse, 2727 Colby Ave. Just announced! Check EvanGreer.org for details.
Wednesday, April 30 in SEATTLE — At 7 p.m. in Hall 1 of the Labor Temple, 2800 1st Ave. Admission is FREE thanks to the following sponsoring organizations (although donations will be accepted to benefit local organizing for affordable and accessible health care): Health Care is a Human Right (HCHR-WA); Washington State Labor Council, AFL-CIO; SEIU HealthCare 1199NW; Physicians for a National Health Program, Western Washington; Puget Sound Advocates for Retirement Action; United for Single Payer; and Health Care for All. Download and distribute the event flier.
Thursday, May 1 in TACOMA — Time/details to be announced for this May Day show at UW Tacoma's Carwein Hall. Check EvanGreer.org.
Based in Pittsburgh, Anne Feeney is the granddaughter of an intrepid mineworkers' organizer, who also used music to carry the message of solidarity to working people. After two decades of community activism and regional performances at rallies, Anne took her message on the road. Since 1991 Anne has traveled to the frontlines in 42 states, as well as Canada, Mexico, Denmark, Ireland and Sweden. Her anthem "Have You Been to Jail for Justice?" is being performed by activists everywhere, and was recorded twice by Peter, Paul and Mary. Dubbed the "minister of culture" to the movements for economic and social justice and human rights, Anne is "the best labor singer in North America" according to Utah Phillips, and Pete Seeger himself has congratulated on her "fine songwriting." Anne has played for crowds of thousands and shared the stage with legends like Utah Phillips, Peggy Seeger,  Dan Bern, Billy Bragg, Peter, Paul & Mary, and of course, Pete Seeger.
Listen and learn more: http://annefeeney.com
Evan Greer is an LGBTQ parent, organizer, and multi-instrumentalist who writes fearless and dangerously catchy original songs that inspire hope and incite resistance. Equally at home leading singalongs in a union hall or sweating at a basement punk show, Evan has developed a cult following across North America and Europe, and has had songs featured on NPR, in college courses and major independent films. At 28 years old, Evan tours internationally as a musician and facilitates workshops and trainings to support movements for justice and liberation. Howard Zinn called Greer "an eloquent and energetic writer," who "reminds me of Phil Ochs." Evan has shared stages with artists as musically diverse as Billy Bragg, Immortal Technique, Gil Scott Heron's Midnight Band, Holly Near, Against Me!, The Coup, Pamela Means, State Radio, Hurray for the Riff Raff, and Chumbawamba. Tom Morello, guitarist of Rage Against the Machine writes, "Evan Greer continues to write inspiring folk music in the tradition of the great protest singers … a heck of a guitar player."
Listen and learn more: http://evangreer.org
Short URL: https://www.thestand.org/?p=31169
Posted by
David Groves
on Apr 16 2014. Filed under
LOCAL
. You can follow any responses to this entry through the
RSS 2.0
. Both comments and pings are currently closed.