'Unacceptable' pay freeze, BHR contract, ALEC-land…
Tuesday, May 20, 2014
---
STATE GOVERNMENT



► At WFSE.org — Inslee: 'Unacceptable' that state employees have gone without pay raise — On the eve of bargaining, Gov. Jay Inslee said it's "unacceptable" that state employees have gone six years without a pay raise. "It's just clear to me that it's unacceptable that state employees have gone so long without a general pay increase," the governor told a cheering crowd of about 500 Federation Policy Committee delegates Saturday in SeaTac.
---
AEROSPACE



► From Reuters — EU may challenge $8.7 billion U.S. tax breaks in Boeing-Airbus trade dispute — The European Union is considering raising the pressure on the United States in the world's largest trade dispute by challenging tax breaks that encouraged planemaker Boeing to keep production of its latest jet in Washington state, people familiar with the matter said on Friday.
ALSO TODAY at The Stand — Like Wal-Mart, Boeing doesn't share gains (by Stan Sorscher)
► In the News Tribune — County nails down critical jet composite jobs (editorial)– Boeing's announcement last week that it would build the tail assembly of its new 777X in Frederickson was a watershed moment for Pierce County's economy. It means that 1,800 high-paying South Sound jobs are probably secure for many years to come. Dare we say, "Thank you, machinists"? That announcement wouldn't have happened had the region's machinist union rejected a painful 10-year contract the company offered them last January. The machinists have done their part. Now the Legislature must do its part to make sure Washington gets a firmer grip on the 21st century (by passing a transportation package).
---
LOCAL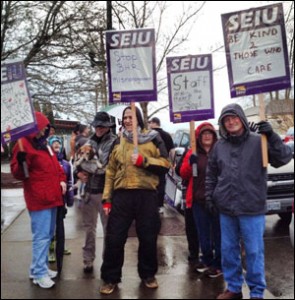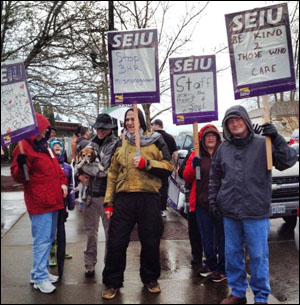 ► In today's Olympian — Union OKs pact with mental health provider — Behavioral Health Resources and its employees union (SEIU HealthCare 1199NW) have agreed to a new labor contract more than a year after the original contract expired. The contract represents a temporary fix for both sides, which had been deadlocked after several failed negotiations. Tensions reached a boiling point in March when the union — which represents 178 employees out of BHR's total workforce of 293 — organized a weekend-long strike.
► At KPLU — Berry pickers sue Sakuma Brother, claim retaliation for last year's strikes — Berry pickers who went on strike at Sakuma Brothers Farms in Skagit County several times last year have filed a suit against the company, alleging retaliation. The workers say Sakuma has blacklisted many of them from working this summer as payback for their walkouts.
ALSO at The Stand — Sakuma Bros. aims to replace farm workers who struck
► In the (Everett) Herald — Citing safety and fast pace, some locals quit Oso slide work — Some workers have walked off the job, calling for the effort to slow down due to safety concerns and to allow them to better inspect the material for human remains and lost personal effects.
► In today's Seattle Times — Employee head tax, parking-tax hike sought for Seattle bus service — Two Seattle City Council members propose helping Metro Transit service with a head tax and higher parking taxes, rather than a sales-tax increase.
► In the (Everett) Herald — Quality workers are worth paying for (by Ed Armstrong) — At a time when a push is on for a minimum wage of $15 in Seattle and elsewhere across the country, do we really want our public buildings constructed by contractors using untrained, pick-up labor working at rates of pay from three decades ago? Is a good family sustaining wage for hard, dirty and often dangerous work unreasonable? How about the ability of our families to visit a doctor or dentist when required, without the fear of going bankrupt? And is the hope of a decent retirement a little too much to ask?
---
ELECTIONS



► In the Spokesman-Review — Twelve candidates crowd 4th Congressional District slate — The district trends heavily Republican, and so did the candidate filings. Eight are Republicans, with two Democrats and two independents. Under the state's primary system, the top two vote-getters advance to the general election, regardless of party.
EDITOR'S NOTE — The Washington State Labor Council, AFL-CIO has endorsed Democrat Estakio Beltran, a former congressional aide from Richland.
► In today's News Tribune — Sen. Roach's challenger withdraws from race — Lane Walthers, a political unknown from Enumclaw who filed as a Democrat last week against state Sen. Pam Roach, withdrew from the race Monday.
---
FEDERAL GOVERNMENT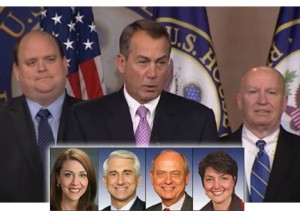 ► At Politico — The unemployment insurance graveyard — Senate negotiators toiled for months to revive long-term unemployment benefits in a manner that could draw the support of both centrist Republicans and liberal Democrats. But in a few days, that effort will be all for naught. The jobless aid bill that narrowly passed the Senate in early April would extend the benefits to June 1 — but barring a surprise breakthrough, there's almost no chance the House will take up that legislation or an alternative of its own during the last two weeks of May.
► At Huffington Post — How Obama is alienating young Latino voters — Latino voters may have voted overwhelmingly for President Barack Obama, but those familiar with his deportation record don't think so highly of the Democratic Party, according to a new survey. The results come as the administration is rethinking the policies that have led to Obama's record-setting pace of deportations.
► At Politico — States take on immigration — Fed up with an immigration overhaul stalling in Congress, state and local officials are taking the issue into their own hands.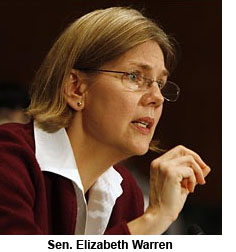 ► In the Washington Post — No more liberal apologies as Elizabeth Warren takes the offensive (by E.J. Dionne) — From the time she first came to public attention, Warren has been challenging conservative presumptions embedded so deeply in our discourse that we barely notice them. Where others equivocate, she fights back with common sense. Since the Reagan era, Democrats have been so determined to show how pro-market and pro-business they are that they've shied away from pointing out that markets could not exist without government, that the well-off depend on the state to keep their wealth secure and that participants in the economy rely on government to keep the marketplace on the level and to temper the business cycle's gyrations. Warren doesn't back away from any of these facts.
At the end of a long liberal era, Reagan electrified conservatives by telling them they didn't have to apologize anymore for what they believed. Now, Warren insists, it's the era of liberal apologies that's over.
---
NATIONAL



► At Salon — How corporations get away with rampant wage theft — Over the last few years employers ranging from baseball's San Francisco Giants to Subway franchises to Farmers Insurance have been cited for wage violations. More often, though, wage abuses are not reported by victims or punished by authorities despite being routine in some low-wage industries.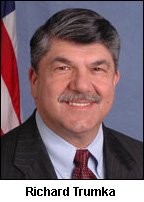 ► At AFL-CIO Now — Trumka applauds defeat of anti-worker legislation in Missouri — Says the AFL-CIO President: "Defeating the attempt in Missouri to enact so-called 'Right-to-Work' and paycheck deception legislation sends a strong signal that working people will stand together to prevail over outrageous attacks on their rights."
► In the WSJ — Alcoa, USW reach new labor deal — Despite tough times for aluminum makers, Alcoa agreed to a generous five-year pact that gives some 6,100 workers at 10 U.S. plants annual raises and preserves health and pension benefits to avoid any labor-related disruptions in deliveries to key auto customers.
► In the NY Times — Student debt rises fastest at universities with highest-paid presidents, study finds — At the 25 public universities with the highest-paid presidents, both student debt and the use of part-time adjunct faculty grew far faster than at the average state university from 2005 to 2012, according to a new study by the Institute for Policy Studies.
► In The Onion — Retired factory worker had no idea earnings from 1950s would have to support 3 generations of family — "Back then, I knew I needed the money I was making on the production line to feed and clothe my kids, but I really had no clue that my grandkids and even their kids would still rely on it all these years later," said retired laborer Henry Mitchell.
---
TODAY'S MUST-READ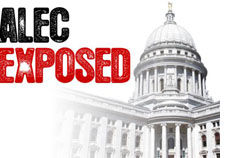 ► From The Progressive — ALEC otherworld — Last week I traveled to Missouri to attend my second American Legislative Exchange Council conference… A part of ALEC's battle is to preserve an old economy, where coal, oil and gas remain supreme. Their defense of these industries represents the will of corporate members Koch Industries, Exxon Mobil and Peabody Energy. Though the renewable energy sector is growing, is popular with the public, and is generating new jobs — and the solar industry now employs 140,000 more people than our nation's coal mines — conference attendees focused on hindering this sector, especially solar. Minnesota Rep. Pat Garofalo, who recently received national attention about a racist tweet concerning NBA players, quipped "solar is dumb." Legislators from Utah and Oklahoma bragged about slowing the development of solar energy in their states.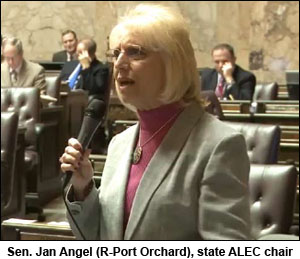 EDITOR'S NOTE — Washington state Sen. Jan Angel (R-Port Orchard) is state chairwoman of ALEC. She is among several state legislators who have received thousands of dollars worth of "scholarships" to attend ALEC conferences like the one described above, and some of them have gotten taxpayer-funded reimbursements for their ALEC dues.
And sure enough, this year Senate Republicans demoted a Democratic committee co-chair to elevate Sen. Angel into a leadership position and then pursued an ALEC-inspired agenda that legislation to create new administrative reporting burdens for all public employee unions. SB 6300, co-sponsored by Angel, turned out to be cookie-cutter "model legislation" from ALEC called the "Union Financial Responsibility Act." The heart of SB 6300 was its proposed new Section 2, which lists the contents of the new reports that would be required. It is an identical list — word for word — to the list under the ALEC model legislation's Section 3. ALEC's language was literally copy-and-pasted into the Washington bill.
---
The Stand posts links to Washington state and national news of interest every weekday morning by 10 a.m.
Short URL: https://www.thestand.org/?p=31897
Posted by
David Groves
on May 20 2014. Filed under
DAILY LINKS
. You can follow any responses to this entry through the
RSS 2.0
. Both comments and pings are currently closed.