Boeing's ULPs, Ed's 'training wage,' Casey's tantrum…
Friday, May 16, 2014
---
AEROSPACE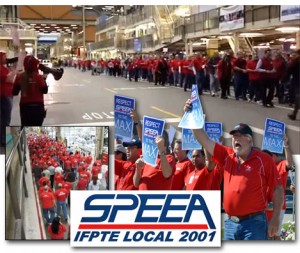 ► From Reuters — NLRB: Boeing conducted unfair labor practices against engineers — The National Labor Relations Board said on Thursday that Boeing committed unfair labor practices against its unionized engineers near Seattle and in Portland when it photographed and videotaped workplace marches in 2012. The federal decision required Boeing to "cease and desist" and among other measures to post within the next two weeks a notice saying employees are entitled to join a union and participate in union activities and that Boeing won't videotape, photograph or watch union activities, or "create an impression that we are watching your union activities."
ALSO at The Stand — SPEEA files ULPs alleging Boeing 'intimidation' (Oct. 9, 2012)
► In today's News Tribune — Boeing to build 777X tail at Pierce County's Frederickson plant — Because Frederickson today builds the similar tail of the current 777, the decision is not unexpected. Yet it comes as a relief to Washington state officials after recent news of Boeing moving work out of the region.
► From WLOX —  Machinists, aerospace workers strike at Stennis — As the clock struck one minute past midnight on Friday, dozens of Lockheed Martin Employees held up signs outside gates at Stennis Space Center in Mississippi officially announcing they are on strike. The IAM members are fighting to save their retirement. "Nothing more really than corporate greed wanting to take it," Ken Powe, Chief Union Steward said, "make a quick buck off of us and we are going to take a stand."
---
MINIMUM WAGE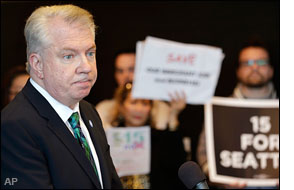 ► In today's Seattle Times — Mayor Murray adds a 'training wage' to $15 minimum wage proposal — Seattle Mayor Ed Murray revealed plans this week to add a training wage element to the $15 minimum wage proposal he announced on May 1. This marks a significant change, because organized labor opposes a training wage, and Murray's $15 phase-in proposal was the product of four months of intense negotiations with union and business leaders. In a meeting with The Seattle Times editorial board, Murray said his $15 wage proposal would use a little-known state law that grants discretion to the Department of Labor & Industries to issue certificates exempting some "learners" or "apprentices" for a limited amount of hours. Murray said Seattle would "work with folks" to get appropriate applications approved in Olympia. He said:
We put it in the language since the agreement came out. I've committed that this city will advocate to get those certificates for that period of time. It's something that initially we couldn't get labor to agree to. I'm not sure we got them there, but we did it anyway.
► From Slog — 15 Now starts gathering signatures for ballot measure, aims for 20,000 in two weeks — 15 Now activists said they're trying to exert pressure on the Seattle City Council, whose members are wrangling over how to raise the minimum wage as you read this and could be voting on Mayor Ed Murray's minimum wage proposal around the end of the month.
► From PubliCola — Sawant continues to take activist role in minimum wage debate — Seattle city council member Kshama Sawant is among the first to sign a petition for a $15 minimum wage, isolating herself from a likely 8-member council majority in favor of Mayor Ed Murray's proposal.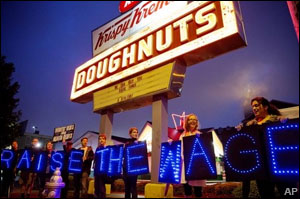 ► From AP — Fast-food workers protest low wages — Labor organizers turned up the pressure on McDonald's and other fast-food chains to raise worker pay on Thursday, with plans to stage actions in more than 30 countries. The demonstrations build on a campaign by unions to bring attention to the plight of low-wage workers and get the public behind the idea of a $15-an-hour wage.
► In today's Columbian — Vancouver rally urges minimum wage hike — Linda Lee, a home health care worker for more than a decade, joined hundreds of others around the country on Thursday to rally in favor of the idea of boosting the minimum wage to $15 an hour. Lee was one of about a dozen home health care workers who rallied in downtown Vancouver's Esther Short Park.
► At Slog — While fast-food workers strike, Microsoft hosts secretive meeting of billionaire corporate titans
► In today's Seattle Times — Fast-food 'strikes' set to spread (by Jon Talton) — Most of the activity I saw in Seattle was informational picketing, not a strike… The sad fact is that these workers are very replaceable — and many of them are living on the edge. They are not union members, the Obama administration and the Democrats going back on a 2008 campaign promise to pass "card check," which would have made unionization easier. They are facing more than 30 years of anti-labor tilt at the NLRB. The result is that they have minimum leverage. They can't shut down McDonald's indefinitely to get a fair contract. And that's too bad. Because America did better with marketplace pluralism that included strong unions.
---
STATE GOVERNMENT



► In today's Olympian — Revenue report: Monthly state collections were up $36.1 million over forecast — State government's coffers grew by $36.1 million more than predicted over the past month, according to the state's May 12 revenue collections report. That brings the total revenue increase above the forecast to $61.8 million so far. The good news has no real effect on state budgets, but the extra cash does pad the state's reserves, in case lawmakers need extra money next January to cover wildfires or some other emergent expense.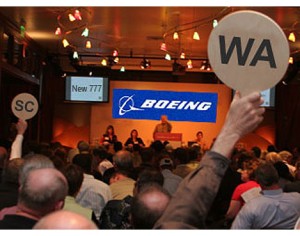 ► From Tax-News — Study moves to curb U.S. states' corporate tax incentives — A recent memorandum published by the Council on Foreign Relations (CFR) examines the substantial tax breaks and subsidies offered each year by state and local governments in the U.S. to attract business investment, and lays out incremental steps for curbing this "subsidy war." The CFR considers that states often "end up subsidizing businesses that would have invested in the state regardless. Public money is wasted that could have gone to lower the overall corporate tax rate or to more productive investments like education and infrastructure – that matter more for most business location decisions than one-off tax breaks."
(See the CFR memorandum here.)
► From L&I — Contractor will pay thousands in back wages for Auburn community center — Eleven workers underpaid for their effort on an Auburn activity center will share nearly $43,000 in wages owed to them under a settlement between the state and RJL Construction LLC. As part of the settlement, RJL is barred from working on future public works projects. The workers weren't paid for overtime or the correct "prevailing wage."
---
LOCAL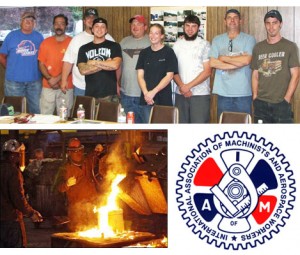 ► In the NW Labor Press — Machinists obtain modest first contract for Chehalis foundry workers — Workers at the Bradken foundry in Chehalis have a first-ever collective bargaining agreement, 21 months after winning union representation. "It's a pretty basic first contract," says Joe Kear, business representative at IAM District Lodge W24. "But it has a lot of protections people didn't have before."
ALSO at The Stand — Frustrated Bradken workers in Chehalis seek first contract (Mar. 18, 2013)
EDITOR'S NOTE — That's right… more than a year ago. This was one of the problems that the Employee Free Choice Act sought to correct. When workers form a union, employers can drag out negotiations for a year and then attempt to decertify the union. EFCA would have required first-contract arbitration to prevent this. America still needs labor law reform, now more than ever.
► In today's Olympian — Providence offers severance packages to 37 workers at detox center in Lacey — Voluntary severance packages were offered this week to 37 workers — more than half of the staff — at Providence St. Peter Chemical Dependency Center, which temporarily suspended inpatient admissions following a state and federal investigation into a death of a patient earlier this year.
► In today's News Tribune — Labor organizers rally at UW Tacoma to support higher wages for janitors — About three dozen labor organizers (SEIU) and sympathizers demonstrated Thursday in a lunchtime rally at the University of Washington Tacoma to show support for improved wages and working conditions for janitors at the university.
► In the P.S. Business Journal — Seattle port plan: Buy big cranes to attract huge new ships — If the port commission gives the project the expected green light in June, the port will spend several hundred million dollars to add cranes that are among the world's largest to Terminal 5. The goal: to attract a new breed of container ships so massive they won't fit through the Panama Canal even after it's widened.
► In the NW Labor Press — Contract settlement averts school bus driver strike at Portland Public Schools — Deal reached after contractor First Student backed off a "two-tier" contract proposal.
---
AFFORDABLE CARE ACT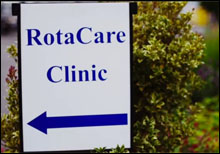 ► At TPM — Obamacare caused this clinic to close, and it's doctors couldn't be happier — On the last Wednesday in January, the RotaCare Tacoma free clinic in Washington state put away the chairs in the university janitor's lunchroom where it had made its home and closed its doors for the last time. The clinic, served by volunteer physicians and registered nurses, had carried 150 patients at any given time to serve the uninsured population in this city of about 200,000. But after Obamacare took full effect in January, and this clinic completed its drive to enroll all of its patients in coverage, it didn't have anyone left to serve.
---
NATIONAL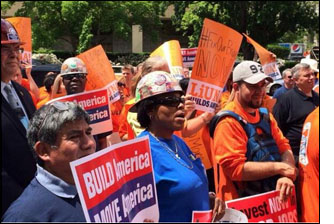 ► At AFL-CIO Now — Trumka: 'We've been talking about infrastructure for a long, long time. It's time for action.' — Working people and union members, including Ironworkers, Laborers (LIUNA), Bricklayers (BAC), Boilermakers (IBB), Electrcial Workers (IBEW), Operating Engineers (IUOE), Longshoremen (ILA), AFSCME, Seafarers (SIU), Railroad Signalmen (BRS), Transport Workers (TWU) and TCU/IAM rallied Thursday in front of the AFL-CIO's headquarters to lift up the need for jobs that build and move America through investing in our infrastructure.
► In today's USA Today — DOT's Foxx rallies with unions for highway spending — Transportation Secretary Anthony Foxx urged hundreds of union workers Thursday to push Congress to increase stalled highway spending, during a labor rally near the White House.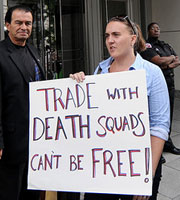 ► In the Miami Herald — Two years later, US-Colombia trade deal holds bitter lessons for some — The deal was intended not just to spur bilateral trade but also smooth out Colombia's troubled labor landscape — one of the world's harshest (red: most deadly) for union organizers. Forty-eight months later, the free trade agreement has boosted commerce — at least for U.S. exporters — but hopes that it would be the dawn of a new age in labor rights have largely gone unfulfilled. And that broken promise may weigh on other trade deals the U.S. might sign in the future, lawmakers said.
► From The Onion — High school teacher, student applying for same summer waitressing job
---
T.G.I.F.



► Normally, T.G.I.F. is reserved for music but today… with word that the missing Casey Kasem was found here in Washington state, we will make an exception. The Entire Staff of The Stand™ grew up listening to this velvety-voiced DJ on American Top 40. But for some reason, our most vivid memory of him is his infamous tantrum caught on tape when he had to read a song dedication for a dead dog right after an "uptempo number," probably because it was so shocking to hear this beloved radio icon go on an obscenity-laced rant.
The following clip from the short-lived and under-appreciated "Dana Carvey Show" lampoons Kasem's tantrum. Check out the young Stephen Colbert and Louis C.K., who gets punched. (Another alum from that show — who doesn't appear in this clip but does in this one — was Steve Carrell.)
---
The Stand posts links to Washington state and national news of interest every weekday morning by 10 a.m.
Short URL: https://www.thestand.org/?p=31850
Posted by
David Groves
on May 16 2014. Filed under
DAILY LINKS
. You can follow any responses to this entry through the
RSS 2.0
. Both comments and pings are currently closed.