Franchises fight $15, health care 'ideology,' Katie Phar…
Thursday, June 19, 2014
---
MINIMUM WAGE



► In the P.S. Business Journal — Forward Seattle renews effort to challenge city's $15 minimum wage — The Seattle City Attorney's office said the business group's earlier effort to get a public vote on a city charter amendment wasn't possible this year. Now, Forward Seattle is collecting signatures for a referendum on the ordinance, which may appear on the ballot in any year. They have to collect and verify signatures from more than 16,500 registered voters by the end of this month.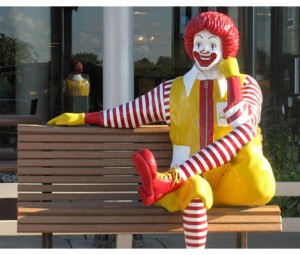 ► At Slog — Defeating minimum wage laws like Seattle's is 'top policy fight' of International Franchise Association — The International Franchise Association continues to run around the country making both PR and legal arguments about how the nation's franchises — all those McDonald's, Subways, KFCs, Dairy Queens, Quizno's, Del Tacos, etc. — may look like big national chains, but they're really just friendly small businesses.
---
ELECTION



► In today's News Tribune — Cigarette tax initiative campaign postponed — A group proposing a cigarette tax to fund cancer research is putting off plans for an initiative campaign this year in Washington.
► In today's Yakima Herald — 4th District GOP candidates seek to stand out at debate in Richland — A forum sponsored by the Benton County GOP featured eight Republicans hoping to replace the retiring Rep. Doc Hastings each tried to strike a tone to separate from the pack. "What sets me apart?" Kevin Midbust said. "I'm wearing a hat."
---
LOCAL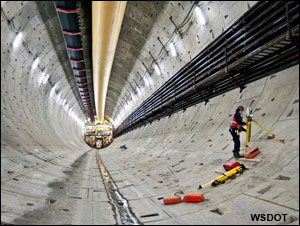 ► In The Stranger — Who's to blame for Bertha? — It's fair to say this may become the biggest debacle in Seattle's transportation history. It's already the most expensive. Of course, when the tunnel was up for debate four years ago, critics warned of this exact scenario. But the tunnel backers promised they would be accountable. So now that we're here, who is taking responsibility? Nobody. The people behind this project — the ones who sponsored legislation to build it, sold it to voters in a glitzy campaign, and told us to trust them — now refuse to take responsibility. So who are they? And what do they say when asked to take responsibility?
► In today's Seattle Times — State jobless rate unchanged in May at 6.1% — Washington state's jobless rate held steady at 6.1 percent in May as a surge in hiring by hotels and restaurants was partly offset by a slimmed-down government sector, new data show.

► In today's Olympian — Washington's the best, say labor and business — sort of (editorial) — Please sit down, dear reader, because this news might make your head spin: advocates for business and labor have found an economic point on which they can agree. Well, sort of.
ALSO at The Stand — Washington ranked as the best state to work — Dear Editors of The Olympian: The study referenced in The Stand's article ranked the best states to work, not run a business. Although the article does make reference to the fact that Washington also consistently scores high on "business climate" rankings, this study measured entirely different factors.
---
HEALTH CARE



► In today's News Tribune — Health care access shouldn't be an 'ideological' issue (by Michael Holtzik) — The U.S. health-care system notched another dubious honor in a new comparison of its quality to the systems of 10 other developed countries: its rank was dead last. Conservative pundits hastened to explain away these results after the report was published. They complain, accurately, that the low ranking for the United States results heavily from its lack of universal health care and thus scores low on "equity." So there you have it: The principle that health care should be available to all is just "ideology." It doesn't matter if a huge percentage of your citizens can't get health care, as long as the people with access do all right.
► In today's LA Times — Most with Obamacare were previously uninsured, new survey finds — The new tally provides important new evidence that the healthcare law's marketplaces, or exchanges, have substantially expanded access to insurance nationally, one of the legislation's central goals.
---
FEDERAL GOVERNMENT



► In The Hill — Obama: U.S. must 'strengthen unions' — President Obama said Tuesday that the U.S. "should do everything we can to strengthen unions in this country" after decades of waning influence. During a manufacturing town hall in Pittsburgh, Obama credited labor unions for helping to build the middle class.
► At Huffington Post — How the president could strengthen unions today (by Amy Traub) — Some 21 million Americans — 8 million workers and their families — rely on low-wage jobs with firms that receive a significant portion of their revenue from federal funds. This vast workforce is employed by companies funded through federal contracts, Medicare and other health care spending, infrastructure grants, and more. Congress could strengthen the right to organize and bargain collectively for all of them, but you don't have to be a D.C. insider to realize that this is unlikely to happen in the foreseeable future. What could happen is executive action.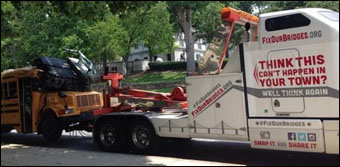 ► At AFL-CIO Now — LIUNA: Fix our bridge and roads; fund the highway bill — With the Highway Trust Fund running out of money, thanks to congressional inaction, crucial highway and bridge repair projects could be shut down starting this summer. On Monday, the Laborers union launched a 22-city "Getting Schooled in Infrastructure" tour to spotlight the need to pass a long-term, full-investment highway bill this year in order to keep the nation's roads and bridges from falling into even more dangerous disrepair. To dramatize the dangerous conditions motorists face from failing roads and bridges, the visual centerpiece of the tour is a school bus crushed by a piece of fallen bridge.
► At Yahoo! News — Two senators are finally pushing the most logical solution for paying for roads — Sens. Bob Corker (a Republican) and Chris Murphy (a Democrat) are working on a bill that would raise the federal gas tax by 12 cents over two years to fund infrastructure projects. It's the simplest way to make sure the people who use the roads pay for the roads, but also involves embracing political kryptonite.
► At Huffington Post — Senate Democrats think you deserve overtime pay — A bill introduced by Sen. Tom Harkin (D-Iowa) and eight other Democrats would make far more Americans eligible for time-and-a-half pay on hours worked beyond 40 in a week. The legislation would accomplish that by limiting the exclusions that have helped carve a growing share of workers out of overtime protections.
► In today's Washington Post — Federal workers excited for 'phased retirement,' but program has stalled — Two years have passed since Congress approved a law allowing federal employees to work part-time after earning retirement eligibility. But not a single federal employee has been able to take advantage of the "phased retirement" law, because the popular program is stuck in bureaucratic limbo.
► At Huffington Post — Labor Secretary Thomas Perez advocates for paid family leave — The United States is one of only four countries without paid family leave, and Secretary of Labor Thomas Perez wants to change that.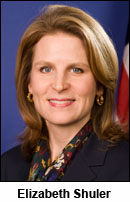 ► At MomsRising.org — Beyond summit, sustained focus needed for working women and families (by Liz Shuler) — When the speeches are done (at next week's White House Summit on Working Families), the focus of national news wanes and the participants all go home, it won't have been enough to have had a successful discussion about important topics. We have to be ready to build on the momentum of the important discussion and turn these from exceptional examples into real, everyday practices. It's crucial that we help working families who are quickly falling further and further behind. This is a challenge that is personal to me, because it wasn't that long ago when I was piecing together part-time jobs, struggling to find my way into work that would lead to a career. And in my early years of working to help clerical workers organize to gain better wages and benefits, I saw firsthand how intimidating it can be for workers to even ask for a better deal, much less demand one.
---
NATIONAL



► In today's NY Times — The economy may be improving, but worker pay isn't — In real or inflation-adjusted terms, hourly worker pay fell 0.1 percent over the last 12 months. Weekly pay shows the same story, also falling 0.1 percent in the year ended in May. Pause for just a second to consider that. Five years after the economic recovery began, American workers have gone the last 12 months without any real increase in what they are paid.
► In today's NY Times — Detroit rolls out new model: Hybrid pension plan — The new plan is called a hybrid, which means the workers will keep some of their current plan's most valuable features but will give up others. Trading down to a less generous pension plan is often said to be a legal nonstarter for government workers, so if Detroit succeeds, its hybrid could become a model for other distressed governments from Maine to California.
---
#TBT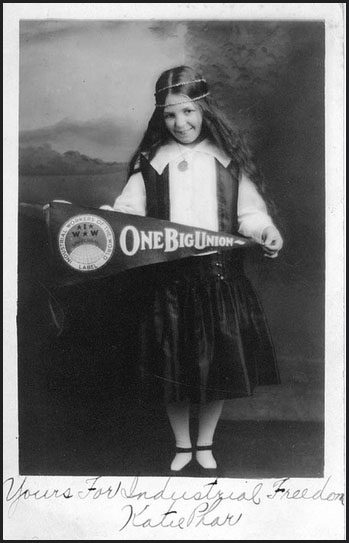 ► Katie Phar (1905-1943) was a daughter of an IWW member in Spokane. Known as the "IWW Songbird," Phar was familar with IWW songs about labor and class from a young age. It was very common for children to attend meetings with their IWW parents and perform IWW songs. Phar was a leader of an IWW children's choir and song leader at the organization's Spokane hall. In 1915, at the age of 10, Phar began a correspondence with IWW songwriter Joe Hill.  Hill encouraged Phar to keep on singing for the IWW. Learn more about Katie.
This photo is part of the Labor Archives of Washington, University of Washington Libraries-Special Collections Division. Click here for more information.
If you have a Washington state labor history photo to share for Throwback Thursday, send it to us!
---
The Stand posts links to Washington state and national news of interest every weekday morning by 10 a.m.
Short URL: https://www.thestand.org/?p=32718
Posted by
David Groves
on Jun 19 2014. Filed under
DAILY LINKS
. You can follow any responses to this entry through the
RSS 2.0
. Both comments and pings are currently closed.