Laying off thousands, closing bridges, stiffing tipped workers…
Thursday, July 17, 2014
---
STATE ECONOMY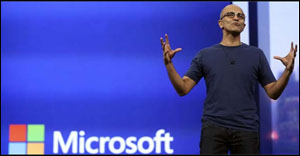 ► In today's Seattle Times — Microsoft laying off 18,000; 1,351 in Puget Sound area affected — Microsoft announced the biggest layoff in its history Thursday as CEO Satya Nadella said the company will cut 18,000 jobs — about 14 percent of the company's workforce — over the next year. Of those cuts, 1,351 will come from the Puget Sound area. That's about 3 percent of the approximately 43,000 employees Microsoft has in this area. Most of the cuts are because of job duplication resulting from Microsoft's acquisition of Nokia.
► From AP — State's jobless rate lowest in 6 years — Washington state officials said Wednesday that the state's unemployment rate fell to 5.8 percent last month, the lowest it has been in six years. The state also added an estimated 9,100 jobs in May. The largest job increases were in education and health services (2,600 jobs), retail trade (2,200 jobs), and leisure and hospitality (1,900 jobs). The biggest decrease was seen in government, which saw a drop of 1,400 jobs, while both manufacturing and construction lost about 400 jobs.
Which brings us to…
---
INFRASTRUCTURE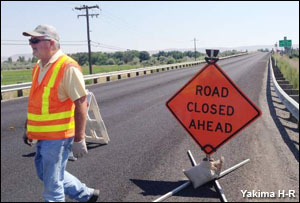 ► In today's Yakima H-R — Fearing failure, state forced to close deficient Mabton bridge — Engineers fear a "catastrophic failure" if the weight restrictions aren't followed, according to a news release from the Department of Transportation. The 60-year-old bridge, which provides Mabton's 2,300 residents with their primary connection to the rest of the world, has been on the state's "structurally deficient" list for many years. In 2003, officials imposed a 14-ton weight limit and have been waiting for funding to replace it.
► In today's News Tribune — WSDOT: All five bridges in Thurston County struck by excavator boom will need repairs — All five freeway overpasses struck by a dump truck hauling heavy machinery on Friday will require repairs. "It's too early to say how much the repairs will cost," said a State Department of Transportation spokesman.
► A related story in the WSLC's 2014 Legislative Report — Another year on inaction on transportation — Last year, the House of Representatives passed a transportation package to inject $10 billion into our local economies. But this year in the Senate, Republicans failed again to deliver the votes to move a package — any package — forward.
---
STATE GOVERNMENT



► In today's News Tribune — Ranks of Washington's medically uninsured have fallen below 9 percent — As of July 10, more than a half-million more residents have signed up for Medicaid, the federal-state joint program that provides free care to low income and disabled people — most because of expanded eligibility that took effect Jan. 1.
► In today's News Tribune — Elway Poll: Inslee ratings in negative territory but better than Gregoire, Lowry after 18 months in office — Stuart Elway's latest survey of voters says Inslee's positive rating is at 43 percent and negative is at 50 percent — in the range of where the Democrat's been since mid-2013.
► In today's Olympian — Legislature should support water quality plan (editorial) — In his proposal for updating the state's water quality standards, Gov. Jay Inslee aimed for a high but achievable goal. We think he found the reasonable middle ground.
---
LOCAL



► In today's P.S. Business Journal — Boeing's London air show tally: 201 planes worth $40.2 billion — Boeing said it's totaled up all the orders and commitments for new planes it received at the Farnborough Air Show in London this week and came up with 201 planes worth $40.2 billion at list prices.
► In today's Tri-City Herald — Hanford workers question tank vapor information — Current and retired workers at a Hanford Challenge meeting on chemical vapors were skeptical that the Department of Energy really knows what workers are exposed to at the Hanford tank farms.
► In today's Yakima H-R — Newhouse leads 4th District fundraising with $358,000 — Republican Dan Newhouse is well ahead of his opponents in fundraising through June, according to the FEC. The former state Department of Agriculture director had raised $358,014 through June 30. Next were Republicans George Cicotte ($220,605, but $125,000 a personal loan), Clint Didier ($219,174), and state Sen. Janéa Holmquist ($171,536). Yakima Democrat Estakio Beltran reported raising $62,555.
► In today's Seattle Times — Obama plans whirlwind fundraising trip to Seattle — President Obama plans another political visit to Seattle next week as part of a West Coast fundraising spree.
---
FEDERAL GOVERNMENT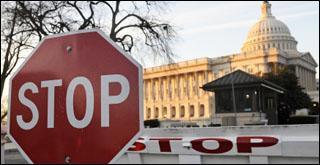 ► At PubliCola — GOP filibusters Sen. Patty Murray's Hobby Lobby bill — Republicans in the U.S. Senate blocked legislation sponsored by U.S. Sens. Patty Murray (D-WA) and Mark Udall (D-CO) that would have nullified June's U.S. Supreme Court Hobby Lobby decision. The U.S. Supreme Court ruled that closely-held, private corporations like Hobby Lobby with "sincere religious beliefs" could be exempted from the Affordable Care Act's mandate to provide their employees with health care such as birth control.
► In today's NY Times — VA official says fixing issues at root of waiting-list scandal will cost billions — It will cost $17.6 billion over the next three years, the agency's acting secretary told lawmakers Wednesday, requiring the hiring of about 1,500 doctors and 8,500 nurses and other clinicians.
► At Politico — More bad news for jobless benefits — On Wednesday, it became clear that jobless aid won't be hitching a ride on the Senate's transportation legislation — the type of must-pass bill that UI advocates have been eyeing.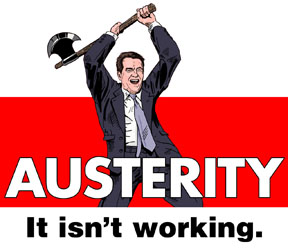 ► In The Hill — House passes seventh 2015 appropriations bill with steep IRS cuts — Originally, the bill would have provided $10.95 billion for the IRS for the fiscal year starting Oct. 1, which would be $341 million less than the current spending level. But the House adopted amendments to cut the IRS budget by another $1 billion combined. Provisions in the bill would block the IRS from further implementing the 2010 healthcare law, including the individual mandate requiring Americans to buy health insurance or pay a penalty.
► At Huffington Post — Austerity is harming the economy — in two charts — The broad spending cuts that were the fruits of the Republican Congress' budget obsession of the past few years have already cost the U.S. economy $351 billion in lost economic activity, according to a new study by the Center for American Progress. This austerity will cost a total of $633 billion by the year 2020.
---
IMMIGRATION REFORM



► In today's NY Times — 57,000 reasons the immigration overhaul may be stalled for now — The crisis on the border with Mexico and the influx of 57,000 migrant children from Central America is rapidly overtaking Obama's plans to use executive action to reshape the nation's immigration system, forcing him to confront a new set of legal, administrative and political complications.
► At Think Progress — Ted Cruz won't support funding for border crisis unless Obama deports DREAMers — Sen. Ted Cruz (R-TX) will likely refuse to support emergency funding to deal with the border migrant crisis unless Obama ends a 2012 presidential initiative that granted temporary deportation reprieve to more than 550,000 undocumented youths.
► In today's Washington Post — Tears for the border children (by Charles Blow) — Their fate has been consumed by political theater and callous fabrication. This is not the best face of a great nation. We are more honorable than this.
---
NATIONAL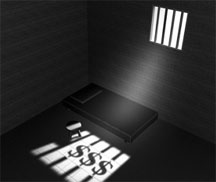 ► At Slog — Private prisons are funding research to show how great private prisons are — Temple University is investigating an ethics complaint that two of its professors did not properly disclose funding from the private prison industry for their research. If you'd like to check out some research on private prisons that has not been funded by the industry, take a look at the Sentencing Project's paper Too Good to Be True, which also cites US General Accounting Office findings (spoiler alert: private prisons don't actually produce serious public cost savings) and finds that for-profit incarceration is generally rotten for everybody involved (guards, prisoners, families of guards and prisoners) except for the shareholders in private-prison companies.
► At Think Progress — Labor group stands up to Catholic Church, refuses to cut ties with LGBT allies — Religious, labor, and LGBT groups are speaking up in support of Voz, a Latino workers rights organization in Portland, after a funding body of the Catholic church denied it a $75,000 grant for refusing to distance itself from organizations that support marriage equality.
► At Politico — GOP moderates revolt in Kansas — Moderate Republicans have been kicked around by the tea party for years in Congress and the states. Here in Kansas, they're fighting back. In a rare and surprising act of political defiance on Tuesday, more than 100 Republicans, including current and former officeholders, endorsed Brownback's opponent, statehouse Democratic leader Paul Davis.
► At AFL-CIO Now — WTO strikes again, undermines U.S. law and workers — Once again, a World Trade Organization dispute settlement panel has issued a decision that leaves American manufacturers — and those who work for them — behind.
---
TODAY'S MUST-READ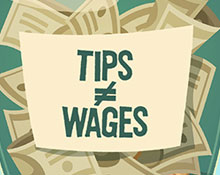 ► In the American Prospect — Minimum wage for tipped workers hasn't increased since the fall of the Soviet Union — The last time that the federal minimum wage for tipped workers was increased — by a whopping four cents, from $2.09 per hour to $2.13 — was 1991. At the time, the minimum for tipped workers was half of the overall floor of $4.25. Today, it stands at just 29 percent of the regular minimum wage (which, at $7.25 per hour, is already well below its real peak value of $10.71 in 1968). On Thursday, a report released by the Economic Policy Institute details who these workers are, how many of them are struggling to make ends meet, and debunks a few common myths about tipped work:
The creation of the tip credit — the difference, paid for by customers' tips, between the regular minimum wage and the sub-wage for tipped workers — fundamentally changed the practice of tipping. Whereas tips had once been simply a token of gratitude from the served to the server, they became, at least in part, a subsidy from consumers to the employers of tipped workers. In other words, part of the employer wage bill is now paid by customers via their tips.
---
The Stand posts links to Washington state and national news of interest every weekday morning by 10 a.m.
Short URL: https://www.thestand.org/?p=33172
Posted by
David Groves
on Jul 17 2014. Filed under
DAILY LINKS
. You can follow any responses to this entry through the
RSS 2.0
. Both comments and pings are currently closed.