Railing solo, highway cliff, San Diego acts, Walgreens' shame…
Wednesday, July 30, 2014
---
RAILROADS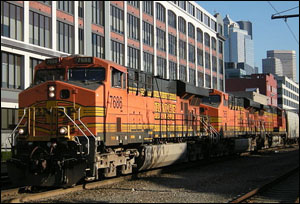 ► From KPLU — BNSF's plan for one-person train crews concerns rail workers — Railroad workers are speaking out against a proposal by Burlington Northern Santa Fe Railway to have single-employee freight train crews. They say the idea is unsafe, especially in light of the increasing transportation of crude oil by rail. The controversy stems from a tentative contract agreement BNSF has reached with one of its unions, the Sheet Metal, Air, Rail and Transportation Union. If union members approve that deal, BNSF could operate freight trains with just an engineer onboard. That engineer would have help from a so-called master conductor who would not be on the train.
---
ELECTION



► In today's News Tribune — Candidates all over map on raising gas tax for state Route 167 extension — Supporters of extending state Route 167 to the Port of Tacoma demanded a gas tax increase to fund the highway project at a forum hosted Tuesday for candidates for the Legislature. Urban Democrats, like Rep. Jake Fey of Tacoma and Shari Song of Federal Way, told those in attendance to keep up pressure on the Legislature. Rural Republicans who have opposed gas-tax proposals, like Rep. J.T. Wilcox of Yelm and Sen. Pam Roach of Sumner, suggested making their case to the public.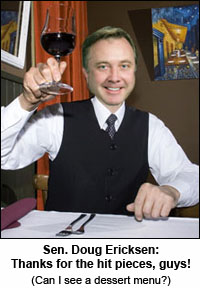 ► At SeattlePI.com — State Senate races: Republicans dishing dirt through mail (by Joel Connelly) — Republicans have signaled early, in two key State Senate races, that they are ready to go negative with crude attack mailings with November's election day still 99 days away… Voters in Bellingham and Whatcom County, represented by endangered 42nd District GOP State Sen. Doug Ericksen, have already been sent four (Editor's note: FOUR!) hit pieces by the state Republican Party attacking Democratic challenger Seth Fleetwood.
► In today's Bellingham Herald — Fleetwood responds to campaign 'hit pieces' mailed by Republicans — "It's so deceptive and misleading and based on the things they don't say, almost to the point of abject dishonesty. They clearly have a low opinion of the voters."
► In today's NY Times — Impeachment, on GOP's lips, animates Democratic base — The Democratic Party has used Republican discussion of impeaching President Obama to raise money from concerned Democrats for the midterm elections.
► In The Hill — Dems fear debacle on turnout — Record-low primary election turnout is threatening to magnify Democratic midterm worries.
---
STATE GOVERNMENT



► In today's Spokesman-Review — Health care exchange glitches a mystery, official says — A Washington Healthplanfinder spokesman said that as of early July, 4 to 8 percent of applicants have had problems with payment and billing issues after using the state system designed to help people find and sign up for insurance.
EDITOR'S NOTE — This story fails to note that Deloitte Consulting, the private firm that designed Washington's exchange, has been ordered by the board to fix this by the end of August.
---
LOCAL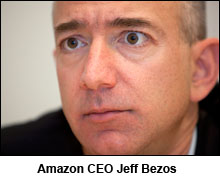 ► In the P.S. Business Journal — City council asks Amazon to look into treatment of contracted security workers — In a letter sent last week to CEO Jeff Bezos and signed by the nine council members, the council asked Amazon to respond to an inquiry made by the Seattle Human Rights Commission that the online retailer look into treatment of workers by the contract firm Security Industry Specialists.
► In today's Tri-City Herald — Another possible Hanford vapor exposure Tuesday — A Hanford worker reported symptoms that may be related to chemical vapors from waste tanks Tuesday in the 200 East Area of the nuclear reservation. This was the 43rd worker to receive a medical evaluation for possible exposure to vapors this spring and summer.
► In the P.S. Business Journal — Paccar's new truck parts center in Renton will be twice as big — Truck builder Paccar Inc. will start this fall on construction of a 176,000-square-foot parts distribution center in Renton, replacing an existing truck parts center half the size. But the company says employment at the new Renton parts center won't jump significantly.
► In the P.S. Business Journal — Boeing: The world needs a lot more airplane pilots — Boeing predicted that the world will need 533,000 new commercial airplane pilots and 584,000 new commercial airline maintenance technicians by the year 2033, as the world adds more commercial airplanes.
► In today's Seattle Times — Facing budget crunch, local health chief quits — Facing the possibility that even some core functions may be cut back as a continuing budget squeeze worsens, Dr. David Fleming suddenly announced his resignation as director of Public Health — Seattle & King County.
► In today's Seattle Times — Amgen's exit a new blow for Seattle biotech industry — The move takes out the largest biotech employer in the area, eliminating 610 jobs in Seattle and 50 jobs at a manufacturing plant in Bothell. It highlights the region's struggle to grow into a world-class biotech hub, an effort hobbled by outside takeovers and product failures.
---
FEDERAL GOVERNMENT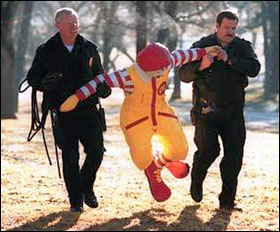 ► In today's NY Times — NLRB rules that McDonald's, not just franchisees, responsible for workers' treatment — The general counsel of the National Labor Relations Board ruled on Tuesday that McDonald's is jointly responsible for workers at its franchisees' restaurants, a decision that if upheld would disrupt longtime practices in the fast-food industry and ease the way for unionizing nationwide. The fast-food workers movement has argued that McDonald's should be considered a joint employer because it owns many of the franchisees' restaurant buildings and requires franchises to follow strict rules on food, cleanliness and hiring. McDonald's has even warned some franchisees that they were paying their workers too much.
MORE coverage from AP and The Hill.
► In today's NY Times — McDonald's ruling could open door for unions — Business groups called the decision outrageous. Some legal experts described it as a far-reaching move that could signal the labor board's willingness to hold many other companies to the same standard of "joint employer," making businesses that use subcontractors or temp agencies at least partly liable in cases of overtime, wage or union-organizing violations.
► In The Hill — Senate sends highway bill back to House — The Senate on Tuesday sent a highway bill back to the House with changes, putting the legislation up in the air with only three days left to act before the August recess. The Senate voted 66-31 to amend the House's $10.9 billion funding bill so that the funding only lasts until Dec. 19. That would force lawmakers to pass another extension in the lame-duck session after the election.
► At AFL-CIO Now — AFGE: veterans' health care bill 'critical first step' in addressing VA's failures — AFGE President J. David Cox: "As [Senate Veterans' Affairs] Chairman [Sen.] Bernie Sanders (I-Vt.) reminded us, this legislation is the beginning, not the end, of a long overdue effort to make the VA strong again and address the true cost of war."
► From KPLU — Patty Murray praises VA reforms but warns of more troubling revelations — "This cannot be the final step. As transparency and accountability increase at the VA, so will the investigations and reports of additional concerns requiring even more action from the VA, from the administration and from this Congress," Murray said.
---
NATIONAL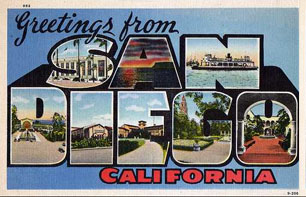 ► At AFL-CIO Now — 300,000 more people just got paid sick days — The United States became a little bit better place to be a sick worker, as two more cities joined the growing wave of localities that have passed paid sick days laws. The city councils in San Diego and Eugene, Ore., each voted to require employers to make sure that workers don't have to choose between working sick and losing pay. Nine cities and the state of Connecticut now have paid sick leave laws.
► From Reuters — San Diego approves $11.50 minimum wage — The San Diego City Council gave formal approval on Monday to an ordinance that would incrementally raise the minimum wage in California's second-largest city to $11.50 an hour by January 2017, mostly for workers in the restaurant and retail sectors.
► From Reuters — U.S. economy bounces back in second quarter
► From Reuters — U.S. private sector adds 218,000 jobs in July: ADP
► At Huffington Post — Wall Street analysts predict slow demise of Walmart, Target — Shoppers are increasingly turning to the web or to smaller, more conveniently located stores, cutting into the market share of big-box retailers like Walmart and Target, Goldman Sachs analysts write.
---
TODAY'S MUST-READ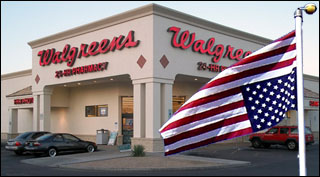 ► At Huffington Post — Let's call 'corporate inversion' what it is: A gaping, unpatriotic tax loophole (by AFL-CIO President Richard Trumka) — Walgreens, the nation's largest drugstore chain, which may use an upcoming acquisition to become a foreign company in order to dodge more than $4 billion in taxes over five years. Walgreens is talking about abandoning America despite its reliance on the U.S. government — and U.S. taxpayers — for a quarter of its revenue paid for by the Medicare and Medicaid programs. It's time for Congress to close the loophole and end this outrageous practice.
---
The Stand posts links to Washington state and national news of interest every weekday morning by 10 a.m.
Short URL: https://www.thestand.org/?p=33444
Posted by
David Groves
on Jul 30 2014. Filed under
DAILY LINKS
. You can follow any responses to this entry through the
RSS 2.0
. Both comments and pings are currently closed.