State pension bait-and-switch, Renton's good news, oogah chakkas…
Friday, August 15, 2014
---
STATE PENSIONS



► From AP — Court rulings back pension cuts for state workers — The Legislature had the right to eliminate state employee pension increases that were approved during the stock market boom of the 1990s, the Washington Supreme Court said unanimously Thursday in two decisions that save the state billions of dollars but leave many public employees feeling cheated… James Oswald, who represented state employees, said that when the state encouraged workers to give up their more expensive plans, it never informed them gain-sharing could be repealed. "That's the kind of bait-and-switch the court would never permit a private employer to do," he said.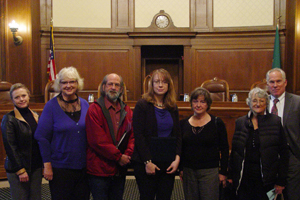 ► From WFSE — State Supreme Court rules against public sector retirees — The state Supreme Court upheld the Legislature's elimination of the gainsharing benefit in the PERS 3 retirement system and the uniform cost-of-living adjustment in the PERS 1 pension system. The Washington Federation of State Employees, the Retired Public Employees Council of Washington (another AFSCME affiliate) and other public employee groups had sued the state over the repeals. Lower courts upheld the unions. But not the state Supreme Court.
► From WEA — WEA decries court decisions on pension cuts — After a seven-year legal fight by the Washington Education Association, the Supreme Court has upheld cuts in retirement benefits for more than more than 100,000 K-12 educators. "It's not right for the Legislature to unilaterally cut retirement benefits it promised — and to take away what educators already earned," said WEA President Kim Mead.
---
AEROSPACE



► In the P.S. Business Journal — Good news for Renton: Boeing responds to backlog, likely to boost 737 production rate this fall — Comments from Chief Financial Officer Greg Smith Thursday morning indicate Boeing is planning to ramp up production of the popular plane. The backlog of 737s is at a record level of 3,952 aircraft, or nearly eight years of work at the current rate. An even-higher 737 production rate is good news for the Puget Sound Region because it will strengthen the case for more hiring at Boeing, and at its suppliers. While the 737 fuselages are made in Wichita, Kansas, Boeing builds the wings in Renton, and many of the parts for this assembly, and other parts of final assembly, come from suppliers in the region.
---
STATE GOVERNMENT



► In today's LA Times — California poised to hike film tax credits to stem runaway production — Moving to slow the exodus of filming to other states and countries, California lawmakers are poised to quadruple tax subsidies for location shooting to $400 million a year.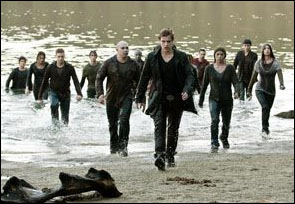 EDITOR'S NOTE — We share this story because, as reported this week in The Seattle Times, Hollywood producers are snubbing Washington state largely because we have a comparatively low cap on film tax credits of $3.5 million per year. Delegates representing the affiliated unions of the Washington State Labor Council approved a resolution last month that the WSLC "support legislation ensuring that the State commit to funding Washington Filmworks at a level that increases the competitiveness of Washington state's motion picture industry and ensures job creation and economic development opportunities across the state."
► In the P.S. Business Journal — State officials scramble to find beds for psych patients after high court ruling — State officials must find hundreds of beds for psychiatric patients around the state who have been restrained after a state Supreme Court ruling found that the practice of detaining them without treatment was illegal.
► In today's Seattle Times — Ban on boarding mentally ill in ERs could force the release of many — More than 100 patients could be released from hospital emergency rooms later this month as the state scrambles to find long-term beds and funding to abide by a state Supreme Court ruling.
► In today's Olympian — State plans 50 mental-health beds to start addressing court mandate — Gov. Jay Inslee's administration plans to add 50 beds in the next two weeks for mentally ill patients who a court said can no longer be detained in emergency rooms while waiting for treatment at overcrowded state facilities.
► In the P.S. Business Journal — State gets $300,000 to train nurses as shortage gets more severe — The grants are targeting states such as Washington, where an aging population is putting more demand on health care providers and increasing the demand for more highly educated nurses.
---
LOCAL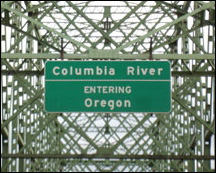 ► In the NW Labor Press — Will the minimum wage movement come to Oregon? — There's no sign yet of a plan to end the state's pre-emption on cities setting higher minimum wages. But that doesn't mean that the minimum wage movement sweeping the country is going to skip Oregon. In fact, forces are gathering to push a "re-set" of Oregon's minimum wage on the ballot in 2015.
► In today's Seattle Times — VA's Northwest regional head says wait times have plunged — Lawrence Carroll says there has been no widespread effort here to conceal wait times through false record keeping and added that the agency has taken significant steps to reduce the long waits for appointments.
---
FERGUSON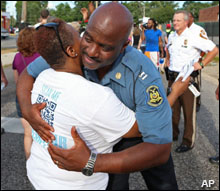 ► From AP — Hope replaces tear gas in Ferguson — County police in riot gear and armored tanks gave way to state troopers walking side-by-side with thousands of protesters as the St. Louis suburb where an unarmed black teen was shot by a city police officer overwhelmingly avoided violence Thursday after nearly a week of unrest and mounting public tension.
► At AFL-CIO Now — Trumka: Ferguson tragedy highlights race. class divisions we have long neglected — AFL-CIO President Richard Trumka released the following statement in response to events in Ferguson, Missouri:
Our thoughts and prayers are with the family of Michael Brown, the teenager who was recently killed in Ferguson, Missouri. His death and the anguish of the Ferguson community have rightfully become a national story. Despite the tragedy, there is also an opportunity to have an important discussion about issues that we have long neglected in this country. This conversation can only be had if cooler heads prevail. We are a nation that still remains segregated by race and class and tragedies like this highlight those divisions. It is encouraging that the Justice Department and FBI are closely investigating this incident so that the community of Ferguson is served.
► In The Hill — Congress under pressure from left and right to 'demilitarize' police — Groups on the left and right say the controversial police tactics seen this week in Ferguson, Mo., are not isolated to the St. Louis County police department and warn the rise of heavily armed law enforcement agencies has become an imminent threat to civil liberties.
► In The Hill — GOP Rep. Steve King: Ferguson protesters have same 'continental origin' — Rep. Steve King (R-Iowa) said that racial profiling is not an issue in Ferguson, Mo., because those protesting the police killing of a young man all share the same "continental origin."
---
NATIONAL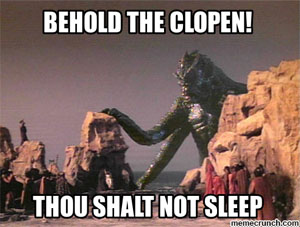 ► In the NY Times — Starbucks to revise work scheduling policies — Starbucks announced changes to its worker scheduling policies on Thursday, in response to a New York Times article about a barista and single mother struggling to manage life amid her erratic hours set by automated software. It would banish the practice, much loathed by workers, of asking them to "clopen" — close the store late at night and return just a few hours later to reopen.
► In today's Wall Street Journal — Senators seek moratorium on Postal Service closures — Fifty senators on Thursday joined forces to try to halt for one year a U.S. Postal Service plan to close 82 mail sorting centers, cut 15,000 jobs and slow delivery speed for some letters. The senators sent the letter to leaders of the Senate Committee on Appropriations and asked them to include a one-year ban on these cuts as part of any spending bill for the fiscal year beginning Oct. 1. While the majority of those asking for the changes were Democrats, it was signed by seven Republicans and one independent.
► At Vox — Can the post office save itself by becoming a bank? — Could the US Postal Service improve its financial position by becoming a bank? And could it change the financial sector for the better in the process? This idea, known as postal banking, has become increasingly mainstream over the course of 2014. And while there's no indication such a change is imminent, it could be achieved without congressional action or any new tax revenue — exactly the sort of idea activists are looking for in a time of gridlock. But why are people interested in this idea? Would it really work? Is it really legal?
► At MediaPost.com — With falling traffic, Walmart reports weak results — As Walmart's no-growth quarters continue to pile up — this is its seventh consecutive quarter of  declining traffic — OUR Walmart, a group representing the labor rights of Walmart workers, blamed the weak results on its employment practices:
Walmart's weak sales once again confirm what experts and thousands of shoppers and workers have been saying for years. The Walmart model of poverty jobs and under-staffed stores doesn't just hurt workers, it hurts the company's bottom line.
---
T.G.I.F.
► Guardians of the Galaxy, the summer blockbuster that gets Two Thumbs Up!® from The Entire Staff of The Stand™, prominently features the following song in both the trailer and the movie, which has led to a spike in its sales. But after watching Swedish one-hit wonders Blue Swede perform it live — and seeing frontman Björn Skifs go all Nick the Lounger Singer and act like he's embarrassed by the oogah chakkas — we think we prefer the recorded version.
---
The Stand posts links to Washington state and national news of interest every weekday morning by 10 a.m.
Short URL: https://www.thestand.org/?p=33847
Posted by
David Groves
on Aug 15 2014. Filed under
DAILY LINKS
. You can follow any responses to this entry through the
RSS 2.0
. Both comments and pings are currently closed.