25% less pay, $125 for 5K, Cowering Robot, Baghdad USA…
Thursday, August 14, 2014
---
MISSION NOT ACCOMPLISHED



► From AP — State jobless rate falls to 5.6 percent for month of July — Washington state's unemployment rate dropped to 5.6 percent last month, as the state added an estimated 7,300 jobs from June to July, and June's initial report of 9,100 jobs gained was revised up to a gain of 13,600 jobs. The national unemployment rate for July was 6.2 percent.
► In today's Seattle Times — Job growth in state eclipsing go-go '90s; jobless rate falls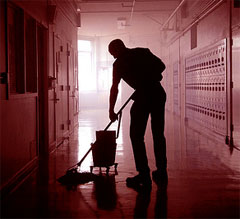 ► At Think Progress — Jobs added in today's economy pay a quarter less than the ones we lost in recession — The jobs that have been added to the economy during the recovery pay 23 percent less, on average, than those that were lost in the recession, according to a report from The U.S. Conference of Mayors. The report examined the sectors where jobs were added between 2009 and 2014 and weighted them by how many each gained, finding that their average wage was $47,171 a year. By contrast, the 8.7 million jobs lost in 2008 and 2009 paid an average of $61,637, representing a 23 percent gap between the two.
► In today's Seattle Times — Sorry, the jobs situation is still dismal (by Jon Talton) — Another fresh look at the situation comes from Seattle-based PayScale. Its underemployment survey finds that almost half of U.S. workers surveyed felt they are underpaid. Also, a gender gap is prevalent. We have a long way to go and federal austerity and rent-seeking by the 1 percent continue to be the biggest reasons why we still have a huge gap in demand from the Great Recession.
---
STATE GOVERNMENT



► In the P.S. Business Journal — Bellevue startup inks $15 million contract with state to pay employees to be healthier — Running a 5K will help Washington state employees save $125 each year under a new partnership between the state and Bellevue tech startup Limeade. The state Health Care Authority signed a five-year, $15 million contract with Limeade to use its engagement platform to help employees get healthier.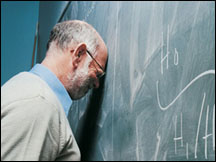 ► In today's Olympian — 28 superintendents to parents: Schools are not failing — School districts throughout Washington state are starting to notify parents that many of their schools aren't making the grade, a long-dreaded consequence of Washington losing its waiver from the federal No Child Left Behind Act. But as those letters go out, many Puget Sound districts — including Tacoma — will also be telling parents that No Child Left Behind is "regressive and punitive," and that their schools aren't failing at all.
► In today's Olympian — Time for a new approach to firefighting budgets (editorial) — Firefighting dollars at the state and federal level are at a premium as hot, intense wildfires continues to scorch the West. It's early in the summer fire season and the funding shortage will only grow worse.
► In today's Spokesman-Review — Users frustrated with administration of Washington health exchange — In the last week, Jerry Descoteaux and Joleene Ries were both notified by the Exchange that their problems appear to have been solved — after months of phone calls and inquiries from The Spokesman-Review.
---
AEROSPACE



► In the P.S. Business Journal — Machinists pledge cooperation at 777X event, despite continued tensions — In a notable bow to the Machinists union, Boeing Commercial Airplanes CEO Ray Conner had Ron Coen, president of Machinists 751 Local C sit next to him, and speak second. While Coen conceded he had personally not supported the contract extension earlier this year, he also suggested it was time for union workers to fully move on.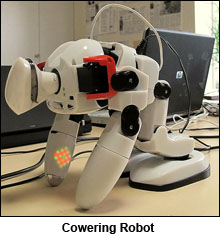 ► In the P.S. Business Journal — Some 777X workers likely to be replaced by robots, but loss could be offset by demand for more planes — Behind the scenes at a ceremony Wednesday were robots, or the thought of them, and how many people they will replace at the new 777X plant.
► In the P.S. Business Journal — Boeing robot supplier Kuka Aerospace to open Everett plant — Boeing's future is in robots, and Kuka Aerospace, the automation company Boeing has been working with, plans to open a 29,000-square-foot facility in Everett. The new plant, which will employ about 75 people, will be Kuka Aerospace's first U.S. plant outside Michigan.
---
LOCAL



► At Slog — You'll never guess who's joining 'legal fight against Seattle's minimum wage' — Actually, if you know anything about the recent history of minimum-wage fights, you can probably guess exactly who's supporting a suit against Seattle's $15 minimum wage law: The National Restaurant Association. (Or, as many like to call it, "the other NRA.") Yesterday, that NRA — along with five other business groups, including the US Chamber of Commerce and the Washington Retail Association — filed an amicus brief supporting the International Franchise Association's lawsuit, which seeks to block the parts of Seattle's wage law that put franchise businesses on the fast-tracked large business wage schedule.
► In today's Yakima H-R — Yakamas plan $90 million Legends Casino expansion — Workers are preparing the Yakama Nation's Legends Casino site for a new six-story, 200-unit hotel. (The tribe says) it will create hundreds of jobs — both in construction and permanent positions. The expansion is projected to be complete by winter 2016 and the casino expects to add about 200 jobs, bringing the total number of employees to 800.
---
FEDERAL GOVERNMENT



► In The Hill — Dropping corporate tax revenue worries feds, feeds concerns over tax breaks — Corporate tax revenues have dropped dramatically over the last two generations, feeding concerns among tax analysts about the recent rash of so-called corporate "inversions." Corporations paid around a third of all U.S. revenues in the early 1950s, a figure that's dropped to around 10 percent in recent years thanks to a host of factors.
► At AFL-CIO Now — What the NLRB announcement on McDonald's means — Historically McDonald's has claimed it has no authority over wages or complaints of workers' rights violations at its franchise locations because that is up to the individual owners, but the NLRB general counsel determined McDonald's could be liable as a joint employer in these kinds of situations. There's been a lot of head scratching over what this announcement means and its implications for other large companies and workers at these kind of fast food franchises, so here is some basic information to break it all down for you.
► At Politico — VA private referrals on rise — The Department of Veterans Affairs is significantly increasing its referrals of veterans to private doctors following a scandal over lengthy patient waiting times at many VA hospitals and clinics and falsified appointment records, VA Secretary Robert McDonald said.
---
NATIONAL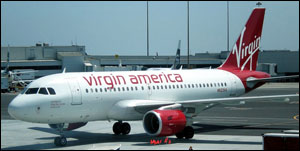 ► At Huffington Post — Virgin America flight attendants vote to join union — Three years after a failed bid to unionize, flight attendants at Virgin America airlines on Wednesday voted decisively to join the Transport Workers Union. According to TWU, the vote was 430 to 307, with 58 percent voting in favor. The attendants would be the first Virgin America employees to be represented by a labor union.
► In today's Washington Post — NASA headquarters workers vote to join union — More than 340 NASA headquarters employees will be eligible to join a union after a vote Wednesday in favor of partnering with the Federation of Professional and Technical Engineers. The workers are professional support specialists, including budget and policy analysts, administrative personnel and secretaries. The federation's NASA Headquarters Professional Association (NHPA) will now represent more than 500 NASA workers, including 200 engineers and scientists who were already under its umbrella.
► In the Alaska Dispatch News — Anchorage labor law heads to ballot box after failed veto override try — Polling data collected for the April municipal election showed the public opposing the city ordinance, which would eliminate the right to strike and prevent unions from seeking binding arbitration, as well as outsourcing some union jobs.
► In today's NY Times — The O'Bannon ruling: College athletes win (editorial) — College sports will have to adjust to a new way of doing business without exploiting the players and students.
► In today's NY Times — The O'Bannon ruling: The 'student-athlete' is history (editorial) — That term dates back to the 1950s and worries over legal claims.
---
TODAY'S MUST-READ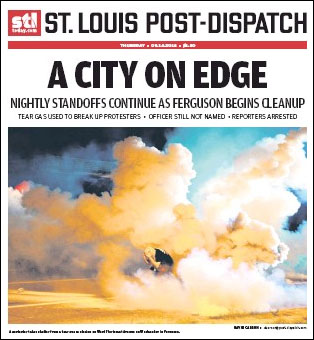 ► At Huffington Post — Baghdad USA — Police violence broke out again in Ferguson, Missouri, Wednesday night, as the streets filled with tear gas, rubber bullets, heavily-armed SWAT teams and mine-resistant vehicles on the fourth night of unrest since Michael Brown, an unarmed African American teenager, was shot to death by police on Aug. 9. Mostly peaceful protesters in the St. Louis suburb, symbolically holding their hands in the air, were met with tear gas and smoke bombs fired so regularly that several reporters on scene noted it was hard to breathe. A group of at least 70 heavily armed SWAT officers with armored vehicles responded to an apparently peaceful protest Wednesday afternoon and ordered the crowd to disperse. The sight of camouflaged officers training automatic weapons at unarmed civilians focused unprecedented attention on the increasing militarization of policing in America. At least two reporters were assaulted and detained by police, and a St. Louis alderman was arrested for what police said was unlawful assembly.
---
The Stand posts links to Washington state and national news of interest every weekday morning by 10 a.m.
Short URL: https://www.thestand.org/?p=33831
Posted by
David Groves
on Aug 14 2014. Filed under
DAILY LINKS
. You can follow any responses to this entry through the
RSS 2.0
. Both comments and pings are currently closed.