Roads to ruin, Cherry Point's impact, best lullaby ever…
Friday, October 24, 2014
---
STATE GOVERNMENT

► In today's Olympian — A reminder about our failing roads, bridges (editorial) — Politics can be so confusing. Powerful statewide business interests want the Legislature to invest at least $7 billion to repair and improve the state transportation system. So you would think Republicans, who are generally business-friendly and often the beneficiaries of big business's campaign contributions, would be eager to please. You would be wrong. In the Washington state Legislature it is House Democrats who have responded to business requests and passed several transportation bills. And it is Senate Republicans who have killed each of them… Lawmakers already know they must act to reverse years of under-funding our roadways and bridges. The solution is for Senate Republicans to get on board with a 10-year transportation investment plan during the 2015 session.
---
ELECTION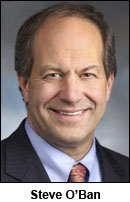 EDITOR'S NOTE: We linked to the following editorial yesterday morning, but The News Tribune removed the story, saying that it had been inadvertently posted and was intended for today's edition. So here you go…

► In today's News Tribune — Sleazy campaign ads reflect poorly on candidates (editorial) — In the 28th District, a mystery group called the Good Government Leadership Council has sent out one sleazy flier after another to slam Democratic Senate candidate Tami Green with laughably misleading claims. This "council" is a political committee funded mostly by Republicans who want to elect Sen. Steve O'Ban and retain control of the state Senate… In the 26th District, Republican House candidate Michelle Caldier has made outrageous claims against Rep. Larry Seaquist, the Democratic incumbent. Her flier includes a badly doctored photo purporting to show the widely respected Seaquist as some kind of voyeur and implying that she's being stalked and harassed. We thought Caldier was a better candidate than this; we were mistaken. Voters should not reward her sleaziness with their support.
► In the Oregonian — Public employee unions step up fight against 'top two' primary ballot measure in Oregon — Opponents of the proposal to create a nonpartisan "top-two" primary system are getting a new infusion of cash from the state's big public employee unions — although opponents are a long way from matching the big contributions from two out-of-state billionaires to the campaign in support of Measure 90.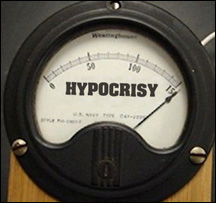 ► In the Washington Post — GOP changes tune on cutting Social Security with elections on the line — Cutting federal health and retirement spending has long been at the top of the GOP agenda. But with Republicans in striking distance of winning the Senate, they are suddenly blasting the idea of trimming Social Security benefits… Republican groups are attacking the Democrats who supported conservative ideas — including raising the retirement age and slowing cost-of-living increases — in a proposed "grand bargain" on the budget.
► At Huffington Post — They want us to stay home on Nov. 4 (by AFSCME President Lee Saunders) — In far too many parts of the country, right-wing extremists are succeeding in their attempts to keep Americans away from the polls, emboldened by a Supreme Court ruling that dismantled sections of the Voting Rights Act… Supporters of more restrictions on voting know that when a majority of Americans go to the polls their grip on power is weakened. That's why they are trying so hard to stop us. Don't let them. Use your vote. Remember: Election Day is Tuesday, Nov. 4.
ALSO at The Stand — Find your ballot, fill it out, and mail it in! — Candidates who support working-class people benefit when more people vote. And that's one of the reasons unions work so hard this time of year to get their members and their families to do so. It's not so much an effort to persuade, it's a call to participate.
► In today's NY Times — Plutocrats against democracy (by Paul Krugman) — American politicians don't dare say outright that only the wealthy should have political rights — at least not yet. But if you follow the currents of thought now prevalent on the political right to their logical conclusion, that's where you end up.
---
LOCAL

► In today's Bellingham Herald — Study: Cherry Point industries support about 9,000 jobs in Whatcom County — The Cherry Point area, which includes two oil refineries and an aluminum smelter, supports about 11 percent of all jobs in Whatcom County, according to a new report quantifying the impact the industrial area has on the local economy. The study found that the Cherry Point Industrial Zone has about 2,200 jobs, not including those who go into the area for contracting projects, such as refinery turnarounds; the jobs there have an average wage of roughly $114,000 a year; and the local refinery jobs have an employment multiplier effect of 5.39, which means every refinery job supports another 4.39 jobs in the county.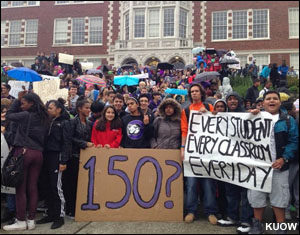 ► From KUOW — Garfield students walk out to protest teacher cuts — Hundreds of students at Garfield High School in Seattle walked out of class Thursday to protest district cuts that could cost the school a teacher. Five schools citywide stand to lose full-time teachers midway through the quarter. The school drumline provided a soundtrack as students amassed on the school stairs at 1:50 pm to represent the 150 students who could lose a class if a teacher is cut from the school. Students held signs reading "Which 150?" and "Don't Steal Our Teachers."
► In today's (Longview) Daily News — No raises for Castle Rock employees in 2015, officials say — The city of Castle Rock's employees won't be getting a raise in 2015, city officials said during a recent budget workshop.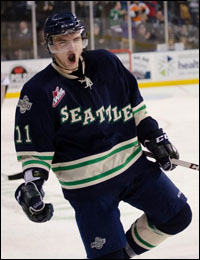 ► From KUOW — Northwest hockey teams targeted by lawsuit over player wages — The pay and treatment of top Northwest hockey players is the subject of a new class action lawsuit that commenced earlier this week in Canada. The suit is against the Western Hockey League and its sister leagues. Affected teams include Oregon and Washington-based Seattle Thunderbirds, Portland Winterhawks, Spokane Chiefs, Tri-City Americans and Everett Silvertips. The lawsuit, which claims the players aren't being paid at least minimum wage, seeks back wages, vacation pay and unpaid overtime allegedly due to current and former players at the top level of junior hockey. The mostly teenage players currently receive a weekly stipend, free room-and-board and college scholarships under a standard contract.
► In today's News Tribune — Federal judge in Tacoma blocks release of strip club dancers' licenses — A federal judge in Tacoma on Thursday blocked the release of business licenses for dancers and managers at a Parkland strip club, saying the workers would "likely suffer irreparable harm" if the information is disclosed.
---
NATIONAL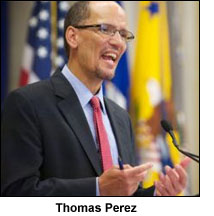 ► At Huffington Post — Labor secretary: 'We suck' on the minimum wage — Labor Secretary Tom Perez said Thursday the United States' current federal minimum wage is an international embarrassment, specifically calling out New Jersey Gov. Chris Christie (R) for fighting attempts to raise the wage floor.
EDITOR'S NOTE — Tangent alert! Remember when former Boeing executive Alan Mulally told Washington state that "we suck"? After being passed over for the Boeing CEO job, Mulally left to run Ford. That mission accomplished, he has returned the conquering hero and was recently welcomed home with a love fest of near-universal adulation. As he basks in our glow of what might have been, Mulally can thank Jim McNerney. Just about everybody agrees our state — and The Boeing Co. — would have been way better off with yet another competitiveness scold at the helm than a man who delights in a fantasy of cowering employees.
► From Reuters — Some U.S. hospitals weigh withholding care to Ebola patients — The Ebola crisis is forcing the American healthcare system to consider the previously unthinkable: withholding some medical interventions because they are too dangerous to doctors and nurses and unlikely to help a patient.
► At AFL-CIO Now — AFGE files suit to stop USDA's 'filthy' poultry inspection rule —  AFGE filed suit this week to stop the U.S. Department of Agriculture's new poultry inspection rule that replaces 25% of the current USDA-trained food safety inspectors with poultry company employees and speeds up the processing lines by 400%.
► In today's Portland (Maine) P-H — FairPoint and striking unions brace for a long stalemate — About 2,000 Fairpoint Communications employees in Maine, New Hampshire and Vermont walked off the job at midnight Oct. 16, after six months of disagreements between the company and its unions (IBEW and CWA) over terms of a new contract. A union spokesman said the company refuses to back off its demand for roughly $700 million in contract concessions.
► At AFL-CIO Now — 1,000 Texas workers vote to join IAM — Some 1,000 mechanics, technicians and maintenance personnel employed by URS at the Red River Army Depot (RRAD) near Texarkana, Texas, voted this week to join the Machinists.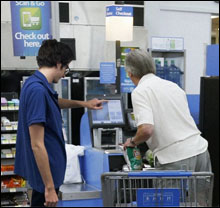 ► In The Onion — Man's whole job is undoing handiwork of self-checkout machine — "My whole shift is pretty much spent asking people to step aside as I swipe my employee card and clean up whatever mess the machine's gotten itself into," said local supermarket employee Andy Berenson, acknowledging that he is paid solely to assist frustrated shoppers whose items won't scan correctly or fail to trigger the machine's electronic scale, or whose rewards cards don't register with the system.
---
T.G.I.F.

► This beautiful Mark Knopfler song is truly one of the all-time favorites of The Entire Staff of The Stand.™  We had the choice of sharing fantastic versions sung by the Everly Brothers (with Chet Atkins on guitar!), by Knopfler and Emmylou Harris, or by Art Garfunkel. But in the end, the original Dire Straits version wins out. Bonus tip for parents of young children: the 8:30 studio version of this song from the classic "Brothers In Arms" LP is the best and most effective lullaby ever recorded. You're welcome.
---
The Stand posts links to Washington state and national news of interest every weekday morning by 10 a.m.
WASHINGTON IS A UNION STATE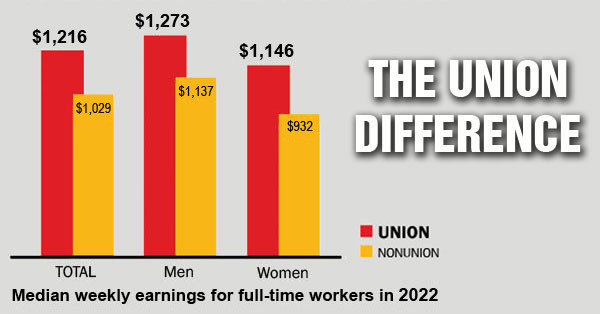 CHECK OUT THE UNION DIFFERENCE in Washington state: higher wages, affordable health and dental care, job and retirement security.
FIND OUT HOW TO JOIN TOGETHER with your co-workers to negotiate for better working conditions and respect on the job. Or go ahead and contact a union organizer today!