Find your ballot, fill it out, and mail it in!
OLYMPIA (Oct. 22, 2014) — Voter turnout for the Aug. 5 primary election was abysmal in Washington state and was historically low nationwide. Fewer than one in three registered voters in our state bothered filling out and mailing in their ballots, and in some states (Nevada and Iowa) fewer than one in 10 registered voters participated.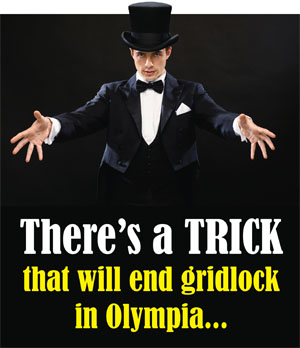 Political analysts say low turnout helps conservative Republicans, and more specifically, radically conservative Republicans whose ardent supporters — though they are a tiny fraction of Americans — are most motivated to vote in 2014. In Iowa, for example, 5% of the registered vote was enough to win the primary.
Unfortunately for union members, the extreme right-wing conservatives who benefit from low voter participation are the most aggressive opponents of labor unions, the right to collective bargaining, and the wage-and-hour standards that too many Americans take for granted.
In other words, candidates who support working-class people benefit when more people vote. And that's one of the reasons unions work so hard this time of year to get their members and their families to do so. It's not so much an effort to persuade, it's a call to participate.
Case in point, the Washington State Labor Council's latest mailer to union households in targeted legislative districts (shown here) is very light on promoting labor-endorsed candidates and heavy on just plain voting.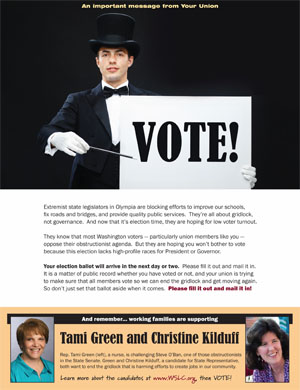 So if you are frustrated with partisan gridlock in both Olympia and Washington, D.C., don't tune out… fill out that ballot and mail it in. If you want, check out the list of labor-endorsed candidates and learn why they earned that endorsement. But most importantly, go grab your ballot out of that stack of mail, and VOTE!
And while you're at it, here are some more things you can do to make sure this election's results are representative of what the people want:
► Urge family members, friends, and co-workers to vote.
► Volunteer for Labor's Voice. Spend a couple of hours on a phone bank or doing a neighborhood walk urging people to vote. Check the Labor's Voice schedule. There are phone banks Thursday evening in Vancouver, Tacoma, Seattle and Olympia, and there are walks scheduled this Saturday staging from Bellingham, Bothell and Olympia. Then RSVP to volunteer online.
Short URL: https://www.thestand.org/?p=35282
Posted by
David Groves
on Oct 22 2014. Filed under
ELECTION
. You can follow any responses to this entry through the
RSS 2.0
. Both comments and pings are currently closed.