Election redux, WTO-Seattle at 15, SayLUX, 'i' Kendrick…
Thursday, November 6, 2014
---
LOCAL ELECTIONS
► At The Stand — Amid low voter turnout, GOP takes control — This posting from yesterday has been updated with the latest returns. Click here for the latest results at the Secretary of State's website.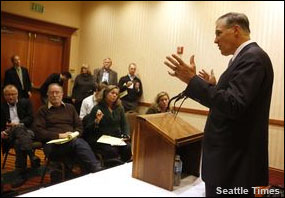 ► In today's Seattle Times — Inslee committed to pursuit of climate-change bill despite election's outcome — Undeterred by defeats for Democrats in key legislative races, Gov. Jay Inslee says he'll continue to pursue major climate-change legislation next year while also working to direct billions in new revenue for public schools.
---
NATIONAL ELECTIONS

► At AFL-CIO Now — Trumka: 'Americans are desperate for a new economic life' — "People are disillusioned by endless political bickering and eyed these elections with great dispirit. In way too many elections, they got a false choice. In these very difficult times, they did not get a genuine economic alternative to their unhappiness and very real fear of the future. But when voters did have a chance to choose their future directly — through ballot measures — their decisions are unmistakable."
► At AFL-CIO Now — Paid sick leave, minimum wage, equal pay and other ballot measures fare well — Voters approved increases to the minimum wage in Alaska, Arkansas, Illinois, Nebraska and South Dakota, as well as Oakland and San Francisco. Voters in Oregon approved the Equal Pay Measure and in Massachusetts a measure calling for up to 40 hours a year of paid sick leave for employees was approved. Paid sick leave measures in Oakland, Calif., Montclair and Trenton, N.J., also won.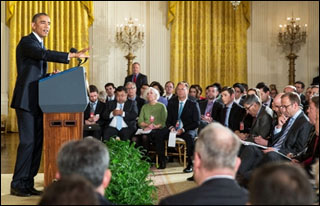 ► In today's NY Times — After election, Obama vows to work with, and without, Congress — President Obama shook off an electoral drubbing on Wednesday and said he was eager to find common ground with Republicans during the final two years of his presidency, but he swiftly defied their objections by vowing to bypass Congress and use his executive authority to change the nation's immigration system.
► In today's NY Times — Obama's offer to Republicans (editorial) — The president said there were several areas where he thinks agreement could be reached with Republicans in his post-election news conference. One is a trade agreement with Pacific nations, which he said would help open those markets to American goods. (Though it needs to include strong labor and environmental regulations.)
► At Politico — John Boehner, Mitch McConnell vow to kill Obamacare — House Speaker John Boehner and incoming Senate Majority Leader Mitch McConnell, outlining their legislative vision for the last two years of Barack Obama's presidency, are vowing to try to repeal the Affordable Care Act.
► In The Hill — Business groups hail Senate flip — The business lobby is hoping Congress will extend dozens of expired tax breaks, authorize the Keystone XL oil pipeline, repeal the medical device tax and advance trade policies, among other things.
---
ELECTION REDUX

► At Huffington Post — Democratic strategies lost big. Here's an alternative. (by George Lakoff) — Democratic strategists have been segmenting the electorate and seeking individual self-interest-based issues in each electoral block. The strategists also keep suggesting a move to the right. This has left no room for the Democrats to have an overriding authentic moral identity that Americans can recognize… The moral: Progressivism supports freedom. The private depends on the public. If you believe it, say it. Moral ideals matter. Authenticity matters.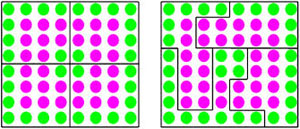 ► At BillMoyers.com — Gerrymandering rigged the 2014 elections for Republican advantage — GOP donors plowed cash into state legislative efforts in 2010 for the very purpose of redrawing congressional lines. In the following year, as the tea party wave brought hundreds of Republicans into office, newly empowered Republican governors and state legislatures carved congressional districts for maximum partisan advantage. In Pennsylvania, for example, one state in which the GOP drew the congressional districts in a brazenly partisan way, Democratic candidates collected 44% of the vote, yet Democratic candidates won only 5 House seats out of 18. In other words, Democrats secured only 27% of Pennsylvania's congressional seats despite winning nearly half of the votes.
---
TRADE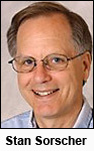 ► At Huffington Post — WTO in Seattle — 15 years ago (by Stan Sorscher) — In 1999, most Americans gave our trade negotiators the benefit of the doubt. The burden of proof fell on the labor and environmental protesters in Seattle and other cities. With years of lived experience since NAFTA, the jail scene in the movie looks more perceptive every day. We're not sure what the global trading system does, but we're against it. Fifteen years on, critics of our trade policy now have the benefit of doubt. The burden of proof falls on the advocates of more NATFA-style deals.
---
BOEING

► In the P.S. Business Journal — Boeing plans to replace 737 MAX by 2030 — Plans to develop an entirely new plane that would replace the 737 MAX are underway, according to Boeing Chief Executive Officer Jim McNerney. He hopes to have the new airplane available by 2030. The plane would be similar in shape to the single-aisle 737 but slightly larger, and likely made of composite fiber like the 787 Dreamliner. No word yet on where the replacement plane could be built and assembled, or whether it will reduce or eliminate production of the 737 MAX, which will be assembled in Renton.
EDITOR'S NOTE — The 787 commercial-airplane tax breaks due to expire in 2024, were extended until 2040 for the 777X (among other goodies) at a public cost of $8.7 billion. Do I hear 2060? 2080?
---
NATIONAL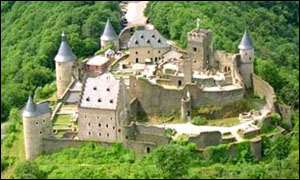 ► At Huffington Post — Leaked Luxembourg documents expose more than 340 companies' tax avoidance schemes — Pepsi, FedEx and 340 other international companies have secured secret deals from Luxembourg, allowing many of them to slash their global tax bills while maintaining little presence in the tiny Central European duchy, leaked documents show. These companies appear to have channeled hundreds of billions of dollars through Luxembourg and saved billions of dollars in taxes.
► At Think Progress — Kmart employees have to come to work before dawn on Thanksgiving — Kmart will open its doors for Black Friday shopping a whole day early, starting at 6 a.m. on Thanksgiving Day itself. Stores will remain open for 42 straight hours, closing at midnight on Friday, November 28. The company says shifts will be filled by volunteers, but last year some Kmart workers reported that their requests to take the day off were denied.
---
T.G.I.T.

► The Entire Staff of The Stand™ will be gone tomorrow so, in our occasional effort to introduce you to some great songs before they become so ubiquitous you begin to hate them (remember "Happy"?), we hope we're not already too late in sharing "i" by Kendrick Lamar. You old schoolers will enjoy the heavy sampling of The Isley Brothers' "That Lady," and the cameo by Ron Isley. The NBA has already heavily latched onto this song in promoting the new season, so enjoy it now while you still can!
---
The Stand posts links to Washington state and national news of interest every weekday morning by 10 a.m.
Short URL: https://www.thestand.org/?p=35701
Posted by
David Groves
on Nov 6 2014. Filed under
DAILY LINKS
. You can follow any responses to this entry through the
RSS 2.0
. Both comments and pings are currently closed.