Port power, paying for 1351, typo activism…
Monday, November 10, 2014
---
LOCAL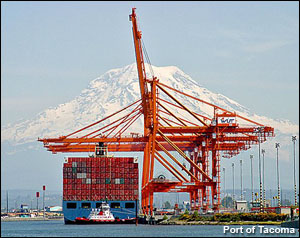 ► In the P.S. Business Journal — Trade organizations 'feeling powerless,' call for federal mediator as ports' labor dispute heats up — Experts say disputes in labor negotiations between the ILWU and its employer, the Pacific Maritime Association, could be based on a plethora of issues including changes in the global shipping industry, health care policy and growth of the U.S. trade economy. Negotiations between the PMA and ILWU began in May before their labor agreement dissolved on July 1. The contract lasted six years.
► In today's Yakima H-R — Seaport labor spat leaves apples in limbo — Tacoma is congested because of an ongoing labor dispute at ports up and down the West Coast, and the ripple effects are causing similar confusion and a backlog for dozens of packers in Yakima and beyond trying to move a record 140 million boxes of apples.
► In the P.S. Business Journal — 1,100 union health care workers set to strike at CHI Franciscan — More than a thousand union health care workers (SEIU HealthCare 1199NW) will strike on Nov. 18 at two hospitals in the CHI Franciscan Health system alleging unfair labor practices while their contract is being negotiated.
► In the Spokesman-Review — County says workers' pay hike hinges on talks with deputies — The largest bargaining unit of Spokane County employees will soon ask for their first cost-of-living pay increase in four years. That request will come amid a dwindling budget and uncertainty about how much of the county's kitty must go to a deputy sheriffs union that has been asking for a new contract since 2012.
---
STATE GOVERNMENT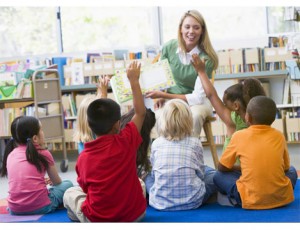 ► In the News Tribune — Initiative 1351's class size mandate moves on top, just outside recount range — The measure sponsored and heavily funded by the state teachers' union would lower class sizes in all grades, but with emphasis in high-poverty schools. Gov. Jay Inslee says he voted against it because of cost concerns.
► From KUOW — Budget committee chair 'doesn't know how to pay for' class size measure — Washington's budget office has projected Initiative 1351 would require 7,500 new teachers and more than 10,000 new school staff. The estimated cost is $4.7 billion over the next four years. "Look, I don't know how to pay for it that's why I didn't support it," said House budget committee chair Ross Hunter.
► In the News Tribune — Election fallout leaves Gov. Inslee without a Senate friendly to his climate-change agenda — Democrat Jay Inslee thinks that some kind of tax on carbon pollution could meet two goals: fewer emissions of greenhouse gases and a new state revenue stream for schools and highways.
► In today's Olympian — Close splits in Capitol may empower individual lawmakers — In what is sure to be the most closely divided Legislature in more than a decade, each member of the House and Senate majorities could be the deciding vote at any given time.
► In the Olympian — Bowling concedes, Sen. Sheldon says he's looking forward to renewing Majority Coalition — Irene Bowling, a Democrat and piano teacher in Bremerton, fell about 3,500 votes short of unseating Sheldon, a tree farmer and 24-year legislative veteran who was backed heavily by Republicans. He says he hopes to renew his GOP alliance in 2015.
► In the Olympian — Recriminations after Roach survives — Pam Roach's colorful career can continue for another four years. And that would make her the longest-serving female state senator Washington has had. She credited voters for noticing she's "working at home as well as representing them in Olympia" while also complaining about the "two-on-one" attacks on her by challenger Rep. Cathy Dahlquist and her ally Rep. Chris Hurst.
► From AP — Democratic wins push Oregon Legislature to left — After picking up one seat in the state House and one in the Senate, Democrats have moved the Legislature decisively to the left. With a razor-thin margin, a second Senate seat also could flip to the Democrats' control.
---
AFFORDABLE CARE ACT

► From KPLU — Washington's health exchange set to open again — Washington's health care exchange will reopen for business late this week, and exchange officials say people will have more choices and a smoother shopping experience this time around.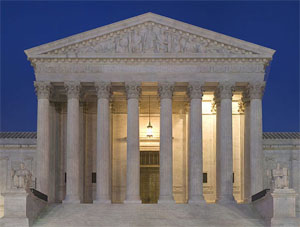 ► In the USA Today — Supreme Court will hear new case challenging Obamacare — The Supreme Court agreed Friday to consider a major new challenge to President Obama's health care law. The controversial program faces four separate lawsuits charging that billions of dollars in subsidies can only be offered in health care exchanges run by states. The federal government operates more than two-thirds of the exchanges.
► At Think Progress — Here is what will happen if Supreme Court strikes down ACA's subsidies — Should the Supreme Court eliminate the tax credits for the millions who have enrolled in coverage through the federally-run marketplaces, the consequences wouldn't be too dissimilar from stripping out the law's individual mandate — something the justices refused to do in 2012.
► In today's NY Times — Death by typo (by Paul Krugman) — It now appears possible that the Supreme Court may be willing to deprive millions of Americans of health care on the basis of what is an obvious typo… Judges who support this cruel absurdity aren't stupid; they know what they're doing. What they are, instead, is corrupt, willing to pervert the law to serve political masters. And what we'll find out in the months ahead is how deep the corruption goes.
---
NATIONAL

► From AP — Progress but no deal in trans-Pacific trade talks — President Barack Obama pressed world leaders Monday to break stubborn logjams that have held up an agreement on a trans-Pacific trade deal that is eagerly sought by the White House and could lead to rare consensus with congressional Republicans.
► In the Fiscal Times — Obama-GOP compromise on trade would mean scary win for big business (by David Dayen) — Every election post-mortem looking for areas of potential cooperation between the Republican Congress and President Obama starts with "free trade." Because the Washington elite's hearts go a-flutter whenever they hear the term "free trade," they see the deals as just the kind of bipartisan solution they think the country has yearned for. But the deals being readied by the Obama Administration actually don't have much to do with trade at all; they're about corporate power.
► In The Hill — Obama takes the blame: 'We got beat' — "And so whenever, as the head of the party, it doesn't do well, I've got to take responsibility for it," Obama said. "The message that I took from this election, and we've seen this in a number of elections, successive elections, is people want to see this city work."
► From AP — Obama defends plan to act on immigration — U.S. President Barack Obama defended his plan to use executive powers to implement some immigration reforms, saying in an interview broadcast on Sunday he had waited long enough for Congress to act.
► From the Dallas Morning News — American Airlines flight attendants reject contract — APFA members rejected the deal by 16 votes out of more than 16,000 cast. The "no" votes represented 50.05% of those casting ballots.
► From AP — Postal Service hacked: Employee information, including Social Security numbers, among data — Personal information that may have been obtained in the attack includes employees' names, dates of birth, Social Security numbers, addresses, emergency contacts and other information.
---
TODAY'S MUST-READ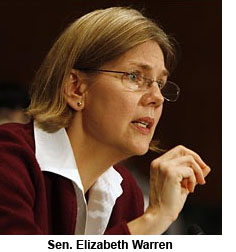 ► In the Washington Post — It's time to work on America's agenda (by Elizabeth Warren) — For all the talk of change in Washington and in states where one party is taking over from another, one thing has not changed: The stock market and gross domestic product keep going up, while families are getting squeezed hard by an economy that isn't working for them. The solution to this isn't a basket of quickly passed laws designed to prove Congress can do something — anything. The solution isn't for the president to cut deals — any deals — just to show he can do business. The solution requires an honest recognition of the kind of changes needed if families are going to get a shot at building a secure future.
It's not about big government or small government. It's not the size of government that worries people; rather it's deep-down concern over who government works for. People are ready to work, ready to do their part, ready to fight for their futures and their kids' futures, but they see a government that bows and scrapes for big corporations, big banks, big oil companies and big political donors — and they know this government does not work for them.
---
The Stand posts links to Washington state and national news of interest every weekday morning by 10 a.m.
Short URL: https://www.thestand.org/?p=35785
Posted by
David Groves
on Nov 10 2014. Filed under
DAILY LINKS
. You can follow any responses to this entry through the
RSS 2.0
. Both comments and pings are currently closed.