Healthcare workers more united after striking CHI Franciscan
TACOMA (Nov. 19, 2014) — CHI Franciscan should care for Pierce County patients, not Denver executives.  The 1,100 workers who went on strike for better care and better jobs are returning to work today, stronger and more united, and intent on continuing the fight for CHI Franciscan to invest in care and caregivers.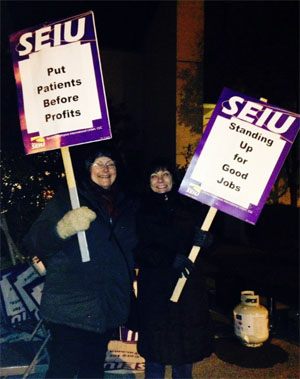 CHI Franciscan, which made $165 million in profit last year, is cutting its commitment to frontline care, leaving patients and the community behind. That's why 800 nursing assistants, Licensed Practical Nurses, unit secretaries, dietary workers, housekeepers, sterile processors, and other service workers at St. Joseph Medical Center in Tacoma and 330 service and technical workers at St. Clare Hospital in Lakewood went on strike Tuesday, standing up for better jobs and better care.
"The cutbacks are making it hard for us to give the level of patient care we feel our patients deserve," said Crystal Thompson who works in sterile processing at St. Clare Hospital.  "CHI Franciscan can afford to do so much better, for our patients and for our families."
The strike followed months of bringing concerns to the negotiation table where the caregivers stood alongside community activists in calling on CHI Franciscan to fix its broken charity care policy and invest in Pierce County patients and workers.  Following little action from CHI Franciscan, caregivers felt there was no other alternative but to stand up for patients and our community by striking.
"If it was not for this community, if it were not for their workers, the Franciscans wouldn't be making the millions they're making," said Pastor Gregory Christopher of Shiloh Baptist Church.  "They're making millions off of us and yet only want to put peanuts back into our community."
The workers, members of SEIU Healthcare 1199NW, are calling for improved staffing, increased investment in frontline caregivers, a charity care policy that keeps patients out of debt, and an end to unfair labor practices.  Their strike began Tuesday at 7 a.m. with workers walking out, chanting and picketing.
"I was proud to be part of St. Joe's 30 years ago," said St. Joe's LPN Carol Opland.  "But I'm not proud any more.  I'm going on strike to get that pride back, to help my family and my community."
The enormous profitability of the CHI Franciscan system over past more than six years has not resulted in an increased investment in caregivers.  Instead, the company is taking its own staff to collections due to inability to afford their own healthcare and is reducing the number of environmental service staff who are the frontline of infection protection.
The strike lasted 24 hours, and workers returned to their jobs this morning at 7 a.m.
For more information, visit www.StandforPierceCounty.org. and check out strike photos at SEIU 1199NW's Facebook page.
Short URL: https://www.thestand.org/?p=36016
Posted by
David Groves
on Nov 19 2014. Filed under
LOCAL
. You can follow any responses to this entry through the
RSS 2.0
. Both comments and pings are currently closed.