Bills moving, Beast Mode's 'work to rule,' remember the Alamo guy…
Friday, January 30, 2015
---
STATE GOVERNMENT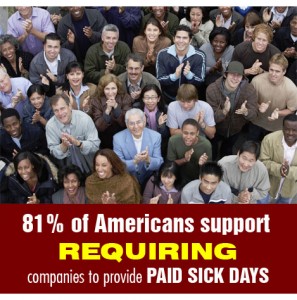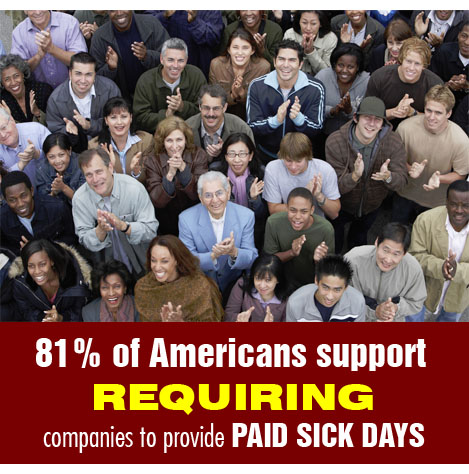 ► From the WA Work & Family Coalition — Legislature takes a step toward paid sick days — here's what's next — On Monday, legislators heard passionate testimony from a school nurse, a grocery worker, a small business owner, a domestic violence advocate and a senior — all speaking to to the importance of every worker having paid sick days. And Thursday morning, the House Labor Committee voted to pass the bill out of committee! Here's the next crucial step: the House Appropriations Committee will consider whether to send the bill to the full House for a vote.
TAKE A STAND! — Please click here to send an email urging committee members to support Washington workers by advancing paid sick days legislation to the full House for a vote.
► At Crosscut — House committee gives $12 minimum wage a lift — A bill to increase the state minimum wage cleared the House Labor Committee on Thursday. The committee victory means that Rep. Jessyn Farrell (D-Seattle), now has to nail down 50 votes to for her bill to pass the full House. It would increase the minimum wage from $9.47 to $12 an hour by 2019.
EDITOR'S NOTE — Ferrell's HB 1355 has 43 sponsors. Seven to go.
► In today's Seattle Times — $12 minimum-wage bill advances after fiery debate — A bill to boost the state minimum wage to $12-an-hour over four years passed out of a House committee Thursday, but not before Rep. Matt Manweller (R-Ellensburg) ripped minimum-wage activists as entitled in a "kids-these-days" diatribe. Manweller's speech drew a rebuttal from the labor committee chairman, Rep. Mike Sells (D-Everett):
When the bottom rung of the ladder is broken, people have a hard time paying for the types of things you suggest they do… The promise of an opportunity society is that people get paid a fair day's wage for an honest day's work. Your father would have understood that.
► From KUOW — Republican transportation leader eyeing 11.5-cent gas tax increase — Republican Curtis King, the chair of the Senate Transportation committee, is looking at an 11.5-cent per gallon increase phased in over three years. It would help fund a $14 billion transportation package with projects on both sides of the Cascades.
► In today's (Everett) Herald — Marijuana taxes net $22.5 million in 6 months — The state's Liquor and Control Board updates a list every Tuesday with figures showing the amount of excise tax on retail marijuana sales from the state's 334 retail locations.
► A related story (?) in today's News Tribune — Lawmakers grouse about free meals rule — State lawmakers are venting their annoyance with a new limit of 12 free meals they are allowed to take from lobbyists. Some complain the limit that took effect this month doesn't just impugn their integrity, it's also plain confusing.
► In today's Spokesman-Review — Prepaid postage for ballots would boost voter participation (editorial) — Washington should try putting the "mail" in mail-in voting by providing prepaid postage on ballot envelopes. Despite a relatively high turnout rate compared with other states, too many Washington voters are losing or discarding the ballots that are their tickets to full participation in our democracy.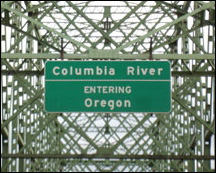 ► In today's Oregonian — Big hike in Oregon business taxes is target of initiative drive by union-backed coalition — Even before the Oregon Legislature starts on Monday, a union-backed coalition is moving ahead with plans to ask voters next year to approve major tax hikes on big corporations — and maybe high-income individuals as well – to boost funding for schools and other government services.
► In today's NY Times — Most Americans support action on climate change, poll finds — An overwhelming majority of the American public, including nearly half of Republicans, support government action to curb global warming, according to a poll conducted by The New York Times, Stanford University and a nonpartisan environmental research group. The poll also found that two-thirds of Americans say they are more likely to vote for political candidates who campaign on fighting climate change. They are less likely to vote for candidates who question or deny the science of human-caused global warming.
---
LOCAL

► In today's Spokesman-Review — Court orders initiative vote — Envision Spokane, the twice-failed initiative seeking to bolster environmental protection and neighborhood and labor rights, will be before voters again, after a decision Thursday by a state appellate court.
► In today's Tri-City Herald — Tri-Cities Community Health employees picket, may strike — About 150 Tri-Cities Community Health employees have been working under an expired contract since fall 2013, and they may strike after months of negotiations have failed to yield a new agreement. Office and Professional Employees International Union Local 8 represents the workers, ranging from medical and dental assistants to medical records clerks, hygienists, receptionists and mental health therapists. At a meeting in December, members voted to authorize strike preparation.
ALSO at The Stand — TCCH health care workers take their case to board
► This morning at Slog — Mayor signs new law to hire more low-income workers on city projects — Seattle Mayor Ed Murray signed so-called "priority hire" legislation passed by the city council earlier this month. This is significant because a review of some of Seattle's biggest public projects found that only 6 percent of workers on those projects lived in the city.
► From KPLU — Proposed oil-by-rail expansion at Shell's Anacortes refinery draws crowd — An overflowing crowd turned out to testify in Skagit County Thursday on plans to add an oil-train facility to Shell's refinery in Anacortes. The company says it needs to be able to receive Bakken crude by rail to remain competitive.
► In today's Columbian — L&I fines Waste Connections, contractor — Waste Connections Inc. of Washington-Clark County was cited for 23 serious work safety violations and fined $100,000. Leadpoint Business Services — a staffing agency that provides contracted workers to Waste Connections — was cited for 22 serious safety violations and fined $77,600.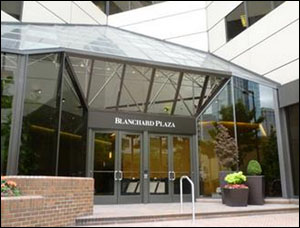 ► In today's P.S. Business Journal — The AFL-CIO just became Amazon's landlord — Blanchard Plaza, an office tower in downtown Seattle where Amazon has signed an 11-year lease, sold Thursday for $122.66 million. In an ironic twist, the virulently anti-union Amazon has a very union-friendly new landlord: the AFL-CIO Building Investment Trust. The AFL-CIO is the largest federation of unions in the United States. Shorenstein Properties of San Francisco sold the building at 2201 Sixth Ave., kitty-corner from the high-rise campus that Amazon is developing.
► In today's P.S. Business Journal — Amazon's headcount tops 150,000 after adding nearly 40,000 employees in 2014
---
FEDERAL GOVERNMENT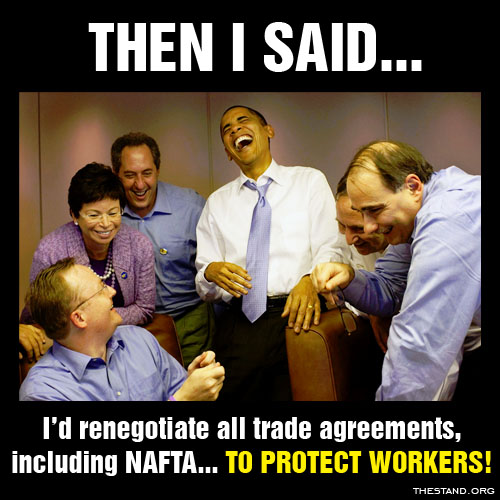 ► In The Hill — Obama to Dems: 'Get informed, not by reading the Huffington Post' — President Obama on Thursday asked wary House Democrats to hold their fire while the administration negotiates several trade deals opposed by scores of liberal lawmakers. "Keep your powder a little dry," he told the Democrats. "Get informed, not by reading The Huffington Post."
► In today's Yakima H-R — Newhouse: Congress should settle immigration law — Congressman Dan Newhouse said he's not opposed to "the notion" of a law that allows young undocumented immigrants to stay in the country legally, but wouldn't say much else about changing the country's immigration policy. He recently voted to de-fund the president's Deferred Action for Childhood Arrivals program.
► At Think Progress — State officials trying to gut ACA get caught making false claims to Supreme Court — One of the central claims in a brief by Republican attorneys general of six states — a claim that cuts to the heart of whether the Supreme Court should shred much of the ACA or leave it intact — is at odds with a pile of evidence to the contrary.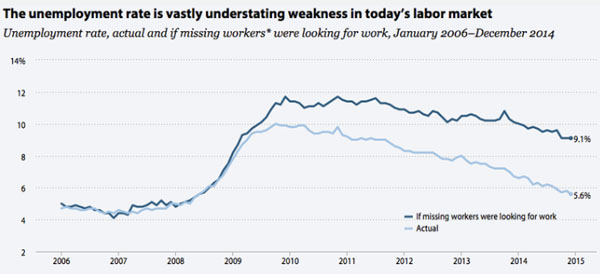 ► At Vox — One chart that explains Obama's new economic plan — This chart outlines one of the stranger facets of the recovery. Unemployment has fallen to normal levels — 5.6 percent unemployment was routine in, say, 1995, a year that few remember as some sort of labor market hellscape. But the fall in unemployment isn't just driven by people getting jobs. It's also driven by workers disappearing from the labor market.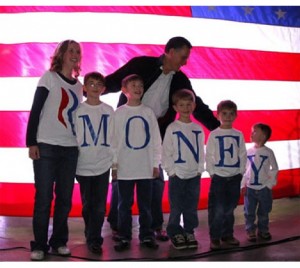 ► From AP — Romney will not run for president in '16
---
NATIONAL
► At Yahoo! Finance — Five years into recovery, Dow companies squeeze workers as investors thrive — A recent flurry of four-figure staff reductions by American Express Co., eBay Inc., Coca-Cola Co., and other Big Business stalwarts might seem at odds with the broader picture of a cash-rich Corporate America enjoying record profits and buoyant stock prices. Yet there's nothing novel about corporate prosperity coexisting with lean times for workers. In fact, most of the five-year economic expansion and corporate profit bonanza since late 2009 have come with only scant increases in headcount at the largest companies.
► From CBS Chicago — Researchers: No proof 'right-to-work' laws help economy — Dr. Robert Bruno, professor of labor and employment relations at the University of Illinois, said studies have shown the promises of job growth under so-called "right-to-work" laws are "nebulous."
---
GO HAWKS!
► In The Week — The subversive brilliance of Marshawn Lynch — Marshawn Lynch's steadfast refusal to answer questions beyond a tight-lipped "Yeah" is beginning to look more and more like a job action. By showing up and saying, "I'm just here so I don't get fined," the Pro Bowl running back was engaging in what labor activists call "work-to-rule." While petulant reporters complain, refusing to talk to the press has garnered Lynch plenty of popularity. Fan polls show that the people like what they see. Most people, it seems, can sympathize with being asked to slap on a grin and pretend everything is great because the boss demands it. By ramping up the fines on Lynch, the NFL mostly looks like it's trying to bully its player into submission.
Sign the petition — Boycott NFL Advertisers if Lynch is fined during Superbowl XLIX
EDITOR'S NOTE — Go Hawks!
---
T.G.I.F.
► Today, we wish Phil Collins a happy 64th birthday! One of the most successful songwriters and performers in rock history, Collins' near ubiquitous presence in popular music in the 1980s ended with a public backlash of Bee-Geesian proportions. He went from being Mr. Nice Guy to being universally hated and ridiculed for his admittedly sterile pop leanings. After his declining health ended his performing career, the Brit grew increasingly embittered and depressed. So Collins did what all rock stars do when they suffer a spectacular fall from grace: he started collecting Alamo memorabilia. Last year, he donated his 200-piece collection, worth between $10 million and $15 million, to the Alamo museum.
The Entire Staff of The Stand honors Phil today by presenting this earworm of a Genesis song that features the Earth, Wind & Fire horn section (no, that isn't them in this lip-sinced Top of the Pops "performance.") Enjoy.
---
The Stand posts links to Washington state and national news of interest every weekday morning by 10 a.m.
Short URL: https://www.thestand.org/?p=37423
Posted by
David Groves
on Jan 30 2015. Filed under
DAILY LINKS
. You can follow any responses to this entry through the
RSS 2.0
. Both comments and pings are currently closed.