Unfair taxes, PLU leads the way, union organizing…
Thursday, January 29, 2015
---
TAX REFORM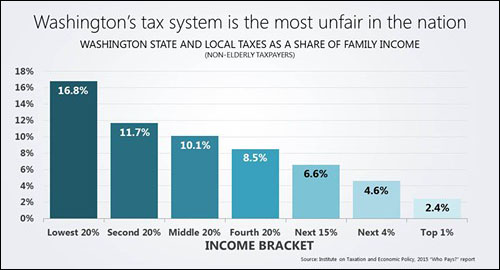 ► At Slog — We need to become a state where everyone pays their fair share (by Gov. Jay Inslee) — Our tax system is the most unfair in the nation. According to a report released this month by the Institute on Taxation & Economic Policy, Washington residents with the lowest incomes — less than $21,000 — pay 16.8 percent of their incomes in taxes. Meanwhile those with the highest incomes — more than $507,000 — pay 2.4 percent in taxes. In other words, our poorest residents pay seven times as much. With capital gains and a carbon charge we can we move toward a revenue system that meets our expectations for what Washington can be, and we can do that while doing more to become a state where everyone pays their fair share.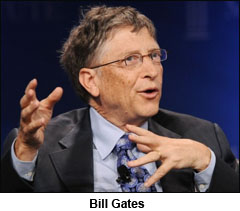 ► In Forbes — State with the world's richest man has most regressive taxes (but don't blame him) — A new analysis of state and local taxes for 2015 shows that despite changes in Kansas and other states that have reduced taxes on the rich, Washington State continues to have the most "regressive" tax system in the country. Washington is home to the country's (and world's) richest man, Microsoft co-founder Bill Gates. But you can't blame him for the state's regressive tax structure. In 2010, his father, Bill Gates Sr., was a big booster of Initiative 1098, which would have imposed the state's first income tax, but only on individuals earning more than $200,000 and couples earning more than $400,000.
EDITOR'S NOTE — So… his dad supported making the tax system more fair, but Bill Gates himself recently told noted economist and author Thomas Piketty that he doesn't want to pay more in taxes because he can spend his money in "more efficient [ways] than the government." Of course, that means that low-income people have to pay a greater share of their incomes in taxes to make up for Bill's relatively low Washington state taxes. But again, that's his preference. So, yes, we can blame him.
---
STATE GOVERNMENT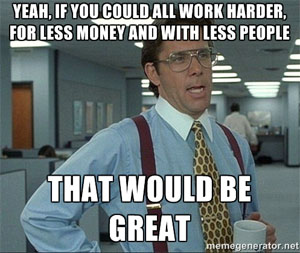 ► In today's Yakima H-R — WSDOT secretary says transportation package gaining traction — State Department of Transportation Secretary Lynn Peterson said Wednesday that chances for a transportation package are improving in the Legislature… (But) Senate Republicans are still calling for more reforms, including adjusting prevailing wage standards to reduce how much the state is required to pay contractors for labor.
► In today's (Everett) Herald — Don't limit chance to find a job (editorial) — Finding employment often is tough enough for those with a criminal record. But Washington state hasn't made it any easier, having closed off to those with a past conviction any job that requires an occupational license. HB 1553 would allow those with past convictions to petition a superior court judge for a Certificate of Restoration of Opportunities.
► In today's Seattle Times — 3 ways the Legislature can help community-college students (editorial) — Here's what the Legislature should do: Fund the State Need Grant program, train more counselors, freeze tuition to keep classes affordable, but ensure state funding keeps up with inflation.
EDITOR'S NOTE — Once again, the Times advocates for higher spending without suggesting how to pay for it. And yet they hated I-1351 for doing the same thing. Huh.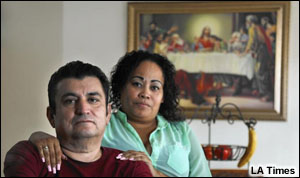 ► In today's L.A. Times — Time for trucker to focus on his family's needs — Like many workers, Julio Cervantes has a job but isn't an employee. Cervantes, 46, drives a semi-truck around Southern California, picking up cargo at the local ports and delivering it to warehouses and rail yards. Since 2002, he has worked for a series of trucking companies as an independent contractor, which means he lacks many of the benefits and workplace protections of a full-fledged employee. With union backing, Cervantes and other drivers have staged short-lived strikes against several Southland trucking firms and filed lawsuits and complaints with state and federal officials contending that the companies were unfairly denying them employee status. But his fight over the last two years has wrecked Cervantes' finances. Every hour spent walking a picket line or testifying before a public agency was a lost opportunity to earn money.
EDITOR'S NOTE — This story is listed under State Government because our Legislature is considering HB 1519, sponsored by Rep. Marcus Riccelli (D-Spokane), which would clarify which workers classify as independent contractors. This will stop employers from deliberately misclassifying employees as such in order to avoid paying taxes and insurance premiums, and ensure that businesses that play by the rules aren't undercut by competitors that deliberately misclassify workers.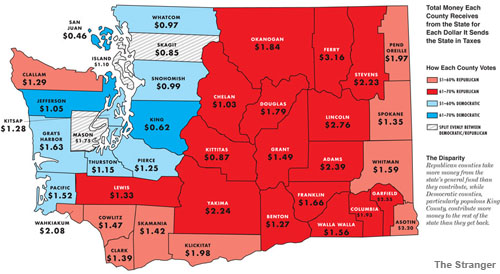 ► In today's Spokesman-Review — New bill suggest splitting Washington in half — Eastern and Western Washington are so different they should be two separate states, says a new bill that would set up a way to split them apart. A group of Republican representatives introduced a bill Wednesday calling for a 10-person legislative task force to figure out the best way to split the state, divide up the assets like highways and prisons, money for schools and health and welfare programs.
EDITOR'S NOTE — Be careful what you wish for.
► In today's Oregonian — Oregon minimum wage, paid sick day advocates say poll findings support their causes — A coalition of Oregon community and labor groups seeking a higher minimum wage and mandatory paid sick days for workers on Wednesday released the results of two recent polls showing broad support for those and other proposals.
ALSO at The Stand — Give the people what they want (WSLC Legislative Update) — It's hard to find legislative issues more popular across party lines than raising the minimum wage and allowing all workers to earn paid sick leave.
► At AFL-CIO Now — Oregon workers call for $15 state minimum wage — At a Salem rally, hundreds of supporters, including many union members, gathered in front of the state Capitol steps on Jan. 24, demanding lawmakers make Oregon the first state to raise minimum wage to $15. The Oregon AFL-CIO says raising the state minimum wage would give nearly 650,000 workers who earn less than $15 an hour a fair shot at a better life.
---
LOCAL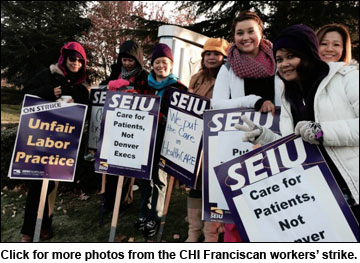 ► In today's News Tribune — Tacoma, Lakewood hospital employees sign labor agreement with Franciscan — About 1,100 employees of CHI Franciscan Health have a new contract. Union workers at St. Joseph and St. Clare hospitals ratified their new contract. About 800 of the employees at St. Joe's started bargaining their contract in October 2013. Some 300 employees of St. Clare started this past June. They are members of SEIU Healthcare 1199NW.
ALSO at The Stand — St. Joseph, St. Clare hospital workers in Tacoma win contract
► In today's News Tribune — VA Puget Sound receives money to hire 124 more employees — Congressional funds will help Seattle and Lakewood veteran hospitals continue increasing staff, cutting patient wait times.
► In today's Seattle Times — Boeing to build Air Force One replacement — The Air Force will let Boeing build the replacement for Air Force One without competition but allow bidding on specialized equipment for the new presidential aircraft, the service informed Congress.
---
FEDERAL GOVERNMENT

► From Al Jazeera America — Obama'€™s base mobilizes against president's free trade agenda — The White House, Congress and progressive activist groups are preparing to resume a long fight over the TPP. While the administration's U.S. trade representative testified in favor of TPP, labor unions and environmentalists made clear they intend to continue lobbying against the deal. "For us trade is not a matter of numbers," said Leo Gerard, president of the labor union United Steelworkers, on a Tuesday conference call with reporters. "It's a matter of lives, and jobs, and lost opportunity."
ALSO at The Stand — Keep calling Congress, urging them to 'Say NO to Fast Track'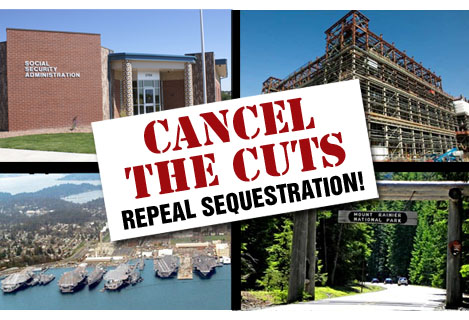 ► In The Hill — President Obama to call for reversal of sequester cuts in budget plan — President Obama will tell House Democrats on Thursday that his proposed budget will "fully reverse" sequester cuts to the domestic budget and offer a similar increase in Pentagon spending. Obama will propose infrastructure, health, and manufacturing programs that will be "fully paid for with cuts to inefficient spending programs and closing tax loopholes," according to a White House official.
► In The Hill — Obama seizes leverage from Republicans on immigration — President Obama on Thursday will call on congressional Republicans to approve a "clean" funding bill for the Department of Homeland Security that preserves his executive actions on limiting deportations.
► Frp, TPM — GOP at a loss about what to do if SCOTUS scuttles ACA subsidies — Many Republicans would view it as a dream come true if the Supreme Court were to slash a centerpiece of the Affordable Care Act by the end of June. But that dream could fade into a nightmare as the spotlight turns to the Republican Congress to fix the mayhem that could ensue.
---
NATIONAL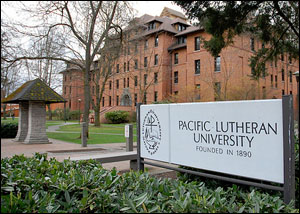 ► In The Hill — PLU decision on faculty unions will reverberate across the country — In a landmark decision last month, the National Labor Relations Board cleared away two major obstacles to higher education faculty organizing in Pacific Lutheran University. The PLU decision — perhaps the most significant decision regarding faculty organizing in over 30 years — removes barriers to unions at religiously-affiliated institutions, and secures organizing rights for professors on private campuses.  It will allow faculty to unite on campuses across the country, fueling a vibrant movement that in the past two years alone welcomed over 6,000 university and college professors into the SEIU.
► In today's NY Times — How do we increase empathy? (by Nicholas Kristof) — A column about a buddy who dealt with the consequences of poverty and inequality sparked a conversation about empathy, or the lack thereof.
---
TODAY'S MUST-READ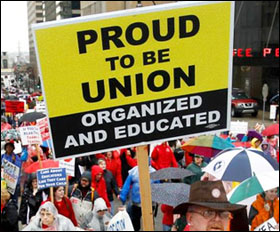 ► In the American Prospect — Labor at a crossroads: The case for union organizing (by Paul Booth) — The labor movement has been growing while shrinking. Growing through organizing. In the past 40 years, 3.5 million workers have been driven out of unions, not by choice, but by offshoring of what were union jobs; deunionization of major industries; the rise of relentlessly anti-union companies to industry dominance; the thwarting of the promise of the labor law by the general adoption of the union-busting playbook by employers; and the spread of casualization, irregular part-time and temporary work, and all the forms by which the employer-employee legal nexus has been undermined. But, in the face of all that, workers continued to organize, an estimated 1.5 million new union members during that same period, and unions continued to support them. Workers took risks, and unions did, too. The millions of workers who organized unions include home care and child care providers, nurses and emergency medical technicians, hotel workers, adjunct college teachers, transportation security officers, taxi drivers, wireless telecom workers, drug store workers, truck drivers in ports, pickle harvesters, bakery workers and passenger service agents… The case for organizing, today, is not just that we should do it; it's also that we can.
---
The Stand posts links to Washington state and national news of interest every weekday morning by 10 a.m.
WASHINGTON IS A UNION STATE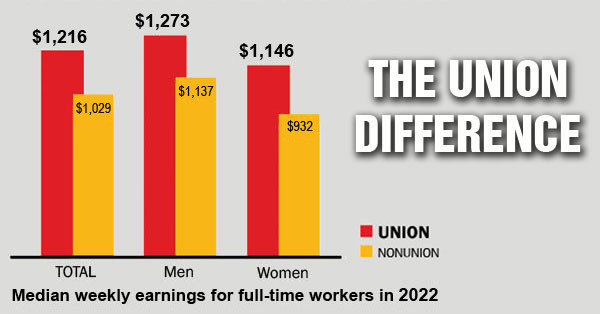 CHECK OUT THE UNION DIFFERENCE in Washington state: higher wages, affordable health and dental care, job and retirement security.
FIND OUT HOW TO JOIN TOGETHER with your co-workers to negotiate for better working conditions and respect on the job. Or go ahead and contact a union organizer today!