Legislative Update: Give the people what they want!
House panel hears popular bills on minimum wage, paid sick leave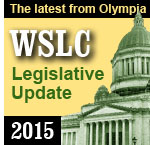 Today's edition of the WSLC Legislative Update newsletter:
OLYMPIA (Jan. 28, 2015) — It's hard to find legislative issues more popular across party lines than raising the minimum wage and allowing all workers to earn paid sick leave. Both issues played prominently in President Obama's State of the Union speech last week alongside other proposals that poll through the roof (with the notable exception of passing more NAFTA-like trade deals). The president's renewed populist message has him earning his highest approval ratings in more than 18 months.
Washington's groundbreaking initiative that made our state the first to automatically increase its minimum wage each year was approved by two-to-one margin, passing on both sides of the mountains, in every county of the state. Although last fall's record low voter turnout was a boon to Republicans across the nation, minimum wage increases were once again big ballot winners. Conservative states like Alaska, Arkansas, Nebraska and South Dakota all voted to increase theirs.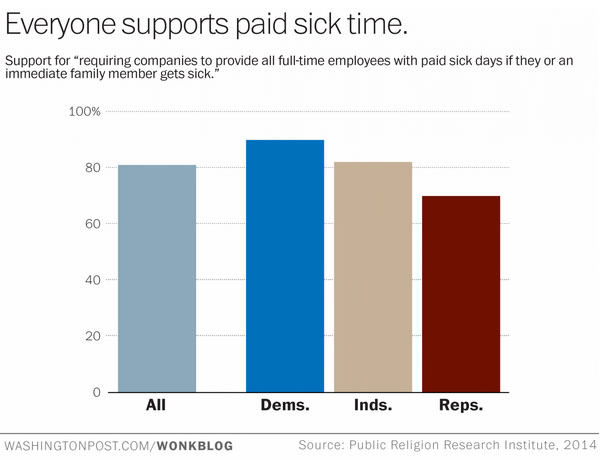 As for sick leave, a 2014 survey by the Public Religion Research Institute found that 81 percent support paid sick leave legislation of the type Obama proposed — allowing all full-time workers to earn at least 7 days per year. The survey found majority support across all demographic and political groups, with fully 70 percent of Republican voters saying they support such a law.
But more important than simply being popular, these proposals are the right thing to do — especially at a time of growing income inequality and stagnant wages.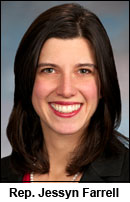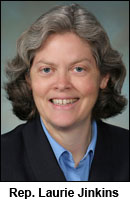 That was the message delivered Monday in the House Labor Committee during testimony on HB 1355, sponsored by Rep. Jessyn Farrell (D-Seattle), to accelerate the state's minimum wage increases so it reaches $12 an hour in four years, and HB 1356 from Rep. Laurie Jinkins (D-Tacoma) to allow all workers to earn at least 40 hours of paid time off per year. Both bills — which are part of the Washington State Labor Council's Shared Prosperity Agenda — have a remarkable number of sponsoring legislators: 43 in the House  and 21 in the Senate.
Several grocery employees, fast-food workers, and small business owners testified in support of HB 1355 and HB 1356, saying it was the right thing to do and that the benefits to businesses far outweigh any costs.
Of course, corporate lobbying groups testified against both proposals Monday, making the usual arguments that "mandating" higher wages and better benefits harms businesses. Never mind that their predictions of job loss and inflation never come true.
In fact, there's ample evidence that raising wages boosts the economy and helps businesses. For a person working full-time at $10/hour, an increase to $12 would mean an extra $347 per month to spend on rent, food, utilities, and other basic necessities. That's not only a desperately needed boost for working families struggling to survive, it's a boost for all the businesses in their community.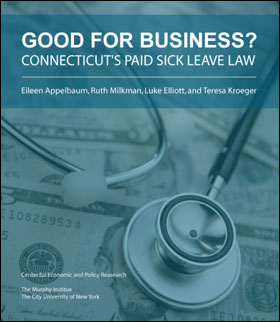 Likewise, cities that have enacted a paid sick and safe leave standard have no experienced job loss. Connecticut, the first state to enact a paid sick leave law in 2012, has experienced higher employment levels in key sectors covered by the law, including hospitality and health services. A survey of business owners there found that three-quarters of them supported the law, a large majority experienced no or small increased cost, and benefits included less spread of disease in the workplace, and higher morale.
People get these issues. If you work full time, you shouldn't be forced to live in poverty. You shouldn't be forced to choose between caring for a sick kid and putting food on your table.
Over the years, obfuscation by tassel-toed lobbyists — and the legislators who side with big business groups over what the public clearly wants — has derailed these proposals. Perhaps that's why progress always seems to come via initiative, rather than through legislation. But as The Seattle Times reports, some opponents are wary that they may be better off negotiating on these issues now than facing an initiative that takes even more dramatic steps. And will be sure to pass.
The WSLC strongly urges the House Labor Committee to advance both measures. The panel is scheduled to vote on Thursday.
---
Discouraging wage theft, retaliation

While most employers do their best to pay workers lawfully — or quickly remedy pay problems when they are identified — there are some businesses that simply do not pay what is owed to their workers, even when presented with evidence showing the shortfall.  That is stealing, plain and simple.  Even worse, some employers will retaliate against workers who seek what they've rightfully earned by cutting their hours, terminating employment, or threatening immigration-related actions. This is immoral and unacceptable. It's like having someone rob your home, reporting the crime to police, and having the thieves retaliate by burning your house down.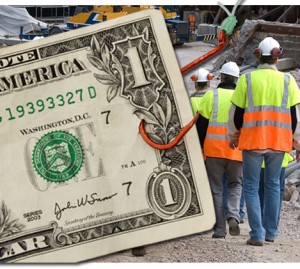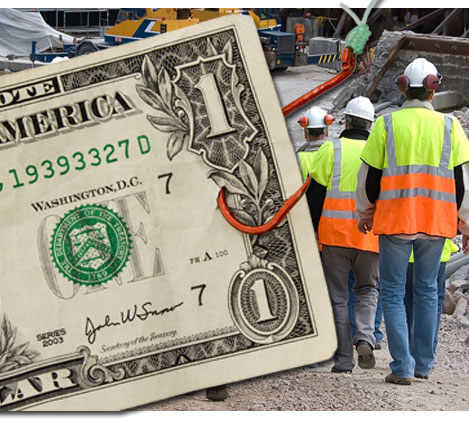 But there are few protections in state wage-and-hour laws to protect workers from retaliation. That is why it is so important that the Legislature adopt HB 1354, sponsored by Rep. Cindy Ryu (D-Shoreline), to grant administrative and legal remedies to employees retaliated against for reporting violations of minimum wage laws, prevailing wage laws. This bill was heard Monday in House Labor and Commerce Committee.
Two more bills related to wage theft were heard by the same committee on Tuesday:
■  HB 1518, the Wage Recovery Act sponsored by Rep. Mia Gregerson (D-SeaTac), would provide a path for victims of wage theft to be made whole, even if the employer tries to hide assets by closing down one company, or reopening under a new name. It will allow workers in all industries to use liens for all wages owed, and provide deterrents for breaking the law by including interest, penalties, and statutory damages. This legislation follows other state models that allow workers to have their wages recovered through liens on personal and real property.
■  HB 1519, sponsored by Rep. Marcus Riccelli (D-Spokane), would clarify which workers classify as independent contractors. This will stop employers from deliberately misclassifying employees as such in order to avoid paying taxes and insurance premiums. This bill will ensure that businesses that play by the rules aren't undercut by competitors that deliberately misclassify workers, while protecting the independence of true independent contractors and sole proprietors—like lawyers, doctors, real estate agents and home-based sales.
The WSLC urges passage of all these important bills.
---
WSLC backs Equal Pay Opportunity Act

Sen. Annette Cleveland (D-Vancouver) and Rep. Tana Senn (D-Mercer Island) are sponsoring the Equal Pay Opportunity Act (SB 5630/HB 1646) to address income disparities, employer discrimination and retaliation practices, and reaffirms Washington's longstanding pursuit of equality in the workplace.
"Even today, women are paid 80 cents for every dollar earned by men for similar work," said Rep. Senn. "It's time to revisit this issue so we move quickly toward gender pay equity in the workplace."
An estimated 40 percent of households in America rely on a woman as the leading or sole breadwinner, but discriminatory income disparities limit women's ability to sufficiently provide for their families. This disparity in pay leads to higher rates of poverty among women and children.
SB 5630/HB 1846 will require employers to provide a valid reason, such as education, training, or experience to validate disparities in pay. It will also permit workers to discuss their pay without fear of retaliation from their employer. These conversations will allow all employees to better understand their positions and determine if they are indeed being paid unfairly.
---
Johnson: Create good jobs, tackle climate change

In the wake of the Great Recession, as our state and national economies sputter back to life, there are two major threats to broadly shared prosperity: extreme income inequality and disruptive climate change.
On Tuesday afternoon, the House Committee on Environment heard HB 1314 on implementing a carbon pollution market program to reduce greenhouse gas emissions. This is part of Gov. Jay Inslee's ambitious proposal to raise revenue for transportation, schools and other projects by levying fees on the state's biggest polluters.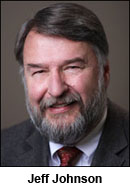 WSLC President Jeff Johnson, who serves on the Alliance for Jobs and Clean Energy, testified on the importance of not chasing jobs in carbon-intensive industries out of Washington state, but rather incentivizing these industries to invest in carbon reduction technologies while protecting family-wage jobs.
"We can tackle both of these issues by tackling them together," Johnson said. "The transition to a clean-energy based economy can create more family-wage union jobs and shared prosperity, if we do it right."
The WSLC is aware that specific unions have issues with HB 1314 as introduced and wants to work with all of organized labor to address those concerns.
"The urgency of the climate and equity challenges compel us to find common ground," Johnson said. "We don't have the luxury of letting denial and division stand between us and the solutions that our kids and grandchildren deserve. With a clear-headed, pragmatic sense of determination and cooperation, we can create good jobs, equity and climate solutions now."
---
WSLC legislative events Feb. 19-20

The Washington State Labor Council Legislative Reception will be Thursday, Feb. 19 from 6:30 to 8:30 pm at the Red Lion in Olympia. The following day, Friday, Feb. 20, we will have its WSLC Lobby Day and rally on the Capitol steps. Get the details.
WASHINGTON IS A UNION STATE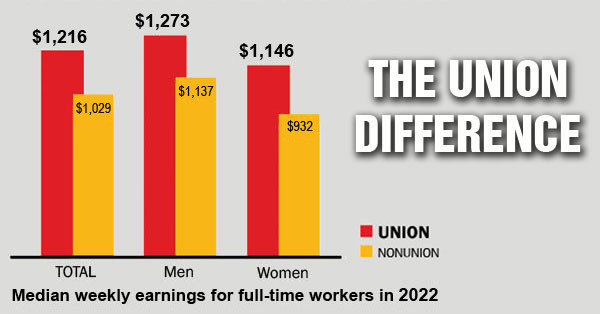 CHECK OUT THE UNION DIFFERENCE in Washington state: higher wages, affordable health and dental care, job and retirement security.
FIND OUT HOW TO JOIN TOGETHER with your co-workers to negotiate for better working conditions and respect on the job. Or go ahead and contact a union organizer today!