WSLC outlines Shared Prosperity Agenda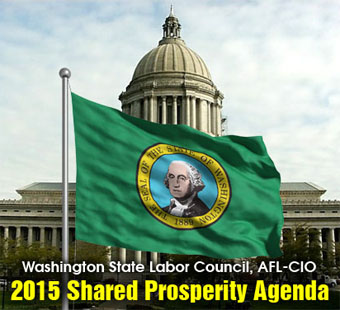 OLYMPIA (Jan. 15, 2015) — The Washington State Labor Council, its affiliated unions, and community partners on Wednesday detailed an ambitious Shared Prosperity Agenda for the 2015 legislative session. The WSLC, a state federation of the AFL-CIO, is the largest labor organization in the state, representing the interests of some 400,000 rank-and-file union members. (Download a summary of the agenda.)
The WSLC's agenda focuses on rebuilding the middle class by lifting low-wage workers out of poverty, by investing in quality public services and infrastructure to keep Washington competitive and create better jobs, and by establishing tax incentive and revenue accountability so the state can afford to do so without making the nation's most regressive tax system even worse.
"This agenda is based on a simple premise," said WSLC President Jeff Johnson. "Those who create the prosperity and wealth should share in that prosperity and wealth."
The "Rebuilding the Middle Class" portion of the WSLC agenda includes supporting legislation to discourage wage theft by employers and give the victims of this crime a batter opportunity to recover what they've earned; allow all workers to earn paid sick and safe leave to improve public health and increase families' economic stability; and to increase the state minimum wage; and more.
The "Creating Secure and Stable Jobs" portion includes making a making job-creating investments in the state infrastructure to maintain and improve its transportation system, water resources, public buildings, and schools; promote workplace safety by ensuring safe staffing levels for healthcare and rail workers; implementing tax and revenue accountability to ensure taxpayer-funded incentives achieve their promised job-creation goals and state contracting achieves its promised savings; and improving funding for education at every level, including fair pay for teachers and faculty and decreasing the cost of higher education; and more.
A number of workers were invited to Wednesday's press event and explain their support for elements of the agenda.
Providence St. Peter RN Dawn Cutler said short staffing and "productivity goals" were endangering the safety of nurses and the quality of health care.
"It's time for the Legislature to set some minimum basic staffing standards," she said.
Albertsons checker Kyong Barry and Fred Meyer cashier Debbie Bilyeu described a workplace where inability to take sick leave puts the public at risk.
"(When we are sick) we are forced to come to work and pass it on to our customers — babies, senior citizens and some of the most vulnerable people," Barry said.
Likewise, Olive Garden employee Liz Atkinson-Pattison said her fellow workers get no paid sick leave, make at or near the minimum wage, and routinely aren't allowed to take breaks as required under federal law. She said the state minimum wage needs to be increased and standards need to be established so all workers can earn paid time off when they are sick.
"It's important that we aren't living to work, but that we're working to live," she said.
Corrections sergeant Michael Boe who works at the Monroe Correctional Complex said he and his co-workers have gone far too long without a cost-of-living wage increase. That point was echoed by Dennis Eagle of the Washington Federation of State Employees, Council 28.
"There hasn't been a pay raise for state employees since 2008, the longest stretch in more than 50 years," Eagle said. "One estimate is that state employees have lost 15% of their purchasing power over [that period]… Ratifying the [state employee] collective bargaining agreements is simply the right thing to do." (Read Eagle's comments in their entirety here.)
The WSLC notes that, in addition to its Shared Prosperity Agenda, the council will support a range of issues that address income inequality, economic opportunity, and tax fairness, as well as legislation championed by the WSLC's affiliated unions.
For more information, see a summary of the agenda. To get regular updates on its progress throughout session, join the email subscription list for The Stand and the WSLC's weekly Legislative Update newsletter.
Short URL: https://www.thestand.org/?p=36970
Posted by
David Groves
on Jan 15 2015. Filed under
STATE GOVERNMENT
,
TAKE A STAND!
. You can follow any responses to this entry through the
RSS 2.0
. Both comments and pings are currently closed.