Inslee meets with workers on minimum wage, sick leave
By DAVID GROVES
The Stand
TACOMA (Feb. 18, 2015) — Several workers and business leaders sat down at a Tacoma restaurant Tuesday with Gov. Jay Inslee for an extraordinary informal discussion about their experiences working in the retail, health care, grocery and food service industries. By the end of the conversation, the governor was more passionate than ever about his support for raising the state minimum wage, establishing a paid sick leave standard, and making taxes fairer for Washington's working families.
"If we're going to have a successful economy," the governor concluded. "It's time for working people to get a break."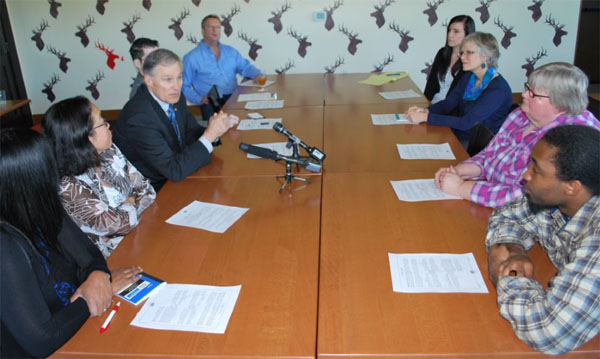 Anthony Jenkins, a home health care worker, explained that he can't afford reliable transportation to work. After paying for repeated car problems, he now has to rely on his grandparents for the 30-mile commute. When the governor asked him about what happens if he gets sick, Jenkins said that he doesn't get any paid sick days and he has to be extra careful not to pass on any illness to his vulnerable clients.
"When I'm sick, I take a loss," he said.
Darcel Covey, an Albertson's employee for 15 years, talked about the public health risks of workers in her industry coming to work sick and handling food in the deli, meat and produce departments.
"Some of the people I work with are single parents," she said. "They can't stay home because they need the wages."
This session, Inslee is urging passage of legislation to raise the state minimum wage, allow all workers to earn paid sick leave, and tax policies that make the system fairer for low-wage and middle-class taxpayers while asking those "at the top of the income pyramid" to pay just a little bit more.
HB 1355, sponsored by Rep. Jessyn Farrell (D-Seattle), would accelerate the voter-approved annual minimum wage increases to about 50 cents per year over the next four years to reach $12 per hour in 2019, and then resume inflationary increases. HB 1356), sponsored by Rep. Laurie Jinkins (D-Tacoma) would allow all workers in Washington state to earn at least 40 hours of paid time off per year.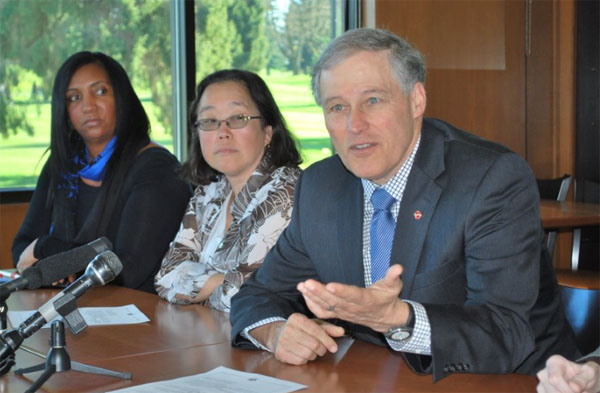 "(These) are not earthquakes economically for businesses," Inslee said. "What we are suggesting is incremental changes — a $12 minimum wage phased in (over four years), we're suggesting a sick leave policy that's reasonable… that we have a fairer tax system," Inslee said. "So our working mantra is we need just a little more health and a just little more fairness in our system for working families."
Inslee thanked two business leaders in attendance for supporting the paid sick leave standard recently approved in Tacoma and now being considered for the rest of the state.
"With the employees I've talked to, what it really comes down to is they want to know they are cared for and they are important to the company," said Kenneth Guinup, Human Resources Director for the Smoke + Cedar Restaurant in Tacoma, which hosted Tuesday's discussion.
Inslee responded, "I've talked to a lot of business owners who've said it pays to have sick leave and a decent wage because it helps maintain a stable workforce and they don't have to recruit and retrain people every six to eight months and all the costs involved in that. On a macroeconomic level, I think this helps the economy of the state of Washington to have a healthy, stable, well-trained and motivated workforce."
Guinup agreed, adding that in the restaurant industry it costs about $1,300 to recruit and retrain employees.
"Then you've got an investment worth keeping," answered the governor.
The governor promised to carry the messages of everyone at the table back to legislators, but also urged them to call their elected representatives and senators to support these policies as well.
Call 1-800-562-6000 to leave a message for your legislators in support of HB 1355 and 1356, and of tax fairness for working families.
Short URL: https://www.thestand.org/?p=37867
Posted by
David Groves
on Feb 18 2015. Filed under
STATE GOVERNMENT
. You can follow any responses to this entry through the
RSS 2.0
. Both comments and pings are currently closed.