We give 'em a break, Boeing wins, 401(k) failure…
Tuesday, March 24, 2015
---
STATE GOVERNMENT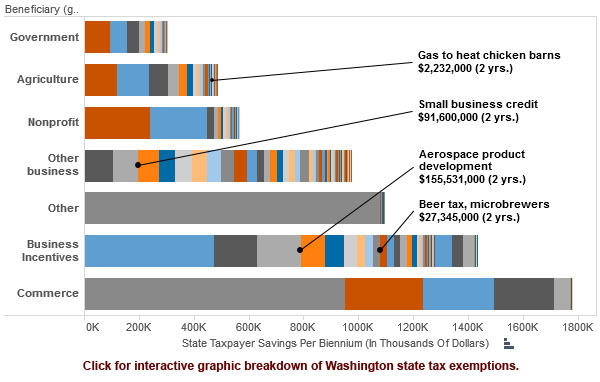 ► From KPLU — Do state tax breaks level the playing field, or reward the powerful? — Washington state's tax break for chicken barn heating fuel highlights a lot of what's complicated — and controversial — about a state tax system that's often criticized as outmoded or unfair to the poor. In 1915, there were 20 tax exemptions on Washington's books. By 1935, there were nearly 80. Now, there are more than 600, roughly 450 of which would generate some revenue for the state if repealed, according to state revenue officials.
► From PubliCola — Democrats call for 'fair and balanced' hearings — Citing unchallenged testimony on workers' compensation rates from the conservative think tank the Washington Policy Center (the same group that botched the minimum wage story last week), Sen. Sharon Nelson (D-West Seattle) accused the Republicans of running skewed hearings:
The intention of the rule is to give all sides of an issue time and opportunity to speak. That hasn't been happening. I encourage the WPC and all think tanks — right and left — to come to Olympia and give their side of the argument. But when one side is given the opportunity to dominate the conversation, that is problematic.
ALSO at The Stand — Can we get fair hearings? (WSLC Legislative Update)
► In today's Olympian — Wage card fees put pinch on laborers (editorial) — What sounds like a convenience for employers is sometimes a cruel joke for low-wage workers. Some employees are paid using payroll cash cards that banks then charge fees for accessing, according to state Rep. Graham Hunt (R-Orting). Hunt sponsored legislation to curb the practice after a constituent contacted him.
► In today's Olympian — State Auditor Troy Kelley back in office, staying out of public view — In a written statement, Troy Kelley said he's "puzzled" by federal investigation and has never broken the law.
---
BOEING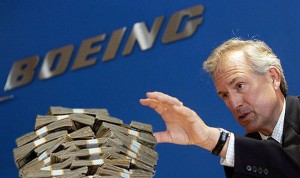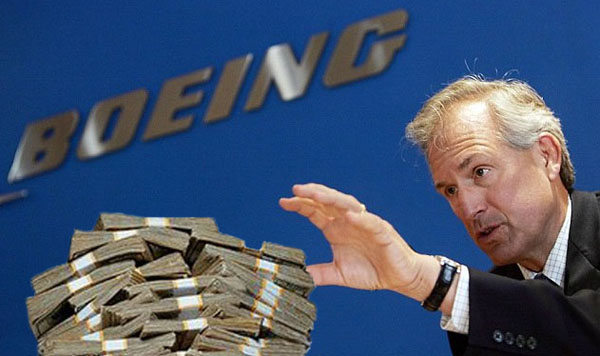 ► In the Washington Post — The United States of subsidies: The biggest corporate winners in each state — In late 2013, Washington state made history. On a mid-November Monday, Washington Gov. Jay Inslee (D) signed into law the largest corporate tax break in any state's history, with an estimated lifetime value of $8.7 billion. The package was the result of a special three-day session Inslee called in order to entice Boeing to build its 777X plane in the state. Boeing didn't just score big that day. The aerospace giant has received more state and local subsidy dollars than any other corporation in America, according to newly released data compiled by Good Jobs First, a policy resource center on subsidy data.
► In the Seattle Times — Ron Judd's weekly column — Wow: $29 million last year to CEO Jim McNerney, while working stiffs got piddly raises, while the company continued to export jobs and slurp up obscene corporate welfare from Washington and other states? Are you sure that's enough?
---
LOCAL
► In today's Spokesman-Review — Spokane is test site for federal jobless program — Spokane is one of a handful of national test sites for a new federal program designed to help the chronically unemployed get jobs and get off public assistance.
► In today's News Tribune —Tacoma, Seattle ports meeting again privately — Puget Sound's two largest ports have scheduled another confidential meeting for commissions to talk about planned alliance.
---
FEDERAL GOVERNMENT
► From Reuters — U.S. fast-track trade deal unlikely until next month, says Sen. Hatch — Legislation to streamline the passage of trade deals through the U.S. Congress will probably not be done until next month, the Republican chairman of the Senate Finance Committee said on Monday. Sen. Orrin Hatch said he was prepared to work on a further concession to bring the panel's top Democrat, Ron Wyden, on board, but there was a limit to how far he could compromise on a bill seen as key to finalizing a Pacific trade pact.
► In today's Seattle Times — Trade negotiations: We've been burned before by fast-track authority (letter) — We've been burned in the past by fast-track negotiations, behind closed doors and led by big business. They have excluded and trampled on labor and environmental regulations. Not again.

► In today's Washington Post — Federal workers could pay more for health care, get less for retirement under GOP plan — The federal budget proposed by House Republicans would reduce the amount of money that government employees earn on a popular retirement plan and potentially increase the amount they have to contribute to their health-care plan, according to newly released details.
► From AP — Number of uninsured fell by more than 11 million since ACA's passage, CDC reports — Although that still would leave about 37 million people uninsured, it's the lowest level measured in more than 15 years.
► From The Hill — BP leaves ALEC — Oil giant BP said Monday it is leaving the American Legislative Exchange Council, a controversial conservative group who has drawn criticism for its position on climate change.
---
NATIONAL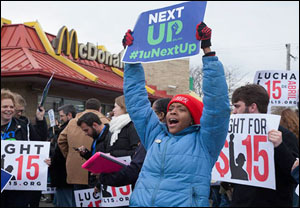 ► From the People's World —Young Workers Summit feels the jolt of young labor activism — The 2015 Next Up Young Workers Summit had all the hallmarks of a youthful presence, inspiring change and justice through activism and quashing notions that the labor movement is not drawing in young workers. Quite the contrary, they were at the forefront over the course of this four-day weekend event.
► From Think Progress — Florida County makes it easier to get unpaid wages from bosses — Workers who get cheated out of their due pay in central Florida will have a much easier time recovering what they're owed after Osceola County approved a tough new wage theft law, making it the latest in a string of local governments to take on increased responsibility for enforcing federal wage and hour laws.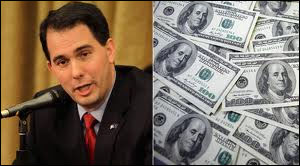 ► From Yahoo News — Secret $1.5 million donation from Wisconsin billionaire uncovered in Scott Walker dark-money probe — John Menard Jr., a tough-minded, staunchly conservative 75-year-old billionaire, owns a highly profitable chain of hardware stores throughout the Midwest. Three years ago, he wrote more than $1.5 million in checks to a pro-Walker political advocacy group that pledged to keep its donors secret. Menard's previously unreported contributions seem to have paid off for the businessman and his company. In the past two years, Menard's company has been awarded up to $1.8 million in special tax credits from a state economic development corporation that Walker chairs, according to state records.
---
TODAY'S MUST-READ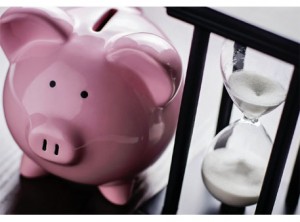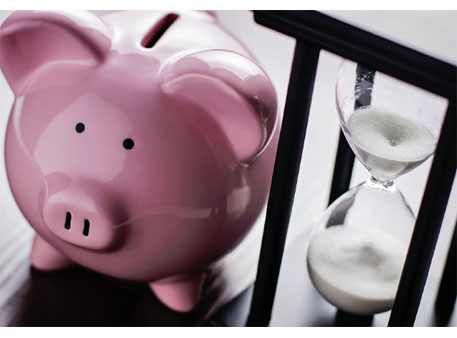 ► In today's CBS Chicago — Retirement crisis: The great 401(k) experiment has failed many Americans — You need to know this number: $18,433.That's the median amount in a 401(k) savings account, according to a recent report by the Employee Benefit Research Institute. Almost 40 percent of employees have less than $10,000, even as the proportion of companies offering alternatives like defined benefit pensions continues to drop… Shifting the responsibility for growing retirement income from employers to individuals has proved problematic for many American workers, particularly in the face of wage stagnation and a lack of investment expertise. For them, the grand 401(k) experiment has been a failure.
ALSO from The Stand's Calendar — The "REAL Retirement Security Now" forum, focusing on essential programs like defined-benefit pensions, Social Security, Medicare and Medicaid, will be held Thursday, April 2 from 10 a.m. to 1 p.m. (and will include lunch) at the Machinists Hall, 9125 15th Pl. S. in Seattle. Please RSVP by calling 1-800-562-6097 or emailing info@rpecwa.org. Learn more.
---
The Stand posts links to Washington state and national news of interest every weekday morning by 10 a.m.
WASHINGTON IS A UNION STATE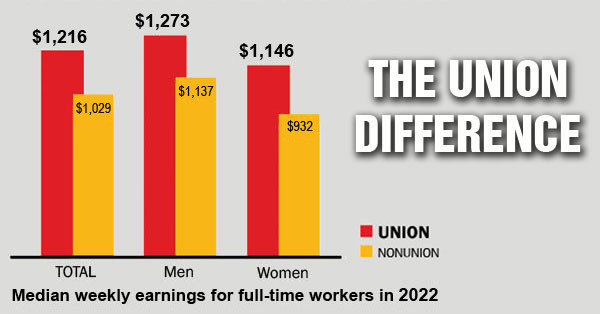 CHECK OUT THE UNION DIFFERENCE in Washington state: higher wages, affordable health and dental care, job and retirement security.
FIND OUT HOW TO JOIN TOGETHER with your co-workers to negotiate for better working conditions and respect on the job. Or go ahead and contact a union organizer today!