Today's Tesoro vote, two big hearings, the enemy is BS…
Monday, March 23, 2015
---
REFINERY STRIKE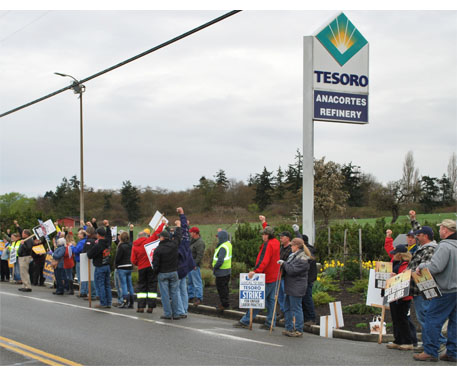 ► From Reuters — Striking refinery workers to vote on contract — Workers on strike at three Tesoro Corp refineries on the West Coast are due to vote on a new contract this week, the United Steelworkers union said. Workers at two Tesoro refineries in California and one in Washington state have been walking picket lines since strikes began on Feb. 1.
► In the Skagit Valley Herald — Rally shows support for refinery workers — More than 100 union members and community supporters rallied Saturday in support of Tesoro Anacortes oil refinery workers who have been out on strike since Feb. 1.
ALSO at The Stand — Community rallies at Tesoro; contract vote set — At the rally, local negotiators for the United Steelworkers union (USW) said that a tentative agreement was reached Friday on terms for returning to work. Refinery workers will vote on Monday, March 23 and the union is recommending ratification of the deal.
---
STATE GOVERNMENT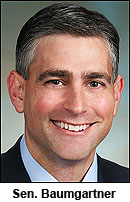 ► In the Spokesman-Review — Minimum wage, paid sick leave bills to get hearing in Senate — A proposal to raise the state's minimum hourly wage to $12 by 2019 – which has proved a major bone of contention between Democrats and Republicans this session – is set for another round on March 30. The Senate Commerce and Labor Committee will hold a hearing on that bill and another passed by the House requiring many businesses to offer sick leave. Chairman Mike Baumgartner (R-Spokane) said Friday both could come up for a committee vote by April 1, the deadline for bills that have passed one chamber to be approved by a committee in the other.
ALSO TODAY at The Stand — Lift ban on using local funds for college faculty step increases
► In today's Columbian — Rivers tells reasoning for vote on $15 billion transportation package — Sen. Ann Rivers hosted three town hall meetings Saturday in Clark County to explain why she's the only local senator to support a proposed $15 billion state transportation package.
► From KPLU — Washington voters once passed an income tax by a wider margin than the vote for legal booze — Washington's tax system is the most regressive in the nation. Let's rewind the clock to see how we got here. Here's a pop quiz: Did you know Washington voters once passed an income tax? They did. The year was 1932, and it all had to do with what was going on with farmers.
---
LOCAL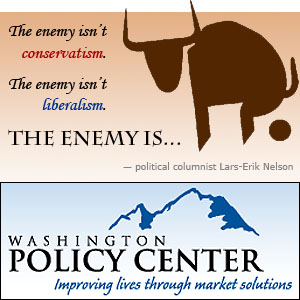 ► MUST-READ in Sunday's Seattle Times — Local facts no match for national fiction (by Danny Westneat) — A local, business-backed "think tank," the Washington Policy Center, wrote a blog post, "Seattle's $15 wage law a factor in restaurant closings," citing a completely unsupported "rising trend in restaurant closures." Three days later, the American Enterprise Institute, the granddaddy of all conservative think tanks in Washington, D.C., picked it up. It reported — and I use that term so loosely it's hanging by a thread from this sentence — that "already the city has seen a number of restaurant closings and job losses related to the government-mandated wage hike." It referred to Seattle as having "an economic death wish." At that point the story exploded across the crazysphere, getting more ludicrous with each telling. In the New York Post we were "Jobless in Seattle." In the Washington Times, it was "Blue-state Businesses on Endangered Species List." Finally Rush Limbaugh out-bloviated them all, as is his wont, lowering the boom with "Seattle Libs Kill Restaurant Industry."
In any case, it's all been debunked. But here's the thing: Rush obviously doesn't care. In fact, at week's end none of the news outlets or think tanks cited above had corrected the record.
► In today's Tri-City Herald — Easing compensation rules for ill Hanford workers being considered — A federal advisory group will consider this week further easing the requirements for some Hanford workers to receive $150,000 in compensation plus medical care if they have developed certain cancers.
► From Teamsters Local 117 — Thompson announces John Scearcy as new Local 117 Secretary-Treasurer — The Executive Board of Teamsters Local 117 unanimously voted to appoint John Scearcy to succeed Tracey Thompson as the new Secretary-Treasurer effective April 1. The Secretary-Treasurer is the principal officer at Teamsters Local 117, responsible for the day-to-day operations of the Union.
---
FEDERAL GOVERNMENT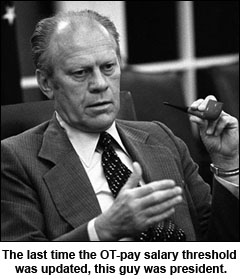 ► At Huffington Post — Obama says workers are being 'cheated' out of overtime pay — President Barack Obama said his administration would soon release details of a highly anticipated reform to the nation's overtime rules, telling The Huffington Post on Friday that many Americans were being "cheated" out of time-and-a-half pay. The key to the reforms is the so-called salary threshold. Salaried workers who earn less than a certain amount of money in a year are automatically entitled to time-and-a-half pay, no matter their job duties. Right now, that salary threshold is $23,660.
► From the Hill — Senate GOP tackles controversial 'micro-unions' — Senate Republicans are getting behind an effort to block employees from forming multiple unions within a single company, better known as "micro-unions." The NLRB has begun recognizing micro-unions that are popping up at different companies.
► At TPM — Make-or-break week for GOP Congress — House and Senate Republicans face their biggest week of the 114th Congress so far, one that could go a long way toward setting up their overall strategy — and set the tone for what they accomplish — heading into the heart of the legislative year.
---
NATIONAL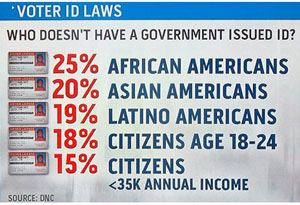 ► From AP — Supreme Court rejects challenge to Wisconsin Voter ID law — The Supreme Court on Monday turned away a challenge to Wisconsin's voter identification law, after having blocked the state from requiring photo IDs in November's general election. The justices' action means the state is free to impose the voter ID requirement in future elections, and is further evidence that the court put the law on hold last year only because the election was close at hand and absentee ballots already had been mailed with no notification of the need to present photo IDs.
► From AFL-CIO Now — In Kentucky, 'right-to-work' falls far below the Mendoza line — The union-busters pushing so-called "right-to-work" restrictions are just one for seven in states this year.
► In the Chicago Tribune — Illinois AG Madigan says no to Rauner right-to-work zones — Democratic Attorney General Lisa Madigan said Friday that Republican Gov. Bruce Rauner's plan to put in place small right-to-work areas across Illinois is illegal.
---
TODAY'S MUST-READ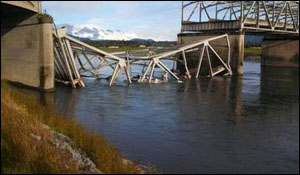 ► In the Seattle Times — U.S. snoozes while rest of world invests in infrastructure (by Jon Talton) — The reality is that America has little recent experience with true infrastructure "megaprojects." California wants to build high-speed rail despite enormous headwinds. But otherwise, the nation is now spending less on infrastructure than it has in years. In most cases, the projects are replacing aging structures, such as the viaduct, or are small-scale efforts. No matter that the American Society of Civil Engineers grades our infrastructure a D-plus, saying $3.6 trillion in investment is needed by 2020. Or that well-traveled bridges known to be old and risky fall into rivers. That mudslides plague the railroad north of Seattle, including Sounder commuter service and an important freight line for trade, even though the means to solve the problem have long been available. The Columbia River Crossing, and its federal help, went nowhere. ​
---
The Stand posts links to Washington state and national news of interest every weekday morning by 10 a.m.
Short URL: https://www.thestand.org/?p=38816
Posted by
David Groves
on Mar 23 2015. Filed under
DAILY LINKS
. You can follow any responses to this entry through the
RSS 2.0
. Both comments and pings are currently closed.