Rally Saturday, 80% back accountability, Shut Up and Dance…
Friday, March 20, 2015
---
REFINERY STRIKE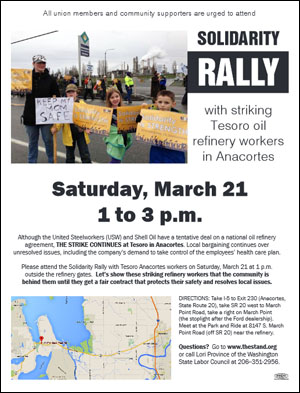 ► SOLIDARITY RALLY SATURDAY IN ANACORTES — Although the USW and Shell reached a tentative deal on a national oil refinery agreement, the strike that began Feb. 1 continues at Tesoro in Anacortes, Wash. Local bargaining continues over unresolved issues, including the company's demand to take control of the employees' health care plan. All union members and community supporters are urged to attend a Solidarity Rally with Tesoro Anacortes workers at 1 p.m. on Saturday, March 21 outside the refinery gates.
Meet at the Park and Ride at 8147 S. March Point Road (off Highway 20) near the refinery. Let's show these striking refinery workers that the community is behind them until they get a fair contract that protects their safety and resolves their local issues. Download and share the rally flier.
---
STATE GOVERNMENT

► In today's (Everett) Herald — Boeing, let's not get emotional about those tax breaks (by Doug Parry) — When big corporations hand out layoff notices, they say it's nothing personal. We all know that workers are just cogs in the machine, and sometimes the machine needs fewer cogs. But when every cog in the state chips in to make the machine happy, we start to take the layoff notices more personally. Boeing should be getting that message from Rep. June Robinson's bill that would roll back the tax breaks enjoyed by aerospace companies if they reduce their workforce in the state. In our latest non-scientific poll, we gauged your support for Robinson's bill. A resounding 80 percent said the tax breaks should go away if the jobs do.
► In today's News Tribune — Teachers union rallies members to plead for higher pay, lower class size — Nearly 300 teachers and education support professionals from Pierce County gathered this week at Puyallup High School for an after-school event aimed at sending a message to legislators about school funding.
► In today's News Tribune — State Auditor's Office turns over documents to Department of Justice — The state Auditor's Office said it turned over documents to the U.S. Department of Justice Thursday, three days after federal agents conducted a search of State Auditor Troy Kelley's Tacoma home.
---
LOCAL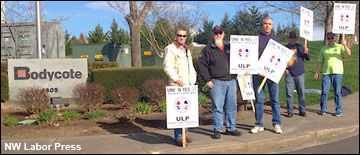 ► In NW Labor Press — Machinists conduct informational picket at Bodycote in Camas — Members of Machinists District Lodge W24 conducted an informational picket Feb. 24 at Bodycote in Camas. Forty workers at the plant, which specializes in making titanium aerospace parts for Precision Castparts (PCC Structurals), voted last June to join the Machinists. It was a hard-fought campaign, with the company — a multi-national corporation with nonunion facilities in several states — hiring a union buster. Immediately after the union victory, the company retaliated against some union supporters, changing their work shifts and break times. The Machinists filed and won an unfair labor practice (ULP) complaint with the National Labor Relations Board (NLRB).
► In today's Yakima H-R — Judge denies Yakima's motion in ACLU case — Thursday's denial by U.S. District Judge Thomas Rice came just two days after the city filed a motion asking him to review his February decision, which ordered Yakima to adopt a new district-based elections system for the City Council beginning this year. The new electoral map includes two Latino majority districts.
► In today's Seattle Times — Boeing's tanker runs into supplier delays, design changes — Suppliers to Boeing's KC-46 Air Force tanker program have been running substantially behind schedule, in part due to design changes by Boeing, according to a newly released report by the GAO.
► In today's Tri-City Herald — U.S. Senate committee passes budget amendment that could help Hanford — Sen. Patty Murray (D-Wash.) introduced the amendment to allow for increased funding for the Department of Energy's nuclear waste cleanup across the nation, including at the Hanford nuclear reservation.
---
FAST TRACK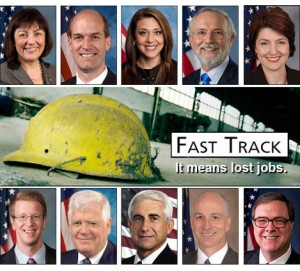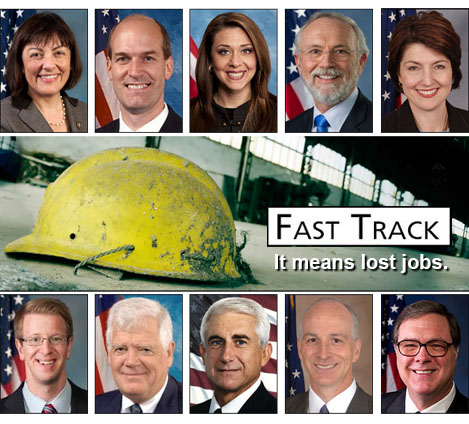 ► From The Hill — Dem: Trade officials 'baffling' lawmakers 'with bullshit' — Rep. Mark Pocan (D-Wis.) on Thursday accused the Office of the U.S. Trade Representative (USTR) of "baffling" Democrats "with bullshit" in an effort to advance President Obama's trade agenda. Pocan's remarks, which were triggered by a debate over whether the U.S. enjoys a trade surplus with free-trade partners, mark the latest escalation in a fight between liberals and the White House office over President Obama's trade agenda.
► In the NW Labor Press — Trade deals that work for workers (by Oregon AFL-CIO President Tom Chamberlain) — If a trade deal is actually going to benefit Oregon businesses and their workers by boosting exports and creating good-paying jobs, it will need to look very different than NAFTA and every other trade agreement in existence. But the TPP's on track to benefit multinational corporations whose lobbyists have been given special seats at the table while the rest of us get thrown under the bus. Under NAFTA, Oregonians lost a net 8,700 jobs. Promising TPP will be different doesn't make it so.
► From AFL-CIO Now — Flawed trade deals will tarnish Obama's pro-jobs legacy — Ohio President Tim Burga's response to Obama's address in Ohio in support of Fast Track: "The president has consistently sided with Ohio workers on some of the most important and politically risky decisions that have come before him. It would be a shame for him to abandon that allegiance now."
---
FEDERAL GOVERNMENT
► From AP — U.S. House votes to block rule to speed up unionizing workers — Defying the threat of a veto from the White House, the Republican-controlled U.S. House of Representatives Thursday voted to block a government labor agency from adopting rules that would speed up the time it takes to unionize workers.
EDITOR'S NOTE — On the party-line 232-186 vote, GOP Reps. Herrera Beutler, McMorris Rodgers, Newhouse, and Reichert all voted to block the NLRB rule. Democratic Reps. DelBene, Heck, Kilmer, Larsen, and McDermott all voted "no." (Rep. Smith was absent.)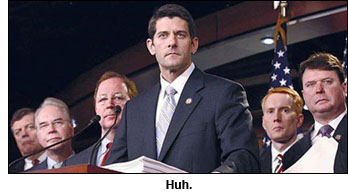 ► In today's Washington Post — Error in House budget understated budget cuts by $900 million — The corrected amount could spell far deeper cuts for federal employees than the original figure suggested.
► From TPM — White House fires warning shot at Republicans over Social Security — A top adviser to President Barack Obama slammed a House Republican maneuver aimed at forcing a showdown on Social Security as early as next year, signaling that it won't fly with the White House.
► From AP — Washington to test how to send food-stamp recipients to work — Ten states will test new ways to get food stamp recipients back to work, using Agriculture Department grants aimed at helping some of the 46 million Americans who receive benefits move off the rolls. The grants come as the Republican Congress is exploring ways to cut the program.
---
NATIONAL
► In today's Seattle Times — NLRB ruling says T-Mobile policies hindered unionizing — The ruling, stemming from separate but similar complaints in New Mexico and South Carolina, found unlawful policies laid out in the Bellevue-based company's employee handbook, confidentiality agreement, code of business conduct and employee acknowledgment forms.
ALSO at The Stand — T-Mobile illegally blocked union organizing efforts, NLRB rules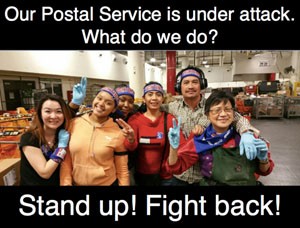 ► At AFL-CIO Now — Unions trying to save U.S. Postal Service — In recent years, the U.S. Postal Service (USPS) has been under attack from Republicans in Congress and elsewhere who are trying to privatize the constitutionally required service to benefit wealthy campaign donors with the support of anti-government extremists. The men and women who work at the USPS, and their unions, however, are fighting back.
► From AP — Illinois to divert 'fair share' fees from unions — Illinois Gov. Bruce Rauner, dogged in attempts to eliminate fees paid to unions by workers who choose not to join, has instructed state agencies to divert money from nonunion employee paychecks away from organized labor until a judge settles the matter.
► MUST-READ in today's NY Times — Public pension cuts exempt police, firefighters — "Those who put their lives on the line in service to our state deserve to be treated differently," said Illinois Gov. Bruce Rauner. By announcing the exemption, Rauner was following the lead of other Republican governors in the Midwest who have imposed unwelcome changes on state and local employees in the name of saving money and improving services… While no one would dismiss the risks that police officers and firefighters face daily, they are not the only public employees whose work is dangerous. Statistically, at least, there are far more dangerous public sector jobs. Says Robert Bruno, a professor of labor relations at the University of Illinois: "This has to have more to do with the fact that it's politically dangerous to attack these people."
---
T.G.I.F.

► Saturday night, after we go to the solidarity rally in Anacortes, The Entire Staff of The Stand™ will be taking our daughter and three of her friends to the Walk the Moon concert at the Neptune in Seattle. (Of course, we are just a drop-off/pick-up service. We "can't come IN!")  Never heard of Walk the Moon? They are a Cincinnati pop-rock band that derived their name from The Police's "Walking on the Moon" and hit it big in 2011 when their self-released single "Anna Sun" became that summer's jam for many young'uns. We were tempted to post that song's excellent video, a tour through a colorful and bizarre warehouse party that's shot in one take. But then we saw this collection of famous movie dance scenes to the tune of the band's latest hit, "Shut Up and Dance," and we couldn't resist. Enjoy!
---
The Stand posts links to Washington state and national news of interest every weekday morning by 10 a.m.
Short URL: https://www.thestand.org/?p=38783
Posted by
David Groves
on Mar 20 2015. Filed under
DAILY LINKS
. You can follow any responses to this entry through the
RSS 2.0
. Both comments and pings are currently closed.