Tarnished icon, 'our climate deniers,' adjunct unionization…
Thursday, March 19, 2015
---
LOCAL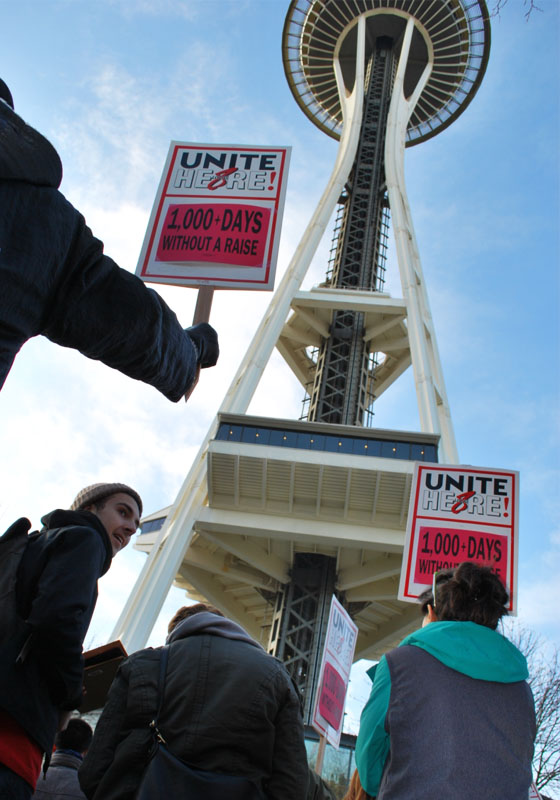 ► In The Stranger — Space Needle workers deliver new petition asking for wage increases — It's been nearly three years since non-tipped Space Needle workers last received a pay increase (that raise was $0.35), and in the meantime a National Labor Relations Board panel has found the Space Needle Corporation in violation of labor law for discouraging union organizing. Several of the signs Wednesday morning read, "I can't live on less," a direct response to a tone-deaf budgeting webinar containing "live on less" advice that Space Needle workers received in January.
ALSO at The Stand — Space Needle: Give your employees a raise!
► In the PSBJ — Licata says Space Needle's labor woes tarnish Seattle's image — Long-running labor tensions at the Space Needle could lead to more demonstrations at the icon like the one held Wednesday, and would reflect poorly on the city, Seattle City Councilmember Nick Licata wrote in a letter to Space Needle President and CEO Ron Sevart:
I believe pickets, demonstrations and news reports that a prominent Seattle tourist attraction is fighting fair treatment of its workers… reflect poorly on the city of Seattle, on Seattle Center and on your business.
► From KIRO TV — Space Needle employees demand a raise
► In today's Yakima H-R — Yakima County begins plans for redistricting — The city of Yakima hasn't thrown in the towel yet on its legal fight with the ACLU, but county elections officials said Wednesday they are moving ahead with implementation of a court-ordered redistricting plan for the city.
► In today's Seattle Times — $900M levy: Seattle mayor asks homeowners to pay more for transportation — Seattle Mayor Ed Murray announced a proposed property-tax levy Wednesday to collect $900 million for transportation spending over nine years. Murray's November ballot proposal would more than double the amount voters approved in 2006.
---
STATE GOVERNMENT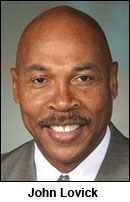 ► In today's (Everett) Herald — Add flip-flop over Boeing tax break to Lovick's political portfolio (by Jerry Cornfield) — At a state House Finance Committee on Friday, Snohomish County Executive John Lovick provided a puzzling moment when he told lawmakers to pass a bill to hold Boeing accountable by tying the number of jobs the company provides to the amount of the tax savings it enjoys. For Lovick, this was a flip-flop of jumbo proportion, because back in November 2013, it was unlikely you'd find anyone in the county as enthusiastic as Lovick about extending the tax breaks to land the 777X.
EDITOR'S NOTE — Dear Jerry: How is it a "flip flop" to support adding accountability language to the aerospace tax breaks? Neither Lovick nor the many unions and legislators who support the Aerospace Tax Incentive Accountability bills oppose the 777X tax breaks. They have not flip flopped. In fact, they've gone out of their way to say they still support them. But now, given Boeing's subsequent job cuts since their approval, they believe our state should add accountability language similar to what other states have in their tax incentives. That common-sense change is also strongly supported by voters in this state. Kudos to Lovick for standing up for what's right.
► From KUOW — Cracks in the ice under proposed labor law exemption for hockey — Some legislators in Olympia say they're having second thoughts about exempting Western Hockey League teams from state labor laws.
► In today's News Tribune — Federal agents serve search warrant at state Auditor Troy Kelley's Tacoma home — U.S. Treasury agents spent five hours Monday searching Troy Kelley's home; the purpose of their investigation has not been disclosed.
---
FEDERAL GOVERNMENT

► From The Hill — Liberal Dems vow to block Obama's trade bid — Progressive House Democrats said Wednesday they can defeat President Obama's attempt to get Congress to give him expanded powers to negotiate trade deals… One senior Democratic aide to a member who is supportive of Obama's trade agenda said the progressive members are denying the realities of the global economy: "These guys are our version of climate deniers — they're global economy deniers."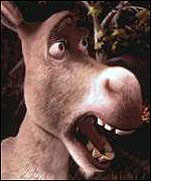 EDITOR'S NOTE — Really? Who's in denial about what an abject failure NAFTA and other similar trade agreements have been for America's working families? Organized labor doesn't deny the global economy and trade, we embrace it. But we want to compete on a level playing field where minimum standards of respect for human life and our planet are established. And we don't want to hand our nation's sovereignty over to an international corporate tribunal. Apparently, those positions are not just those of organized labor, but also of the majority of your constituents who also oppose Fast Track.
P.S. — Environmental organizations strongly oppose Fast Track, too, not just us knuckle-dragging trade unionists. Are they "you're version of climate deniers," too?
► From AFL-CIO Now — House Republican budget: Same old cuts, same old tricks — House Republicans on Tuesday released their budget proposal that privatizes Medicare, cuts Medicaid, repeals the Affordable Care Act, and slashes vital nutrition and family assistance programs. At the same time, it cuts taxes on the wealthy, capital gains and multinational corporations. It also is full of accounting tricks and gimmicks so that Republicans can claim it balances the budget.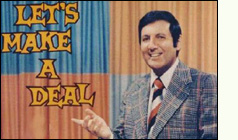 ► At TPM — The huge Boehner-Pelosi deal that could change Medicare forever — The deal would end the perennial Medicare "doc fix" problem by replacing the widely-maligned formula for reimbursing physicians, which currently imposes steep annual cuts that Congress has regularly overridden since 2002… The big carrot for conservatives: two major Medicare changes that cut billions of dollars over the long-term: one would require upper-income seniors to pay higher co-pays and the other would reduce spending on supplemental "Medigap" plans that some elderly beneficiaries enjoy. For Democrats, the draw is that funding for Children's Health Care Program would be extended and Medicare benefits would be preserved and protected for middle class Americans who need it.
EDITOR'S NOTE — So, Republicans get billions in Medicare cuts and Democrats get… the continued existence of CHIP and Medicare. Deal!
► At Huffington Post — Don't throw Social Security under the bus (by NOW President Terry O'Neil) — There's talk inside the Beltway that Sen. Mark Warner (D-VA) may be one of the Democrats planning on supporting a "mini-Simpson Bowles." I hope that's not true. A vote for a mini-Simpson Bowles is a vote to push millions of women into poverty and out of the middle class by imposing cuts, blocking expansion of benefits, and shielding the wealthiest from paying their fair share into the Social Security system.
► From AP — Poll: Many unaware some health subsidies could be ruled out — With a decision due by summer in a Supreme Court case that could unravel President Barack Obama's health care law, a new poll finds many Americans have heard nothing about the case. But when the potential fallout is explained, most say it would hurt the country and they would look to Congress or the states to fix it.
► In today's NY Times — Identity Crisis (by Linda Greenhouse) — Two years after cutting the heart out of the victory that the Selma marchers sacrificed to achieve, the Voting Rights Act of 1965, the Supreme Court has a chance to set something right in the voting-rights area. On Friday, the justices are scheduled to consider whether to hear a challenge to Wisconsin's strict voter ID law, which a federal appeals court upheld last fall.  It's the court's opportunity to block a systemic assault on the right to vote.
---
NATIONAL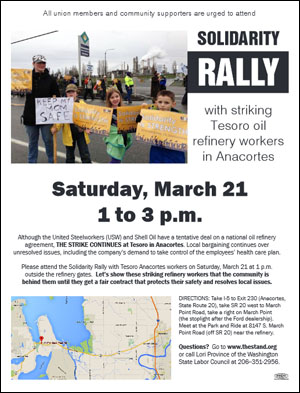 ► From Reuters — Workers at largest U.S. refinery OK deal; Tesoro making progress — More than 700 union workers at the largest U.S. refinery unanimously approved a new contract in a vote at their union hall in Port Arthur, Texas, on Tuesday night, said union officials. The United Steelworkers union (USW) also said workers at three Tesoro Corp refineries on the West Coast were making progress in finalizing contracts. Return-to-work agreements, usually the final step before ratification votes, were under discussion.
EDITOR'S NOTE — There's no deal yet. And that means that this Saturday's solidarity rally with Tesoro strikers in Anacortes, Wash., is still on. Make plans to attend Saturday, March 21 at 1 p.m. Download the rally flier for details.
► At Think Progress — Under pressure, Target quietly raises its minimum pay — Store managers are telling workers who make below $9/hour that they will soon see larger paychecks. A company spokesperson said that all of its 347,000 employees already make above the federal minimum wage of $7.25 (EDITOR'S NOTE: Gee, thanks!), but declined to say how many can expect a raise.
► In the Christian Science Monitor — Walmart wage hike hides deeper problem for U.S. economy — Walmart won wide praise for raising employee wages. But many employees remain underemployed, working less than a full workweek. It's a problem across the nation.
► In today's NY Times — Job hunting with a criminal record (editorial) — When employment is an important factor in keeping people out of the criminal justice system, how do we keep from shutting out some applicants?
---
TODAY'S MUST-READ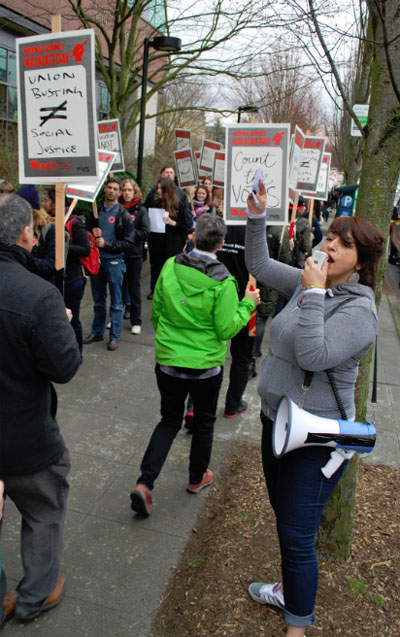 ► In today's Baltimore Sun — Allow adjuncts to unionize (by adjunct Stephen Thompson) — Last month, on the first-ever National Adjunct Walkout Day, adjunct professors held protests all over the country. A quick look at the numbers makes it easy to see why: A typical adjunct makes about $25,000 a year, receives no benefits, and works on a contract that lasts only one or two semesters at a time. Over the past few decades, instead of offering full-time faculty positions, colleges have increasingly hired adjuncts as a way to cut costs and circumvent the protections afforded to tenured professors. As a result, adjuncts now make up about half of all college and university faculty nationwide… One of the most important functions of public education, and especially community colleges, is to facilitate upward social mobility. This laudable goal is undermined when the employees of these institutions are paid so little that they struggle to get by.
EDITOR'S NOTE — Meanwhile at Seattle University (this photo is from National Adjunct Walkout Day held Feb. 25), administrators have filed a second appeal of the NLRB's ruling that SU adjuncts' ballots must be counted in their union election. The Catholic university continues to argue it should have a religious exemption from federal labor laws granting the freedom to form unions. Never mind that the church's U.S. Conference of Bishops has written, "Workers, owners, employers, and unions should work together to create decent jobs, build a more just economy, and advance the common good" and "no one may deny the right to organize without attacking human dignity itself." (Read more.)
---
The Stand posts links to Washington state and national news of interest every weekday morning by 10 a.m.
Short URL: https://www.thestand.org/?p=38751
Posted by
David Groves
on Mar 19 2015. Filed under
DAILY LINKS
. You can follow any responses to this entry through the
RSS 2.0
. Both comments and pings are currently closed.