Broad coalition backs bills on retaliation, wages, sick leave
(March 2, 2015) — The following letter, signed by more than 60 union and community organizations (see list below), was sent last week to all Washington state legislators:
Dear Honorable Members,
We all want an economy that works for everyone, not just the few. To keep building a strong economy, we need policies that will support a robust and healthy workforce. Workers have the right to earn an honest day's wage that allows them to support themselves and their families, to feel safe against retaliation and wage theft, and to not have to choose between taking care of sick loved ones or putting food on the table.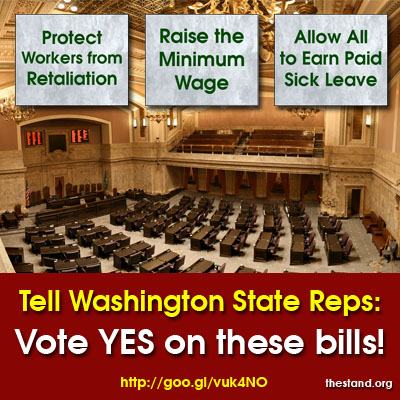 This is a children, women and families issue. The National Women's Law Center explains that nearly six in ten poor adults are women, and more than half of all poor children live in families headed by women. Poverty rates are especially high for single mothers, women of color, and elderly women living alone, and wage theft is higher among women, people of color, and immigrant workers. Over the past three decades, there has been a steady rise in the share of women, especially mothers, in the workforce, yet many still live and work in poverty. In fact, the majority of women and mothers work, and many work full time and full year – and yet even working these hours far too many of these families live in poverty.
This is why we are asking for your support on raising the state minimum wage, providing paid sick and safe days, and protecting workers against retaliation when they speak up about wage theft.
Protection from Retaliation (HB 1354/ SB 5569)
The most basic assumption workers make when they show up to a job is that they will get paid for the time they spend working. But this doesn't happen for thousands of workers across Washington State. Far too many workers are denied the fair wages they've earned for their labor, and many are retaliated against for speaking up about wage theft. Most businesses play by the rules, but those that choose to cheat the system and their employees make it harder for good companies to compete, and create jobs.
This is about equity: A study by NELP, UCLA and the Center on Urban Economic Development found that women were significantly more likely than men to experience minimum wage violations. Foreign-born workers were nearly twice as likely as their U.S.-born counterparts to have a minimum wage violation. Immigrant Latino workers had the highest minimum wage violation rates of any racial/ethnic group. And among U.S.-born workers, African-American workers had a violation rate triple that of their Caucasian counterparts. (Source: Broken Laws, Unprotected Workers 2009)
One in five workers reported that they made a complaint to their employer in the last year regarding stolen wages, and of those 43% experienced retaliation from their employer or supervisor. Examples of retaliation workers experience include employers who fired or suspended workers, reduced hours and pay, and threats of deportation.
Raise the wage (HB 1355/ SB 5285)
The most recent data shows that Washington is just one of three states where poverty is increasing. A person working full-time earning Washington's minimum wage earns $19,698. The total number of people in poverty in Washington increased of 52,000 from the previous year with 19% of children in Washington live in poverty. While raising the minimum wage won't end poverty in our state, it will be a step in the right direction.
This is about equity: The increase to $12 would bring greater equity into the labor market, as women and people of color are disproportionately represented among the lowest wage workers and make up the majority of those not being paid enough to make ends meet. LGBTQ elders, minorities, women and trans-gendered individuals experience higher rates of poverty than their counter parts. For a person working full-time earning $10 an hour, an increase to $12 would mean an extra $347 per month to spend on rent, food, utilities, or save for the future. That's a much needed boost for the over one in four parents trying to raise kids on less than $12 an hour.
If we were to raise the minimum wage to $12.00 an hour, more than half a million (551,303) workers' wages would be directly affected over the four-year phase in. Many economists recognize that low-wage workers are more likely than any other income group to spend any extra earnings immediately on previously unaffordable basic needs and services, which will boost our economy. (Source: EPI, March 2013)
Paid Sick and Safe Leave (HB 1356/ SB 5306)
Everyone gets sick or needs to take care of a loved one now and then – but an estimated
1 million Washington workers get no paid sick days, including many who work in restaurants, retail, and even health care. Paid sick leave allows ill workers to stay home – away from coworkers and customers, and parents to care for their sick kids, without losing wages. Paid safe leave allows victims of domestic violence or sexual assault to seek safety, treatment, and legal assistance, without having to lose a day's wage or their job.
This is about equity: Lack of paid sick days compounds inequality of income, health, and opportunity. Women and people of color are especially affected by the current system that allows companies to force some people to work when sick, or risk loosing a day's wage. Higher income workers almost always have paid sick leave, while lower income workers rarely do. Only 20% of workers in the bottom 10th of pay get paid sick days, compared to 87% in top quartile. Low-income children and children of color especially pay the price without paid sick leave standards. Only about 1/3 of children who qualify for free and reduced price lunch have parents with Paid Sick Days, compared to over 80% of higher income kids. That means, for example, the parent cannot come pick up a sick child from school, and older kids often miss school to stay home with younger siblings. (Source: EPI, January 2015)
Access to paid sick days allows workers to hold onto their earnings. We need to ensure jobs provide the basics — enough pay to support a family and time to care for them.
Please pass these three bills to raise the minimum wage, provide paid sick and safe days, and protect workers against retaliation, which boost the economy for Washington families and businesses.
Sincerely,
AARP Washington
Aerospace Machinists District 751
Alliance for a Just Society
American Federation of Teachers Washington
APACE C4
Budget and Policy Center
Casa Latina
Center for Justice, Spokane
Certified Electrical Workers of Washington
Children's Alliance
Columbia Legal Services, on behalf of low-income clients
Community Alliance for Global Justice
Community to Community Development
Economic Opportunity Institute
Entre Hermanos
Faith Action Network
Filipino American Political Action Group of WA
Filipino Community of Seattle
FUSE Washington
IBEW Local 77
International Union of Painters & Allied Trades
Islamic Civic Engagement Project
IUOE Local Union 609
Law Office of David Mark
Legal Voice
LGBTQ Allyship
Mark McDermott Consulting
Martin Luther King Jr. County Labor Council
NARAL Pro-Choice Washington
One America
Pierce County Central Labor Council
Planned Parenthood Votes Northwest
Professional & Technical Employees, Local 17
Progreso: Latino Progress
Puget Sound Advocates for Retirement Action
Puget Sound Sage
Real Change
School Nurse Organization of WA
SEIU Local 775
SEIU Local 925
SEIU Healthcare 1199 NW
SEIU Local 6
Statewide Poverty Action Network
Teamsters Local 117
Teamsters Joint Council 28
Unitarian Universalist Voices for Justice
United Auto Workers Local 4121
United Farm Workers
United Food & Commercial Workers, Local 21
United Food & Commercial Workers, Local 365
United Food & Commercial Workers, Local 367
United Food & Commercial Workers, Local 1439
United Food & Commercial Workers, United Council
WA State Building & Construction Trades, AFL-CIO
WA State Coalition Against Domestic Violence
Washington Community Action Network!
Washington Education Association
Washington Low Income Housing Alliance
Washington Pipe Trades
Washington State Association for Justice
Washington State Labor Council, AFL-CIO
Washington State Nurses Association
Washington State Senior Citizens' Lobby
WFSE/AFSME Council 2
WFSE/AFSME Council 28
Working Washington
WASHINGTON IS A UNION STATE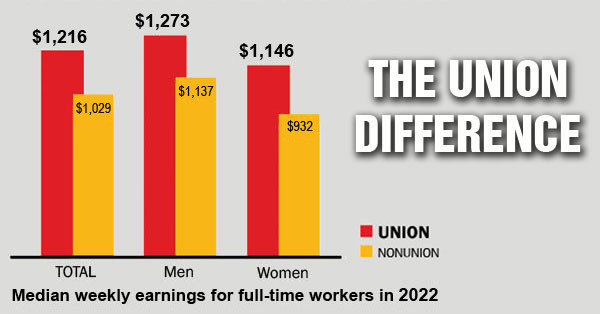 CHECK OUT THE UNION DIFFERENCE in Washington state: higher wages, affordable health and dental care, job and retirement security.
FIND OUT HOW TO JOIN TOGETHER with your co-workers to negotiate for better working conditions and respect on the job. Or go ahead and contact a union organizer today!