Fight for $15, Dems weigh Fast Track, GOP walks…
Thursday, April 16, 2015
---
FIGHTING POVERTY WAGES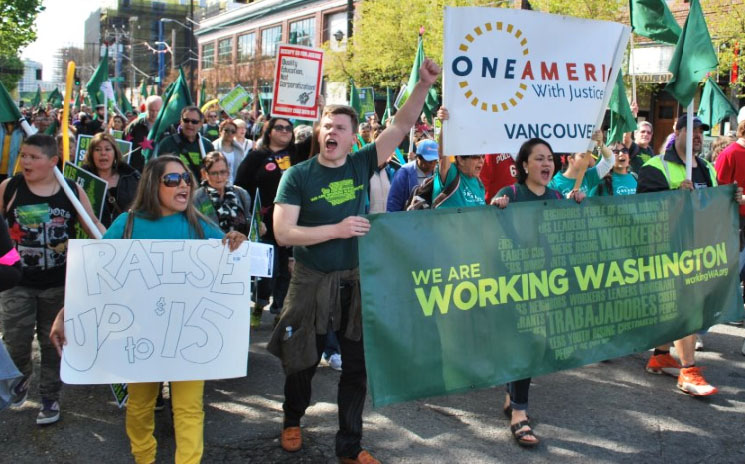 ► In today's Seattle Times — 21 arrested in wage protest; 'we'll be back,' activists vow — Hundreds of workers and supporters pushing for a $15 minimum wage and better working conditions took part in demonstrations across Washington state that, in Seattle, ended with the arrests of 21 people who refused to disperse from a Capitol Hill intersection Wednesday evening.
ALSO at The Stand — Washington rallies against poverty-wage jobs — Among those arrested in Seattle was Washington State Labor Council President Jeff Johnson.
► In today's Olympian — Olympia minimum wage rally passes through Capital Mall — More than 60 protesters marched through Capital Mall Wednesday in a rally to support a $15 minimum wage in Olympia and beyond.
► In today's Spokesman-Review — Protesters call for $15 minimum wage — About 25 people gathered outside of a local Fred Meyer store as part of a "national day of action" coinciding with Tax Day.
► In the Guardian — Fight for $15 swells into largest protest by low-wage workers in U.S. history — Workers in Atlanta, Boston, New York, Los Angeles and more than 200 cities across the US walked out on their jobs or joined marches and protests on Wednesday during what organizers claimed was the largest protest by low-wage workers in U.S. history.
► From AP — Fight for $15 protests expand for low-wage workers — The Fight for $15 campaign to win higher pay and a union for fast-food workers is expanding to represent a variety of low-wage workers and become more of a social justice movement.
► In the Washington Post — Americans are spending $153 billion a year to subsidize McDonald's and Wal-Mart's low wage workers (by Ken Jacobs) — After decades of wage cuts and health benefit rollbacks, more than half of all state and federal spending on public assistance programs goes to working families who need food stamps, Medicaid, or other support to meet basic needs. Let that sink in — American taxpayers are subsidizing people who work — most of them full-time  (in some case more than full-time) because businesses do not pay a living wage.
---
FAST TRACK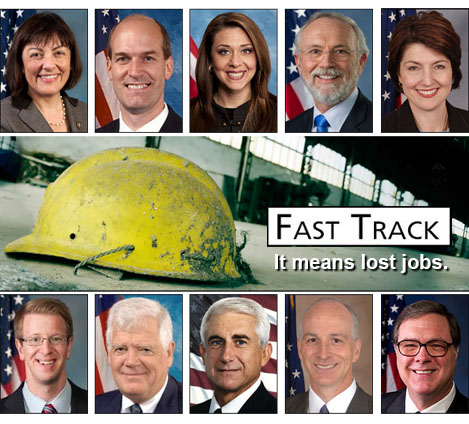 ► From CNN — AFL-CIO seeks to turn Dems against Obama on trade — The AFL-CIO will meet the introduction of a bill to fast-track Pacific Rim and European pacts with a six-figure online and radio advertising campaign targeting 16 Democrats in the Senate and 36 in the House, the group told CNN. Said AFL-CIO President Richard Trumka: "These ads — which follow months of rallies, congressional meetings and unprecedented grassroots activities — will remind politicians that the trade debate is enormously important to working families."
► From Politico — Labor: We won't be fooled again on trade — Organized labor's unified message against the President Barack Obama's free trade agenda is simple: No thanks, we've been here before. "We keep repeating the same mistakes over and over again," Rep. Donna Edwards (D-Md.) said at a rally Wednesday by labor groups and other opponents of the president's trade agenda. "I was standing on those steps when NAFTA passed and they told us, 'Guess what? We have all these service sector jobs, we're not going to lose those'."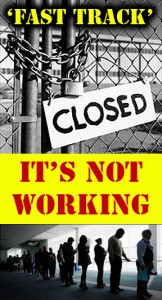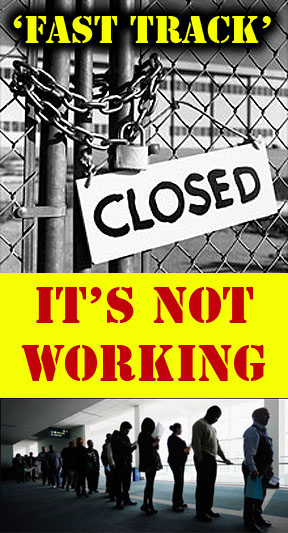 ► From the Hill — Trans-Pacific Partnership will harm middle and working class Americans (by UFCW President Marc Perrone) — Over the last three decades, in large part because of bad trade deals, Americans have worked harder than ever, while wages remain stagnant.  Income and economic inequality has grown to historically high levels. Industry consolidation, fueled by unchecked global competition, has led to countless jobs being lost. Good union jobs have been decimated across nearly every state and replaced by either no job, or non-union jobs that barely pay above minimum wage. As for the TPP, while a bipartisan chorus will sing the praises of this trade deal, they choose to ignore the truth that it is America's working men and women, not them, who will pay the price as irresponsible corporations justify future cuts to wages, hours, and jobs–all in the name of "international competition."
---
STATE GOVERNMENT

► In today's Seattle Times — Legislative budget negotiators walk out of talks — With less than two weeks to go before they're supposed to adjourn, legislative budget negotiators hit an impasse Wednesday. House Democratic leaders arrived at a negotiating session with Senate Republicans, only to be told there would be no further talks unless the House first votes on capital-gains and business tax increases assumed in the the House budget plan. "It was an ultimatum," said House Majority Leader Pat Sullivan (D-Covington), who said the GOP demand sidetracked budget discussions that had been progressing in meetings the previous two days. "I was stunned."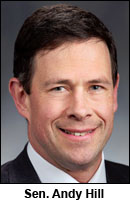 ► In today's News Tribune — Senate no-new-tax budget doesn't make ends meet (editorial) — The Senate's inability to pay for the state's priorities — even with the influx of marijuana taxes — is evidence that it couldn't really cover the education bump with existing revenue. Some of the revenues proposed by Democrats, such as a sales tax on soft drinks and bottled water, are perfectly reasonable. Compromise is called for. Critical state services should not be sacrificed for the sake of bragging rights to "no new taxes" budget. (The Senate Republicans' budget was authored by Sen. Andy Hill of Redmond.)
► In today's Spokesman-Review — Oppose Senate budget (letter to the editor) — Republicans in the Washington Senate proposed their budget, and did not allow a provision to fund state workers…. This is not simply about a raise, which hasn't happened in seven years; it is about the economic stimulus, the benefit to the safety of the public, and simple gratitude for an underappreciated group of society.
► In today's News tribune — State lawmakers set sights on school levy reform — State lawmakers unveiled dueling plans Wednesday to reduce the state's reliance on local school district levies to pay for basic education costs, a problem the state Supreme Court has said is unconstitutional and must be solved.
► In today's Columbian — Class size plan in legislative hot seat — Leading up to the 2015 legislative session, the biggest question facing lawmakers was how they planned to adequately fund the state's public schools.
► In today's Columbian — Wildlife agency choices: Budget cuts or fee increases — Department of Fish and Wildlife wrestling with how to deal with $10 million shortage in 2015-17 biennium.
► From KUOW — Child labor exemption approved to keep hockey teams in state — The Washington state House voted 91-7 Wednesday to exempt junior hockey teams from teen labor laws by expressly classifying the players as non-employees. The four for-profit Western Hockey League teams in Washington, the Spokane Chiefs, Seattle Thunderbirds, Tri-City Americans and Everett Silvertips are currently being investigated for possible minimum wage, overtime or teen work hour violations.
---
LOCAL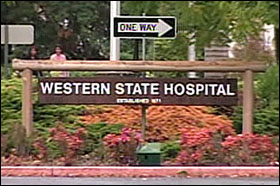 ► In today's News Tribune — Western State Hospital cited for safety gaps; lawmakers look to add staff — Most employees accept that danger is part of the job at a state psychiatric hospital, Dr. Joe Wainer said. "I'd say I've been assaulted about 20-30 times," said the psychiatrist, an eight-year employee of Western State Hospital. "I've been knocked unconscious. I've had a chunk of flesh (bitten) out of my shoulder." He said staff have asked for years for enhanced training, only to be told there were too few workers to cover for someone pulled away for classes. More staff may soon be devoted to that purpose, after a reprimand from workplace-safety regulators who say Western State Hospital hasn't done enough to protect its employees from attacks.
► In today's Yakima H-R — Yakima to appeal ruling in ACLU voting rights case — Yakima will appeal a federal court ruling in a voting rights case brought by the American Civil Liberties Union, but elections under a new system ordered by the court will proceed later this year.
---
BOEING

► In today's (Everett) Herald — Union vote in S.C. matters here, Machinists leader says — While the vote is on the other side of the country, the outcome matters for Machinists in metro Puget Sound, a union leader here says. Organizing Boeing's North Charleston plant will make it harder for the company to pit the two workforces against each other, said Jon Holden, head of the union's District Lodge 751, which represents about 32,000 Boeing workers in metro Puget Sound and Portland.
► In the PSBJ — The end of the Boeing 747 could be coming sooner than we thought — Experts have already predicted Boeing will delivery its final 747 three years from now. But a new report out Thursday reveals that the company could stop taking orders for the plane sooner than that.
► In the PSBJ — Boeing to add two more buildings to Everett construction wave — Two new buildings are rising at Boeing's Everett plant, expanding upon the structures the company already has underway there.
---
NATIONAL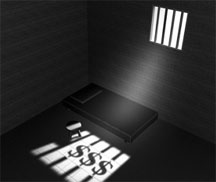 ► In today's Spokesman-Review — Bed quotas for immigration detainees a costly flub (editorial) — Illegal border crossings are in decline, but Homeland Security officers nonetheless have a detention-bed quota they must meet. Private prison companies are reaping the benefits, and taxpayers are being shortchanged.
---
The Stand posts links to Washington state and national news of interest every weekday morning by 10 a.m.
Short URL: https://www.thestand.org/?p=39455
Posted by
David Groves
on Apr 16 2015. Filed under
DAILY LINKS
. You can follow any responses to this entry through the
RSS 2.0
. Both comments and pings are currently closed.