Larsen ♥'s Fast Track, United Weed Stand, your Saturday in the Park…
Friday, April 17, 2015
---
FAST TRACK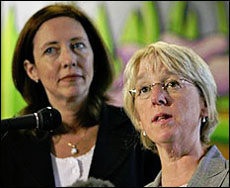 ► From AFL-CIO Now — Fast Track bill introduced; join the drive to stop it! — Legislation granting Fast Track trade authority to President Barack Obama was introduced in the U.S. Senate on Thursday. Call your senators — 855-790-8815 — and tell them to say no to Fast Track.
ALSO at The Stand — Rally Saturday against Fast Track in Ferndale, canvasses statewide — Rally at 1 p.m. Saturday at Pioneer Park in Ferndale! Plus, volunteer for Saturday canvassing in Everett, Olympia, Seattle and Tacoma.
► In today's NY Times — Deal is reached in fast-track authority for Obama on trade accord — In what is sure to be one of the toughest fights of Obama's last 19 months in office, the "fast track" bill allowing the White House to pursue its planned Pacific trade deal also heralds a divisive fight within the Democratic Party, one that could spill into the 2016 presidential campaign.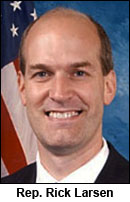 ► From The Hill — Centrist House Dems back 'fast-track' deal — A group of 11 House Democrats — including Rep. Rick Larsen (D-WA) — signaled that they will support fast-track authority to streamline trade deals through Congress.
► In today's Spokesman-Review — Disparate Spokane groups gather to denounce Trans-Pacific Partnership — A gathering of right- and left-leaning activists and politicians found common cause Thursday evening as they met in the Spokane City Council chambers to discuss their opposition to an ambitious trade accord among 12 Pacific nations, including the United States.
► From Politico — Democrats' civil war over free trade — Many Democrats still feel the burn, 20 years later, of lost manufacturing jobs from the North American Free Trade Agreement — pushed through by former President Bill Clinton — and they fear another Democratic president is on the verge of turning his back on working-class Americans by negotiating a trade deal that would send jobs overseas.
---
PUBLIC SERVICE MATTERS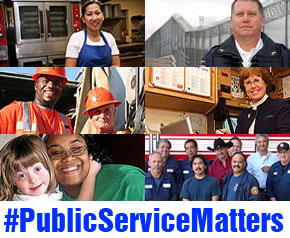 ► From Public News Service — This weekend, Washington state employees rally for respect — This weekend, state employees are asking their fellow Washingtonians to consider the value of the "service" in public service. They'll rally in six cities, from Centralia to Medical Lake, to make the points that their jobs matter and their contracts should be taken seriously by state lawmakers.
ALSO at The Stand — Help deliver message Saturday that 'Public Service Matters'
---
LOCAL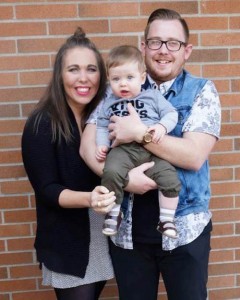 ► From PTE 17 — Professional & Technical Employees Local 17 mourns the loss of our member Josh Ellis, his wife Vanessa, and their eight-month-old son Hudson, who perished in a tragic accident on State Route 410 on Monday, April 13. Josh worked for the last three years as a Licensing Services Representative at the Kent office of the Department of Licensing. He was enthusiastic and passionate about his job, and was integral to the team that was working on the employee-generated idea process. Josh and Vanessa were also youth pastors at the EastPointe Foursquare Church in Puyallup. Our thoughts and prayers are with the family, friends and co-workers of the Ellis family. We will post information about memorial services and donations at PTE17.org as they emerge.
► In today's News Tribune — Bonney Lake official: Contractor's work on day of deadly accident didn't match plans — A project timeline shows demolition on the state Route 410 overpass wasn't scheduled to begin until Tuesday, the day after a family of three was killed when a concrete slab fell on their pickup.
► In today's Seattle Times — Sakuma Brothers Farm issues new pay plan for berry pickers — The new CEO of one of Washington state's largest berry growers issued a new pay structure Thursday that failed to impress labor leaders. After years of labor unrest over wages and housing issues, Sakuma Brothers Farm this summer plans to pay pickers $10 per hour, plus a production bonus based on the number of pounds picked, replacing the old rate per pound picked. Ramon Torres, president of Familias Unidas por la Justicia, said putting a $17 per hour cap on the production bonus, however, could mean the fastest pickers may end up earning less. "They are actually not raising wages, they are lowering wages," he said.
► In today's News Tribune — MultiCare workers hold informational picket in front of Tacoma General — The employees are represented by UFCW 21, under about eight contracts, and hold jobs that include technicians, office staff, housekeepers and maintenance personnel across several MultiCare Health System facilities. The union and MultiCare, Pierce County's largest private employer, have been in negotiations since September.
► From KUOW — Uber drivers, Teamsters protest on national day of action for higher wages — Unions and low-wage workers held rallies around the state Wednesday to push for higher wages. One of the half-dozen protests in the Seattle area focused on the way drivers for Uber and other taxi-like services are paid. The company sets the fares that drivers can charge. Drivers use their own cars and pay their own expenses. Organizers with the Teamsters Local 117 said the drivers often wind up making less than minimum wage.
ALSO at The Stand — Washington rallies to end poverty wages
► In the PSBJ — 'The reputation of West Coast ports is in the gutter:' Expert suggests ways to replace 'strike-prone' dock workers — Automate West Coast ports and replace strike-prone dock workers. That was the suggestion of Bill Mongelluzzo, senior editor of New Jersey-based Journal of Commerce, who spoke before a Port of Seattle annual breakfast this week.
EDITOR'S NOTE — Here's another suggestion… automate the administration of business publications and replace senior editors who have anointed themselves as industry "experts" based on their prowess at reprinting corporate press releases.
---
BOEING

► Today from Reuters — Machinists union pulls petition for election at Boeing South Carolina plant — The International Association of Machinists & Aerospace Workers withdrew its petition for an April 22 election at Boeing Co's South Carolina plant, citing "a toxic environment and gross violations of workers' lawful organizing rights."
► In the Seattle Times — The Machinists' near-impossible Carolina challenge (by Jon Talton) — Efforts to organize Boeing's South Carolina operations are up against more than a century of antagonism against unions, often by workers themselves.
---
STATE GOVERNMENT

► In today's Spokesman-Review — Budget talks stall along partisan lines — Budget negotiations between Washington House Democrats and Senate Republicans stalled Wednesday evening, with each side accusing the other of forcing the legislative session past its scheduled April 26 adjournment date.
► In today's Bellingham Herald — Medical marijuana cooperative owner in Bellingham calls bill before Inslee 'devastating' — Advocates are gathering signatures to put an initiative on the November ballot they said would save and strengthen medical marijuana, even as a bill to overhaul the market was approved by the Legislature earlier this week and sent to Gov. Jay Inslee for his signature.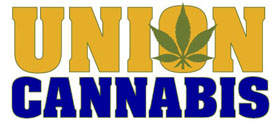 ► In the Inlander — United Weed Stand — The UFCW, which represents 1.3 million workers, primarily in food production and retail, has taken the lead on unionizing employees in the growing marijuana industry through its Cannabis Workers Rising project… When Washington state's recreational pot stores opened last July, the UFCW saw another opportunity to gain a foothold in the rapidly growing industry, quickly launching efforts to organize workers… With medical marijuana facing an uncertain future under an overhaul of the state's pot laws being finalized by the legislature, the UFCW and the medical marijuana community have found common cause in trying to keep dispensaries open.
EDITOR'S NOTE — Visit Union Cannabis to shop for union-made products!
► In today's Seattle Times — Indicted auditor vows fight; Inslee urges him to resign — State Auditor Troy Kelley was named in a 10-count federal indictment alleging tax evasion and lying to investigators.
► In today's News Tribune — Lawmakers discuss options for removing, replacing Kelley — State officials from both parties called on State Auditor Troy Kelley to resign while some lawmakers behind-the-scenes were discussing their options for removing him from office should he refuse to step down.
---
FEDERAL GOVERNMENT

► From The Hill — Obama immigration orders face major test in federal court — President Obama's executive actions on immigration will be tested on Friday when a federal appeals court considers whether to lift an order blocking the actions to allow millions of immigrants without legal status to remain in the United States.

► In today's NY Times — U.S. House votes to repeal estate tax — The House voted to repeal the federal tax levied on multimillion-dollar estates. The White House called it a giveaway to a few thousand of the nation's wealthiest families and said Republicans were applying a double standard since they usually demand that Obama offset any tax cuts he proposes, while theirs would simply add to the deficit.
EDITOR'S NOTE — In the 240-179 vote, Washington's congressional delegation voted on party lines with Republican Reps. Dave Reichert, Dan Newhouse, Jaime Herrera Beutler and Cathy McMorris Rodgers all voting "yes" and all Democrats voting "no."
► In the Christian Science Monitor — Whatever happened to the big, bad federal deficit? — Spending is up in Congress and only one likely GOP presidential candidate has mentioned the 'd' word. What happened to the red ink menace?
► At Politico — House quietly passes tax exemption for megadonors — The House on Wednesday with little fanfare passed legislation that would protect major donors like the Koch brothers and Tom Steyer from having to pay gift taxes on huge donations to secret money political groups. The legislation, which now heads to the Senate, is seen by fundraising operatives as removing one of the few remaining potential obstacles to unfettered big-money spending by nonprofit groups registered under a section of the Tax Code — 501(c) — that allows them to shield their donors' identities.
---
NATIONAL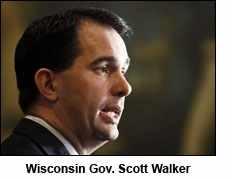 ► From Huffington Post — The 'inexcusable' assault on workers in Wisconsin (by AFSCME President Lee A. Saunders) — Gov. Scott Walker views working people as a threat to be vanquished and envisions himself as the conqueror who can bring them to heel. Following that logic, the right-to-work law in Wisconsin is simply a plank in his campaign platform… His view of working families is cynical and does not befit a politician at any level, let alone a Presidential hopeful.
► From Huffington Post — Scott Walker's approval rating drops in Wisconsin — Forty-one percent now approve of the controversial governor's performance, while 56% disapprove. In October, 49% approved and 47% disapproved.
---
T.G.I. ALMOST SATURDAY
► Saturday's forecast: sunny in the mid-60s. A perfect day to go to the park! In particular, Pioneer Park in Ferndale, where you can rally against Fast Track and trade policies that kill jobs and lower wages in America. Or you could go to George Washington Park in Centralia, Fort Steilacoom Park in Lakewood, or one of the other locations around Washington where you can honor the folks who maintain our state parks and provide other essential state services. #PublicServiceMatters!
The Entire Staff of The Stand thanks you, in advance, for enjoying what promises to be a beautiful Saturday in the Park while also standing up for working families. Can you dig it?
---
The Stand posts links to Washington state and national news of interest every weekday morning by 10 a.m.
WASHINGTON IS A UNION STATE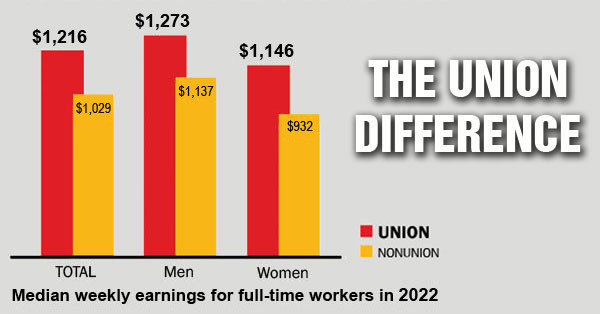 CHECK OUT THE UNION DIFFERENCE in Washington state: higher wages, affordable health and dental care, job and retirement security.
FIND OUT HOW TO JOIN TOGETHER with your co-workers to negotiate for better working conditions and respect on the job. Or go ahead and contact a union organizer today!