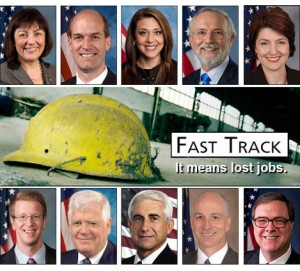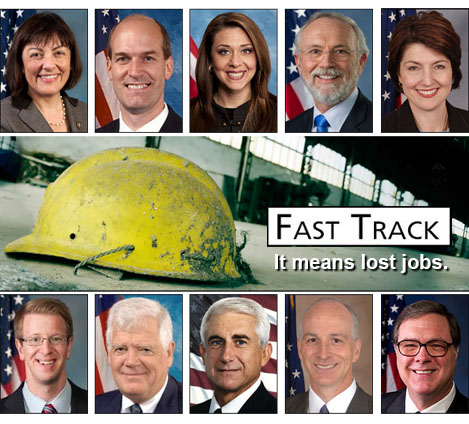 As Congress considers Trade Promotion Authority — also known as "Fast Track" — union members, environmentalists, small business owners, progressives and community allies across the state are participating in a Global Day of Action on Trade this Saturday, April 18.
Working families will rally and go door-to-door in their neighborhoods to pressure Washington's congressional delegation to reject Fast Track legislation and maintain their constitutional authority and leverage over trade policy.
At the largest event, activists will rally at Pioneer Park in Ferndale and host a mock International Corporate Tribunal to highlight the devastating consequences of bad free trade policy on working families. Additionally, canvasses to collect postcards from constituents asking members of Congress to oppose Fast Track are planned for Seattle, Everett, Olympia, and Tacoma.
TAKE A STAND — Union members, environmentalists, small business owners and other advocates for fair trade are urged to Rally Against Fast Track and TPP on Saturday, April 18 at 1 p.m. in Ferndale at Barr Barn in Pioneer Park, 2004 Cherry St. Visit the Facebook event page for more information.
If you want to join in Saturday's other related canvassing activities, the times and locations follow. RSVP here or, if you have questions about canvassing, email Gillian Locascio.
OLYMPIA: Rep. Heck Don't Fast Track the TPP!  WSLC office, 906 Columbia St. SW, Suite 300 from 10 a.m. to 2 p.m.
TACOMA: Rep. Kilmer Don't Fast Track the TPP!  Pierce County Labor Council, 7024 116th Ave. NE from 10 a.m. to 2 p.m.
EVERETT: Rep. Larsen Don't Fast Track the TPP!  Everett Labor Temple, 2810 Lombard, 2nd floor from 9:30 a.m. to 1 p.m.
SEATTLE: Rep. Smith Don't Fast Track the TPP!  El Centro de la Raza, 2524 16th Ave S., Room 105 from 10 a.m. to 2 p.m.
The April 18 day of action will build upon the political momentum against Fast Track and the Trans-Pacific Partnership that local fair trade advocates garnered over months of grassroots activity including a bus tour, a town hall, and organizing to help pass resolutions at the Bellingham and Seattle City Councils.
Last weekend, as members of Western Washington's congressional delegation were leaving SeaTac International Airport to head back to Washington, D.C., members of the Washington Fair Trade Coalition were there to wish them "bon voyage!"
ALSO at The Stand:
Tell Congress to vote against 'Fast Track'
Seattle City Council votes 9-0 to oppose Fast Track (Mar. 31)
50-plus groups urge Seattle to pass 'No Fast Track' measure (Mar. 27)
Bellingham City Council opposes Fast Track (Mar. 24)
Blue-green tour urges opposition to Fast Track, TPP (video) (Feb. 23)