Obama's promises, Shelton mill closures, Boeing double dips…
Wednesday, April 29, 2015
---
FAST TRACK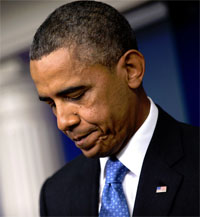 ► From Huffington Post — Here's why Democrats don't believe Obama's trade promises — The trouble with Obama's promises to implement strong new labor standards for countries like Vietnam, according to the AFL-CIO, is that the administration doesn't really enforce the international labor agreements it already has at its disposal. On Monday, the AFL-CIO filed a legal brief detailing widespread abuses in Guatemala, including the murders of several union leaders. The AFL-CIO said the wage theft and outright violence were clear violations of the Central American Free Trade Agreement that the U.S. approved in 2006… The labor group has been pressing for action on Guatemalan violations for Obama's entire term in office, and the dispute has not been resolved. In 2013 and 2014, 17 labor activists were murdered in Guatemala while the Obama administration pursued diplomatic action. Three of the slain union workers were reportedly killed during a dispute with a local government over unpaid back wages.
► From The Hill — Dems who supported trade deal get Obama state dinner invites — Support President Obama's trade agenda — get a ticket to an elegant state dinner at the White House. Five congressional Democrats who have pledged their support for trade promotion authority legislation donned their black-tie best Tuesday night at a dinner for Japanese Prime Minister Shinzo Abe.
► From Huffington Post — Latest trade push is a war on workers (by James P. Hoffa) — Those of us sticking up for American workers should be getting angry with these corporate apologists (who support Fast Track and the TPP). The facts are with us. The people are with us. But those with the big-dollar backers behind them won't surrender until the outcome is clear.
---
LOCAL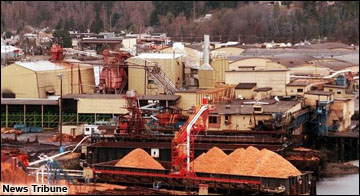 ► In today's News Tribune — Simpson Lumber announces Shelton-area mill closures, which will result in 270 jobs lost — Simpson Lumber Company LLC delivered a blow to the city of Shelton on Tuesday, announcing that the company will close two mills, which will result in about 270 jobs lost. The closures are part of an asset sale agreement with Sierra Pacific Industries of Northern California. The downtown Shelton mill and one in the Dayton area of Mason County west of Shelton are set to close in the next 60 days. Most of those jobs will be eliminated.
► In the (Aberdeen) Daily World — Sierra Pacific acquisition won't change things for Aberdeen mill — A spokeswoman for Sierra Pacific Lumber Co. says the company's acquisition of the Simpson Lumber Co. mill in Shelton won't have any effect on operations at the Sierra Pacific mill in Aberdeen, which employs 210 workers.
► In the (Longview) Daily News — Cowlitz Indian Tribe signs casino labor pact with construction unions — The Cowlitz Indian Tribe continues to move forward with plans to construct a $510 million casino near La Center, in spite of pending lawsuits. The tribe announced Monday that it signed a labor agreement with the Columbia Pacific Building Trades Council.
► In today's Columbian — Volunteers sought for letter carriers food drive on May 9 — The annual National Association of Letter Carriers "Stamp Out Hunger" Food Drive is set for that day, and local coordinator Don Young needs extra help.
---
BOEING
► In today's (Everett) Herald — Boeing wants $6 million for moving jobs to Oklahoma City — Boeing wants to get $6 million from Oklahoma City for bringing about 900 jobs from Washington to the city, the Oklahoman reports. At the same time, Boeing will continue collecting tax breaks worth millions from Washington. Those tax incentives will be unaffected by the aerospace giants decision to move work out of state.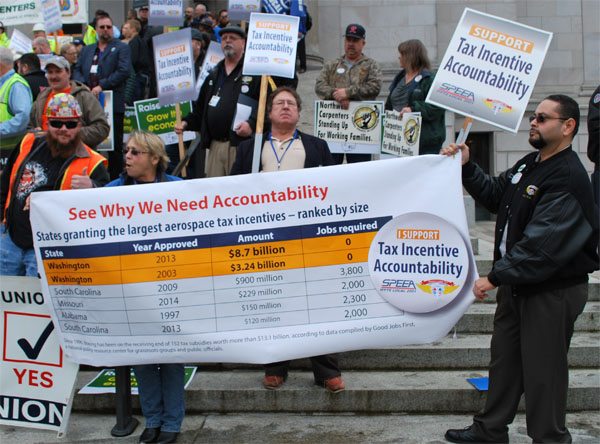 ► In the Columbia (Mo.) Daily Tribune — State of Missouri suspends IBM tax incentives after layoffs — The state Department of Economic Development, which already has paid millions in incentives to Big Blue, has suspended the company's last remaining incentive… (After the latest round of layoffs) the week of April 13, IBM submitted an updated employee count to the department, per the state's request. This triggered the incentives suspension.
EDITOR'S NOTE — Sigh.
---
WORKERS MEMORIAL DAY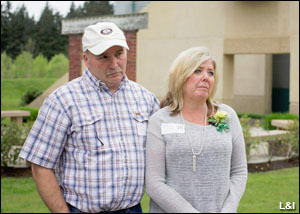 ► From KPLU — State honors workers who died on the job, including two teenagers — At an annual ceremony, the state remembered 89 workers who died on the job during the past two years. The deaths ranged from ones in industries known as dangerous, such as logging and truck driving, to high-profile accidents such as the crash of a KOMO TV helicopter near Seattle's Space Needle in March 2014, which killed the pilot Gary Pfitzner, 59, and photojournalist Bill Strothman, 60.
► In today's (Everett) Herald — 12 from county remembered at ceremony for those killed on the job — As cloudy skies threatened a downpour Tuesday afternoon, Deanna Hogue told a small crowd gathered in the Worker Memorial Garden in Tumwater that they'd traveled from Lake Stevens to honor the memory of their 19-year-old son, Bradley, who was caught in heavy machinery while working for a landscaping company.
► In today's News Tribune — He lost half his arm in a machine 16 years ago, tells Tacoma students about it now — Matt Pomerinke, whose life was changed in a lumber mill accident, won't stop talking to young people about the perils of not paying attention at work.
---
STATE GOVERNMENT
► From AP — Washington legislators return to work Wednesday — Washington lawmakers are set to return to work for the beginning of a special session to resolve the state's budget debate and other pending matters.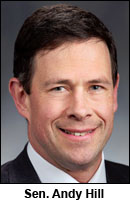 ► In today's Olympian — Senate may be open to state worker contracts — with conditions (editorial) — Anyone who thinks the Washington Senate's opposition to labor contracts giving pay raises to state employees was cast in stone — or just a scurrilous attack on labor — may want to reconsider. Whatever the motivations were in the GOP's original budget proposal, the top Senate budget writer, Sen. Andy Hill (R-Redmond), indicated last week that he is open to funding contracts for state employees that would assure cost-of-living pay adjustments for the first time since 2008. Hill suggested that changes in collective bargaining policy may smooth the way to Senate acceptance of the pacts. Hill's suggestions for compromise? One is that labor negotiations held behind closed doors could be opened to outsiders.
EDITOR'S NOTE — Here's another idea: how about Sen. Hill allow a fair vote on funding the contracts. The governor, the House, and 29 of 49 senators have already voted to fund them — without "conditions." Why must Hill hold people's livelihoods hostage to a proposal that can't pass on its own merits?
► In today's Seattle Times — Lawmakers, time to meet in the middle (editorial) — The left-leaning House budget, which is $1.5 billion more than the Senate, must reduce spending. And the more conservative Senate should move away from it's "no new revenue" talking point and find the will to raise some taxes. The Senate's lead budget-writer, Andy Hill (R-Redmond) has delayed talks until the House passed all the tax increases included in its budget. That line in the sand is unproductive for what voters want — a swift end to the overtime session.
► In today's Tri-City Herald — Lawmakers should end special session quickly (editorial) — There is not enough revenue being generated under Washington's tax system to meet the needs of the state. Couple that with the McCleary court decision requiring the Legislature to start fully funding K-12 education, and all parties knew this was going to be a tough budget year… hammer out a budget and end the special session as early as possible. Don't waste any more time and money.
► In the (Aberdeen) Daily World — Extended session could cost taxpayers close to $500,000 — The Legislature has gone into an extended session that local legislators expect will last at least 30 days at a cost to taxpayers of close to $500,000.
► In the Skagit Valley Herald — Support our teachers (letter) — Your legislators need to hear from you. Tell them to stop playing politics. Tell them to do their job. Tell them to fully fund education. Tell them teachers and other school employees deserve fair compensation. Tell them smaller classes are needed. Tell them to end tax breaks for the rich. And tell them you support our teachers.
---
FEDERAL GOVERNMENT
► In today's (Everett) Herald — How a tax on the rich is sold as tax on death (by Sid Schwab) — Repealing the estate tax does no good for the country at large. It can only be understood as a payoff to a tiny number of people giving huge amounts of cash to politicians. Everyone who's not in that category ought to be outraged at how much power has been given to so few, promising to vote the givers out of office faster than the Koch Brothers can sign a check.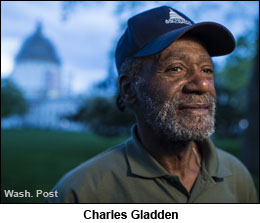 ► And the Headline of the Day™ in the Washington Post — Senate Democrats urge better pay for Capitol jobs contracted out by Senate Democrats — Thanks to protests last week, the public now knows that some of the workers serving meals to U.S. Senate's members, staff and visitors are paid barely enough to scrape by. Many rely on government benefits like food stamps, and at least one of them — 63-year-old Charles Gladden — is homeless, spending his nights outside a downtown Metro station. Now eight Democratic senators have called for better wages and benefits for the Senate's own contract workers, some of whom make less than $10 an hour… Less than seven years ago, it was, yes, Democrats who led a push to privatize the Senate's food services, amid huge operating deficits and frequent complaints about substandard fare and service. At the time, the average wage for the roughly 100 Senate food service employees was about $37,000 annually. Gladden takes home roughly half of that $37,000 average in his current job.
---
NATIONAL

► From Bloomberg — Trumka outlines labor wish list for presidential candidates — The head of the largest U.S. federation of unions called on Democratic and Republican presidential hopefuls to address wage inequality and globalization, and said members will back the candidate who "can and will deliver." Said Trumka:
A surging army of workers and activists and families are tired of taking 'maybe' for an answer. We're tired of scared politicians who won't stand up for what's right.
ALSO at The Stand — Trumka: Show us the 'raising wages' agenda
► In the Washington Post — Poll: Most Americans believe fast food workers should be able to unionize — Opinions of unions have mostly recovered from a low point during the Detroit auto bailout, and strong majorities of people believe workers should be able to unionize across several different sectors.
► In the Washington Post — How for-profit prisons have become the biggest lobby no one is talking about — The two largest for-profit prison companies in the United States — GEO and Corrections Corporation of America — and their associates have funneled more than $10 million to candidates since 1989 and have spent nearly $25 million on lobbying efforts. Meanwhile, these private companies have seen their revenue and market share soar… Sen. Marco Rubio (R-Fla.), now a candidate for president, is the Senate's top career recipient of contributions from GEO.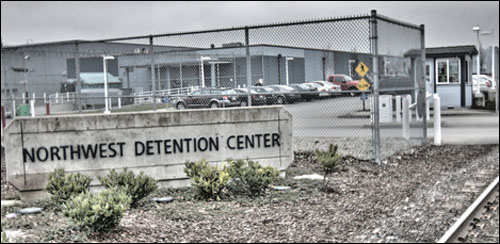 EDITOR'S NOTE — GEO operates the controversial Northwest Detention Center in Tacoma, where inmates who are mostly detained immigrants went on a hunger strike last year over the poor conditions. Even the Seattle Times says there are "cheaper and better alternatives" than renewing GEO's contract there. But last week, U.S. ICE signed a temporary deal to extend GEO's contract and the News Tribune reports GEO is expected to win a 10-year contract extension.
► From Business Insurance — Construction firms caught misclassifying workers must pay up — The U.S. Department of Labor says a federal investigation has led 16 Utah and Arizona businesses to pay $700,000 in back wages, damages, penalties and other fees for misclassifying construction workers as company owners rather than employees.
► From AP — UAW reports 55 percent membership at VW plant in Tennessee — The United Auto Workers union has 816 members at the Volkswagen plant in Tennessee, or about 55 percent of the total blue collar work force, according the union's latest disclosure with the U.S. Department of Labor. The filing comes as the UAW works toward gaining collective bargaining rights at its first foreign-owned plant in the South.
► From The Hill — NFL gives up tax exemption — Roger Goodell, the league's commissioner, essentially told NFL owners in a memo that the tax incentive wasn't worth what had become a years-long public relations hassle. But the move also offers the league new ways to shield information — including Goodell's $44 million salary in 2012 — from public view.
---
R.I.P.

► Jack Ely, the man who helped make Washington's "unofficial" state song a national hit, has died at 71. Never mind that it was The Fabulous Wailers of Tacoma who recorded it first in 1961. The 1963 version by The Kingsmen of Portland — sung unintelligibly by Ely because he had to lean his head back and scream into a microphone dangling high above his head — made the song famous. Even watching Ely lip sync it doesn't decipher the lyrics. R.I.P., Jack. (Learn more about this crazy song's history here.)
---
The Stand posts links to Washington state and national news of interest every weekday morning by 10 a.m.
WASHINGTON IS A UNION STATE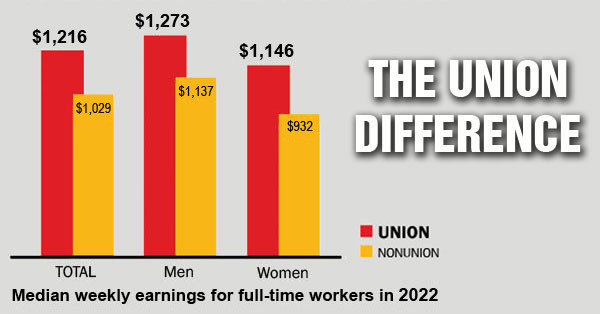 CHECK OUT THE UNION DIFFERENCE in Washington state: higher wages, affordable health and dental care, job and retirement security.
FIND OUT HOW TO JOIN TOGETHER with your co-workers to negotiate for better working conditions and respect on the job. Or go ahead and contact a union organizer today!